Description
Welcome To The MDC 3rd Annual Convention In Las Vegas, Nevada on October 3rd-5th 2019!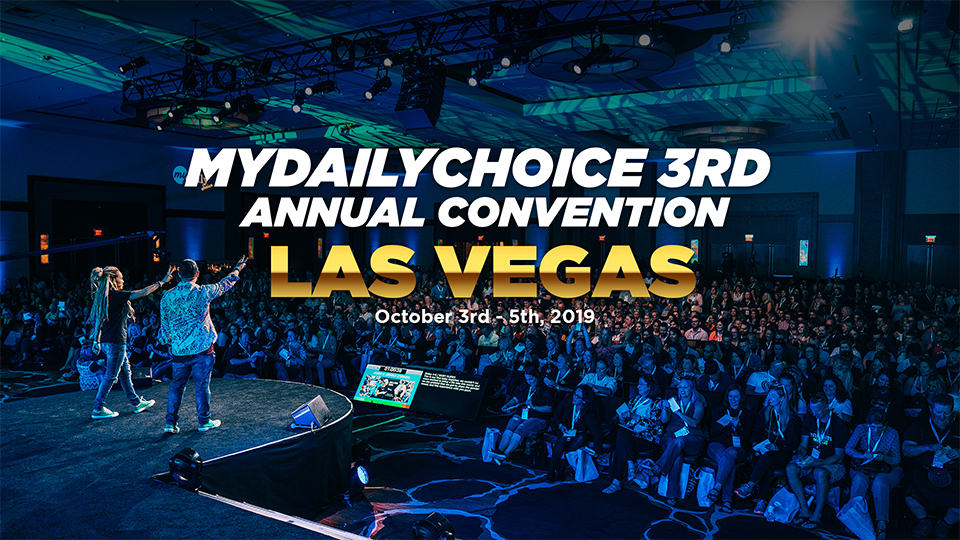 Join thousands of MyDailyChoice Affiliates in Las Vegas, Nevada for a historical 3-day event. At the 2018 International Convention, our CEO, Founder, Top Leaders, and guests came together to connect, learn, and celebrate their achievements. The energy was buzzing at the Red Rock Hotel & Casino as people from countries all over the world filled the conference center. Our Keynote Speaker won the hearts of the affiliates as he trained on handling objections, and creating massive breakthroughs.
Click here to see a recap of 2018: https://www.youtube.com/watch?v=w6EvTrjhwOI
At our 2019 International Convention, here are just a few of many things you'll get to experience:
Meet our Corporate Staff and Founders
HempWorx Photobooth
Keynote Speakers
Leadership Training
Company Expansion and Goals
Awards and Recognition
New Products
New Marketing Tools
New Incentives
Tour our Corporate Headquarters
And much more...
This event will be the BIGGEST EVENT of the year and you DO NOT want to miss it!
Event Itinerary:
Day 1, Thursday October 3rd 2019
1:00PM - 5:00PM: Registration
6:00PM - 10:00PM General Session
Day 2, Friday October 4th 2019
8:00AM - 10:00AM: Registration
10:00AM - 12:00PM: General Session
12:00PM - 1:30PM: Lunch
1:30PM - 6:30PM: General Session
7:00PM: 100K VIP Dinner
Day 3, Saturday October 5th 2019
10:00AM - 12:00PM: General Session
12:00PM - 1:30PM: Lunch
1:30PM - 6:30PM: General Session
7:00PM: 100K VIP Party
Hotel Information:
The Mirage is the original Vegas mega-resort, a Four Diamond award-winner located center-Strip with its iconic volcano welcoming you to a paradise of 24-hour action. The rooms at Mirage include the exclusive Mirage Serenity Bed by Sealy®, feather down pillows and comforter, 42-inch LED television, iHome® and office chairs designed to provide maximum support and flexibility. Upgraded rooms at the Mirage include spacious bathrooms, dual sink vanity, soaking tub and separate walk-in shower in the bathroom.
Book Your Room With Our Discounted Rate ($89 - $189 per night):
https://book.passkey.com/event/49832844/owner/4940/home
Ranked Leaders: You may use your future commission money to cover the cost of these convention ticket promo packages. Please email support@mydailychoice.com
Questions about convention? Please email support@mydailychoice.com.
See you in Las Vegas!
- MDC Home Office