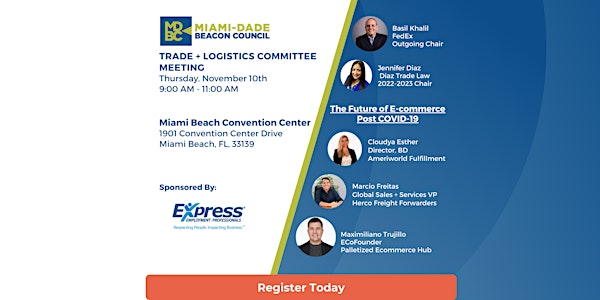 MDBC's Trade & Logistics Committee Meeting
JOIN THE TRADE AND LOGISTICS COMMITTEE FOR AN IN-PERSON MEETING: "THE FUTURE OF E-COMMERCE POST COVID-19"
When and where
Location
Miami Beach Convention Center 1901 Convention Center Drive Miami Beach, FL 33139
About this event
As the cargo gateway of the Americas and given our increasing trade growth with the leading e-commerce regions, such as Asia and Europe, MIA is perfectly positioned to become an e-commerce powerhouse. The Trade and Logistics Committee will meet on November 10th to discuss post-covid logistical trends, ways to advance the digital economy and the importance to ensure green and lasting operations. Don't miss this opportunity to discuss and learn more about supply chain challenges and opportunities, trade facilitation issues and exponential growth in e-commerce, fueling jobs in commerce, transport, and logistics!
AGENDA
9:00 Networking
9:15 Welcome Stanley Rigaud & Basil Khalil
9:20 Introduction of William Talbert III – Interim President & CEO Stanley Rigaud
9:25 Express Employment Professional Jorge Costa
9:30 Port Update / Net Zero Initiative Eric Olafson (TBC), Nimrod
9:40 The Future of E-commerce Post COVID-19, Moderated by Kadion Preston, Founder & CEO, Caribshopper
• Marcio Freitas, Global Sales & Service VP, Herco Freight Forwarders
• Maximiliano Trujillo, CoFounder, Palletized Ecommerce Hub
• Cloudya Esther, Dir. Business Development, Ameriworld Fulfillment
10:40 Committee Accomplishments of past year in T&L
Thank you and passing the baton Basil Khalil
10:45 Upcoming Events and Preview for New Year Jennifer Diaz
10:55 Intro to Marketing, Innovation/E-Commerce, and Talent Committees Jennifer Diaz
11:00 Meeting Adjournment Staley Rigaud & Jennifer Diaz
(Limited spots available and advance registration is required)
The Committee meeting will take place at the Miami Beach Convention Center during AIR CARGO FORUM MIAMI & TRANSPORT LOGISTICS AMERICAS.
If you would like to attend the conventions, please use this link: https://rfg.circdata.com/publish/ACF22/ .
We highly recommend registering for BOTH conferences so you can visit the exhibition hall as well. Once you register you will receive a code, on the day you arrive you will use a Self-Check in Kiosk using code from registration and will be able to print your name badge.
Parking - Valet - $30 or Self-Park - $20