MCRD San Diego Graduation Video: Mike Company - November 9, 2017
Description
Capture the events, the emotions and the pride of your Marine on DVD for a lifetime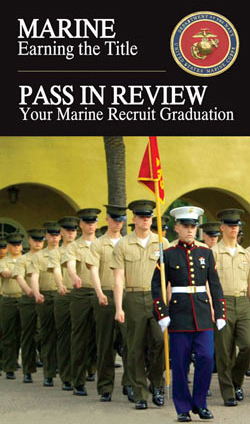 Marine Corps Recruit Depot San Diego proudly presents PASS IN REVIEW: Your Marine Recruit Graduation, available on DVD or Blu-ray.
Never before available, this exclusive video forever captures the unforgettable day your Marine experiences as one of the proudest moments of his military career - his Marine Corps Recruit Depot Graduation.
This two-disc set is over two hours long and includes:
The Eagle, Globe, and Anchor ceremony at Camp Pendleton, capturing the moment Recruits become Marines
Motivational (Moto) Run
Liberty Formation and dismissal
Graduation
Choose DVD or Blu-ray format at checkout, your choice at $35.00 each. Shipping & handling of $5.95.
FAQs
Q. What if I want a DVD for a different Graduation date?
A. Visit https://mcrdgradsales.eventbrite.com and select your Graduation date
Q. What if I want an older Graduation date, and it is no longer listed?
A. On checkout, in the comments put your Graduation date and Company.
Q. How can I contact someone if my DVD won't play?
A. For customer support, call: (619) 226-1200
Q. When will I receive my video?
A. Videos will ship to your home within 4-6 weeks of order