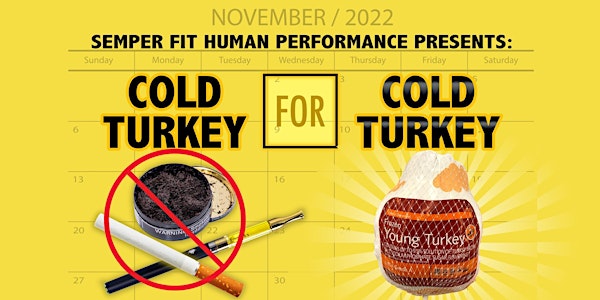 MCRD Cold Turkey for Cold Turkey
November is Tobacco Free Living Month
About this event
**Participation requires military base access. This event is open to all authorized patrons - active duty, dependents, reservists, retirees, veterans, and DoD civilian employees.**
Cold Turkey for Cold Turkey
Register for Semper Fit Human Performance's "Cold Turkey for Cold Turkey" in honor of Tobacco Free Living Month! By registering YOU ARE PLEDGING to go Tobacco/Nicotine Free for anywhere from a week to a month during November. All registrants* will receive a frozen turkey or a voucher for a cold turkey sandwich. All participants will be entered into an opportunity drawing for a Wellness and Nutrition Package to help you enjoy the holiday season!
All participants will be contacted by a Tobacco Treatment Specialist to assist you on your quit journey for the month of November! Access to NRT (nicotine replacement therapy) will be available to you and provided on a case by case basis.
*This program is available to all MCRD/WRR personnel. We encourage all to participate; however, giveaways may be adjusted based on accessibility and shipping of products.
Great American Smokeout
Thursday, 17 November
1000-1300 @ MCRD MCX Mall
Turn in your tobacco or nicotine products for a MCX gift card.