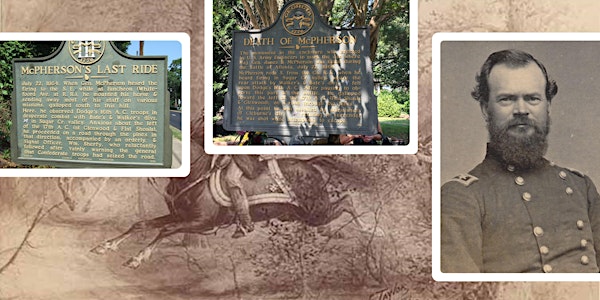 McPherson's Last Ride Walking Tour
Retracing the route he took when he kept his rendezvous with death...
When and where
Location
Jimmy Carter Presidential Library and Museum 441 John Lewis Freedom Parkway Northeast Atlanta, GA 30307
Refund Policy
Refunds up to 7 days before event
About this event
Tour Overview
During this interpretive walking tour, we will retrace the route that General James McPherson took* as he rode to a location in (what is now) East Atlanta on July 22, 1864, just as the Battle of Atlanta was getting underway. There, the major general encountered an advancing line of Confederate skirmishers, who commanded him to stop. McPherson halted, lifted his hat by way of salute, and wheeled his horse around to escape. At that moment, he was mortally wounded, falling to his death at the modern-day intersection of McPherson & Monument Avenues in East Atlanta.
Our walking tour will begin at the Carter Center, where McPherson's "rendezvous with death" began. It will take us through the heart of Little Five Points and portions of Candler Park, Edgewood, Kirkwood and East Atlanta. We will stop at various historical markers along the way to piece together what happened during the pivotal battle. We will also discuss and reflect on the life of General McPherson. Our tour will end at the McPherson Monument, where the major general came to rest.
* McPherson's route was recreated by historian, Wilbur Kurtz, and published in the Atlanta Constitution Magazine in 1930 in an article entitled, McPherson's Last Ride. It was this article that inspired me to design and lead this walking tour. ~ ATLsherpa
General James Birdseye McPherson
Major General James Birdseye McPherson was one of the most promising generals of the Union Army, and at the time of his heroic death was in command of the Army of the Tennessee. On July 22, 1864, his command was engaged in defending an attempt by the Confederates to crush the left wing of Sherman's army, which was advancing upon Atlanta, GA. In reconnoitering during that battle, he rode through a gap between two corps of his command and was shot from his horse by the enemy, expiring almost instantly. He was succeeded by General John A. Logan.
General McPherson was born in Clyde, Ohio, Nov. 14, 1828, and owing to his father's failing health was thrown on his own resources at the age of 13. For years, he worked as a store boy, utilizing every spare moment to get an education. At nineteen, he became a cadet and graduated from West Point in 1853. He was employed by the government as an engineer and, at the opening of the Civil War, organized a company of engineers and got actively into the fighting. By extraordinary skill, ability and bravery he won such distinction that he rapidly rose from one post to the next until, in March 1864, he was given command of the Army of the Tennessee. Sadly, General McPherson was killed during the Battle of Atlanta on July 22, 1864.
It has been said that General McPherson rashly and unnecessarily threw his life away; that he was far in advance of his own troops, and that he foolishly exposed himself to the bullets of the enemy. This is not true. He was a man who feared no danger and shirked no responsibility, but was never fool-hardy or rash. His fellow-officers and his men know that he fell while discharging of his duties as commander of the army, on the verge of a terrific fight with a daring and desperate enemy, who, under a new commander, was attempting to reach his flank and rear. General Sherman, in his official report of his death, said that he had left his headquarters a short time before and was on his way to see in person to the execution of orders, the success of which seemed to involve the fortunes of the day and the salvation of his army.
In personal appearance, McPherson was eminently prepossessing. He was six feet high, of remarkable physical development, graceful carriage and pleasing manners. He blended in the most happy manner "the grace and gentleness of the friend with the dignity, courage, faith and manliness of the soldier." He loved his boyhood home and kindred, and there he was almost idolized even before he had won honors and fame. At the time of his death he was betrothed to a beautiful young lady in Baltimore, the matrimonial union with whom had been postponed on account of the pressing demands of the Atlanta campaign.
Tribute by General Sherman
General W. T. Sherman said in an address at the dedication of a monument to General McPherson at Clyde, Ohio:
"I have endeavored on many occasions by words spoken and by letters written to bear testimony to the noble character of General James Birdseye McPherson. I have heard others describe his personal traits and eulogize his many virtues, conspicuously so Generals Logan, Strong and Hickenlooper, his comrades and warm friends. My mind rapidly runs back and I see McPherson plainly on his black charger, bright, cheery, strong and hopeful; one of the best types of knightly grace united to mental strength and genial humor of all my acquaintances.
"In 1857 I met McPherson in New York and was attracted to him because of his intelligence and his manly bearing - also because he was from Ohio and had graduated at the head of the class at West Point. There it was my first acquaintance began, and it continued without interruption until I saw him last alive, Howard House, near Atlanta, Ga., whence I sent his body to his home at Clyde for burial. From New York, late in 1857, he was ordered to California, and when the Civil War broke out in 1861 he came back, and again we met in St. Louis, where he was an aide-de-camp to General Halleck, before the battle of Shiloh. He was with General Grant at Henry and Donelson, and afterwards was sent with me up the Tennessee River, as a staff officer, to represent, first, General C. F. Smith and later, General Grant, in the attempt to reach the Charleston Railroad at Burnsville, and then to assist at Pittsburgh Landing, preliminary to the great campaign there to begin. McPherson was still at that time technically an aide-de-camp of General Halleck, who remained at St. Louis, but he had wisely permitted this young, enterprising and gallant engineer officer to go ahead, as he always wanted to go, with the advance of the leading column. McPherson, however, was not content to remain in the capacity of a staff officer, but sought for command. To do acts and not merely to advise. His natural place was as a leader of men, the highest sphere in military life. This he attained at Corinth, and thence forward as a Brigadier General and Major General at Corinth, Oxford, Vicksburg, Chattanooga and Atlanta, he performed deeds which are fully recorded, and place his name honorably and worthily in the catalog of the great generals of the world. Events followed each other in such quick succession that at this distance of time all seem projected into one grand result, but the years 1863 and 1864 were big with events which will influence the destiny of America for centuries to come. Days were as months' and months as years of ordinary limit. McPherson, a youth, grew from a lieutenant of engineers to be a corps commander, an army commander, promotion as rapid as ever marked the progress of the mighty men in the days of Napoleon, but, like a brilliant meteor, 'Loved of the Gods,' his young life went out before we had achieved the full measure of the work demanded of us by the times."
Source: Electric Scotland
Tour Details
$30/person
Full refund if you cancel at least seven days before the event. After that, no refunds will be issued. Tickets are transferrable.
Tour is limited to 20 people
Minimum age is 21 (no exceptions)
You should be in excellent physical condition to participate due to the distance. We will be walking 4-5 miles at a moderate pace.
Dogs are permitted if leashed and well-behaved at all times. That said, please keep in mind that we will be walking along busy streets for 3+ hours.
Tour participants will receive at least one email update after registering.
In the event of severe weather, the tour will be rescheduled to Nov 26. If you cannot make that new date, you can request a full refund. Weather updates will be sent 24 hours before the tour if necessary.
Logistics
The tour begins at 1000 sharp. Please arrive at the meeting location (Jimmy Carter Library & Museum, East Parking Lot) by 0945. The first video below includes some clear views of the meeting location. Look for the picnic tables!
We will follow the "McPherson's Last Ride" route on this interactive map.
The tour will end at the McPherson Monument in East Atlanta.
There will be an optional lunch after the tour in East Atlanta Village.
You should plan your own transportation back to the Carter Center or your final destination.
Resources
Related Events