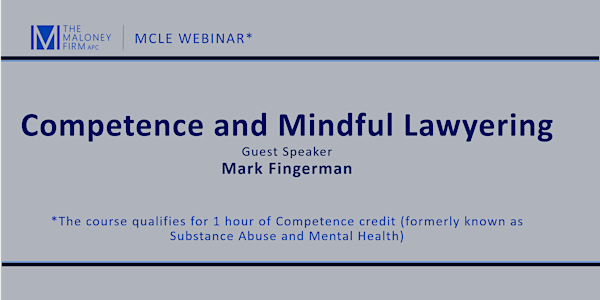 MCLE Webinar: Competence and Mindful Lawyering
This presentation has been approved by the California State Bar for 1.0 hr Participatory MCLE Credit, including 1.0 hr Competence Credit.
About this event
Being skillful as a lawyer requires clarity of both intention and perception. The rigors of practice tend to reduce that clarity, with a cascading effect that adversely impacts a lawyer's work and clients. In this course, mediator and functional mindfulness teacher Mark Fingerman will identify and discuss mental issues that impair a lawyer's ability to practice skillfully and teach basic mindfulness practices which reduce that impairment. These simple practices develop the ability to calmly focus on what matters, to act rather than react, to have better relations, to live with less anxiety and to have an easier time getting better results at whatever you do.
This presentation has been approved by the State Bar of California for 1.0 hour of Participatory MCLE Credit, including 1.0 hour of Competence credit. Please contact mmaloney@maloneyfirm.com with any questions related to this event.
*Registrants will receive an email with instructions for joining the webinar. The MCLE presentation will begin at noon. Login early at 11:30am for the opportunity to network with our speaker and other attendees.