Description
It is Saint Patrick's Day and it is time to celebrate Mc LAUGH-in!
Please join McDonald and Carney (and friends) as they bring the McLAUGH-in Comedy Tour to Atlantic City NJ for the high holy day of drinking and laughing. The comedy show will explode in one of the event rooms at the world famous SHOWBOAT.
M & C are hosting another "Bus Trip". Bus will leave at 2:00pm from Kilkenny House at 112 South Avenue, Cranford, NJ 07016.
Those who ride along with us will receive:
FREE entry to comedy show ($20 value)
Bus ride to (and from) A.C. ($30 value)
FREE Tee Shirt for the event ($15 value)
$20 casino cash back
BEER, Wine, soda and snacks!
FREE laughter and fun at every mile marker along the Parkway!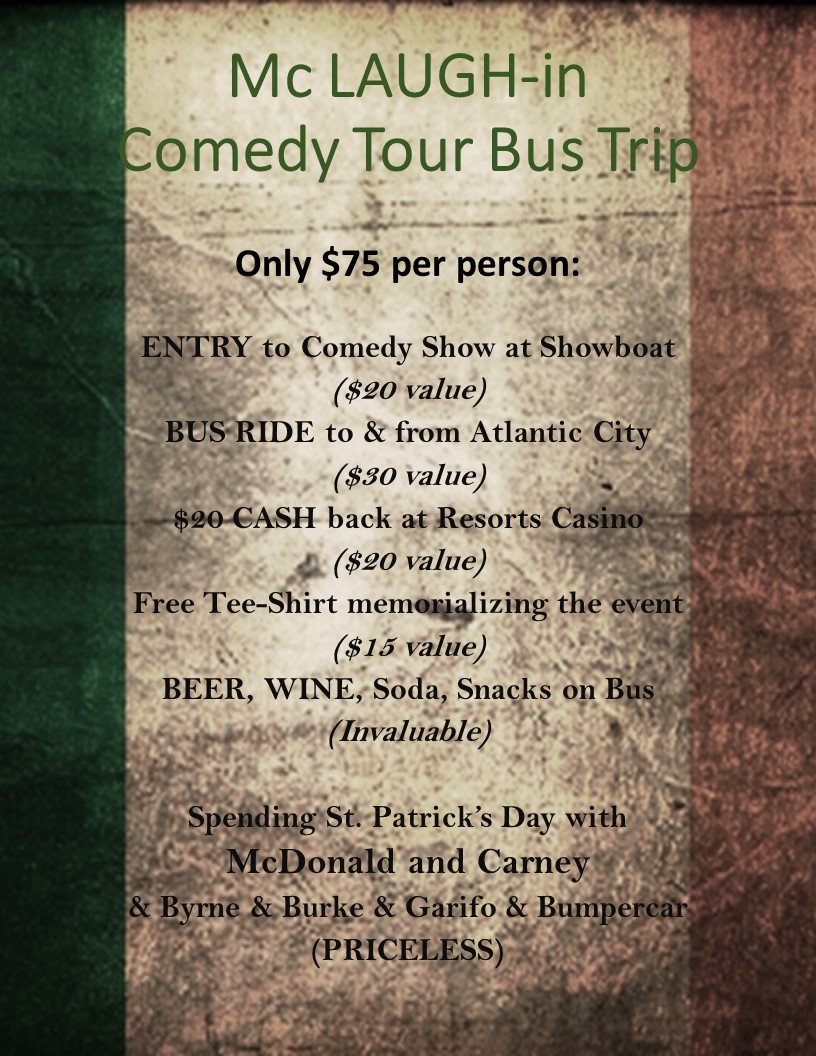 The comedy show will be headlined by McDonald and Carney.
Other comedians include:
Natty Bumpercar (BUMPERPODCAST, Greenwich Village Comedy Club)
KP Burke (The STAND's Roast Battle Champion, Uncle Vinnie's and Sirius/XM)
Jackie Byrne (NYC's United Citizen's Brigade, Seclusion movie, and Taj Mahal)
Kevin Garifo (SHINING WIZARDS PODCAST, NY Comedy Club and OAK Barrel Pub)