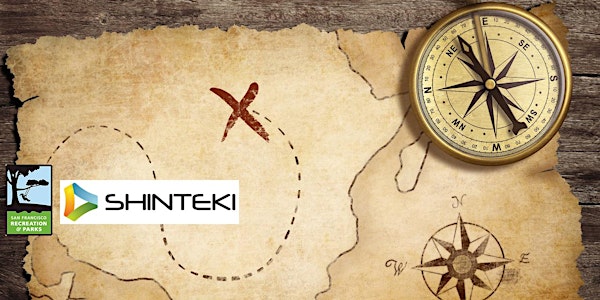 McLaren Park Treasure Hunt & Fun Day
When and where
Location
McLaren Park Group Picnic Area 116 John F Shelley Drive San Francisco, CA 94134
Description
Join us for one of 2 treasure hunt options in the morning and / or enjoy food, mobile recreation and face painting. Stop by our information table to learn more about the upcoming planning process for McLaren Park (more info on the overall project at http://bit.ly/mclarenparkproject).
Treasure hunts start at 10 am.
See FAQs below.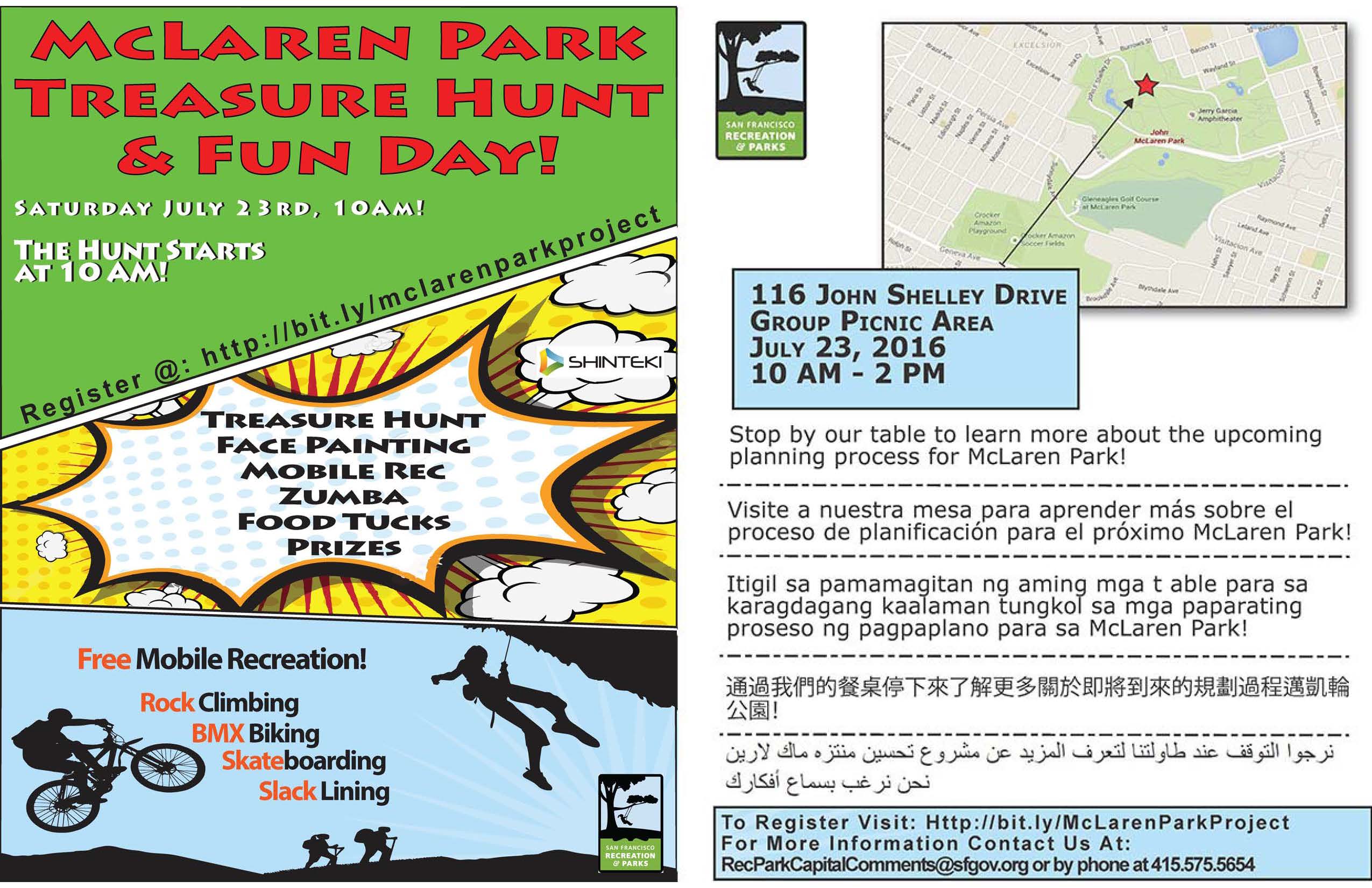 (Scoll down for Spanish and Chinese versions of this flier)
FAQs
Is the event free?
Treasure hunt and activites are free. Food will be available for purchase.
Do I need to be familiar with McLaren Park to participate in the treasure hunt?
No, you do not need to be familiar with McLaren Park to participate in the treasure hunt. In fact, this is meant to be a safe and welcoming opportunity to get to know the park better. We will be providing detailed maps to all treasure hunt participants. We'll also be providing signage and posting staff and volunteers at key locations.
What are the treasure hunt rules?
Suggested team size is two to four players, but larger families and groups are of course welcome! Bring your team to the start location (the Group Picnic Area at 118 John Shelly Drive) between 10:00 and 10:30 am to pick up your hunt supplies and begin the adventure. Earn stamps in your team's booklet by solving puzzles, playing games and completing fun activities throughout McLaren Park. During the treasure hunt, stay together with your team at all times, and walk from one location to the next – no cars or bikes allowed! For safety, we require that there always be at least one responsible adult with a kids' team.
How long is the treasure hunt?
The shorter Family Hunt lasts about an hour and a half, with approximately one and a half miles of walking. Family Hunt entries must be turned in by noon in order to be eligible for the prize drawing. The longer Challenge Hunt takes up to two and a half hours, with about three miles of walking and hiking on trails. Challenge Hunt entries must be turned in by 1:00 pm to be eligible for prizes. There will be prize ceremonies following the end of each hunt, although teams need not be present to win.
Should my team play the Family Hunt or the Challenge Hunt?
The choice is yours, and you can even decide while you play! Every team will receive the same starting supplies and map. If you're unsure, we recommend that you complete the Family Hunt first, and if you want even more, keep playing to earn extra stamps in the Challenge Hunt. The puzzles, games and activities are all family-friendly; it's primarily a matter of how many locations you can visit (and how far you're willing to walk) before time runs out.
Do I register as an individual or as a team?
You can register either as an individual or as a team. If you are participating with one or more other people, please choose "Team" when you click on the "Register" button. You can then create your own team name and password and also invite other friends or family members to join.
If you are on your own and are interested in having us match you up with other individuals to form a team, please send an e-mail to the address listed below and indicate whether you are interested in adult + children mixed groups or adult-only groups.
What are my transport/parking options getting to the event?
We encourage you to walk, bike or take public transit to the event. Please note that however you choose to arrive to the park, the treasure hunt is on foot only. For a more precise look at the event's base Group Picnic Area, please enter 116 John F. Shelley Drive, San Francisco, California into GoogleMaps.
Bike: The San Francisco Bicycle Coalition will be providing a bike valet service, which includes free secured and attended parking directly adjacent to the Group Picnic Area
Public Transportation: Muni's 29 bus route runs right through McLaren Park on Mansell. The park is also relatively close to the Balboa Park BART station. To plan your trip, you can try the 511 transit planner or GoogleMaps.
Car: There is parking along Shelley via the western intersection of Shelley Drive and Mansell, and from Cambridge Street. Construction along Mansell has also shifted circulation patterns in the park.
What should / shouldn't I bring to the event?
If you are participating in one of the treasure hunts, please wear sturdy shoes as there will be a lot of walking involved, on paved surfaces as well as non-paved surfaces. Water and layers are always a good idea. There are restrooms and tap water available at various treasure hunt locations as well as nearby the group picnic area. Food will be for sale at the event. Feel free to bring a picnic blanket and enjoy the lawn after completing the treasure hunt!

All normal park rules apply. No alcohol will be served or permitted at the event.
Can I bring my dog to the event?
Yes, dogs on leash will be allowed at the event location, which is the group picnic area. If participating in the treasure hunt, please be mindful that it will be a crowded event with children and adults and dogs may not be appropriate in all locations.
How can I contact the organizer with any questions?
RecParkCapitalComments@sfgov.org
415-575-5654
When does registration end?
Online registration via Eventbrite ends at noon on Friday, July 22 or when maximum registration numbers for each ticket type are reached. We encourage folks to register ASAP as we plan to cap registration for each treasure hunt at 150 individuals each. If we haven't reached this number, we will accept day-of registration.
Can I update my registration information?
Yes, you will be able to update your registration information online. We are trying to get as accurate a count as possible of number of adults and number of children participating as well as the number of teams prior to the event to best plan and prepare.
Do I have to bring my printed ticket to the event?
No, you do not have to bring your printed ticket to the event. Eventbrite provides us with a list of attendees, which we will have at the registration table. On the morning of the event, please visit the registration table to get your treasure hunt materials and complete paperwork.
Can I volunteer at the event?
Indeed! We are looking for volunteers to help hang signs, help orient treasure hunt participants in proximity to the further out locations, etcetera. If you are interested in volunteering, please click "Register" and sign up as an individual. Volunteer opportunities run from 9:30 am- 3:00 pm. We will follow up with you to find out whether you are available for that whole time or a shorter "shift."