MCLA & Marin Salon Series Present An Evening of Music & Visual Art
When and where
Location
Trepany House at the Steve Allen Theater 4773 Hollywood Blvd. Los Angeles, CA 90027
Description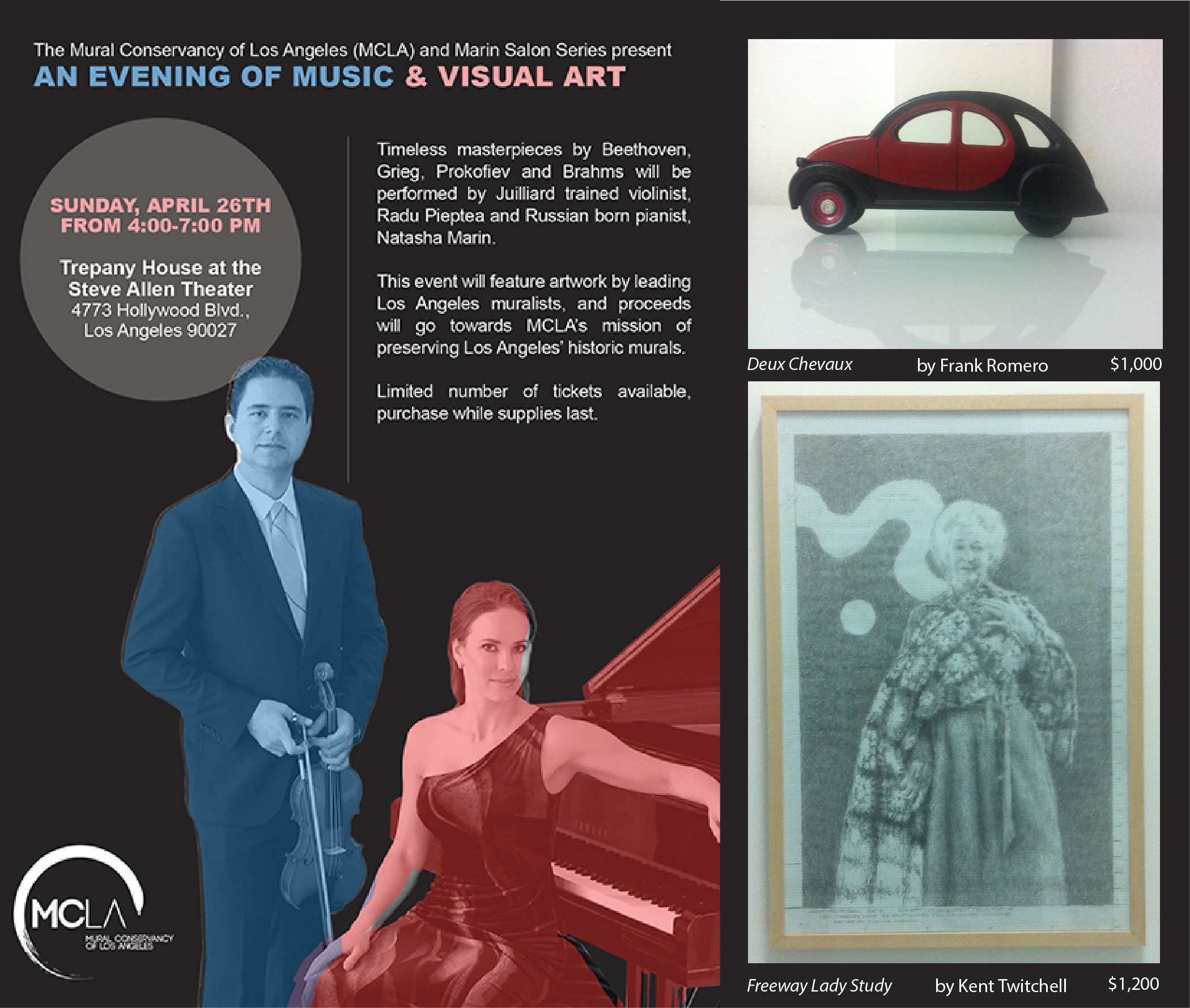 The Marin Salons Series (hosted by Mr. & Mrs. Cheech Marin) and The Mural Conservancy of Los Angeles (MCLA) are proud to present "An Evening of Music & Visual Art." This music performance by Russian born pianist Natasha Marin and Juilliard trained violinist Radu Pieptea will take you on an enchanting journey through timeless masterpieces by Beethoven, Grieg, Prokofiev, and Brahms. This special evening at the intimate Trepany House at the Steve Allen Theater, located in the heart of Hollywood, across from the historic Frank Lloyd Wright's Hollyhock House (Barnsdall Park), will resound with the romance of the 18th through the 20th centuries. Proceeds from this event will benefit The Mural Conservancy of Los Angeles, a non-profit organization.
Light appetizers and refreshments will be served.
Natasha Marin:
Russian-born classical pianist NATASHA MARIN enjoys working as a soloist, with orchestra, chamber ensembles and piano duos. She was featured on the radio and TV, recorded and has been performing extensively in Europe and in the United States appearing live in venues such as St. Petersburg Philharmonic and Capella Halls in Russia, Carnegie Weill Recital Hall in New York, Comerica Theater in Phoenix, AZ, Leo Bing Theater, Zipper Hall, Schoenberg Hall and Thorne Hall in Los Angeles among many others.
Natasha's collaborative programs include piano duos with internationally acclaimed pianists Gerald Robbins and Dmitry Rachmanov, as well as innovative "Double Sharp" project with Maria Demina incorporating custom designed costumes by Vera Chernova DeFehr. "Double Sharp" made special appearances at charity events for Robert Shapiro's Foundation and Alice Cooper's Solid Rock Foundation.
Recently Natasha Marin presented series of collaborative concerts with American and European vocalists in the US, Austria, and France.
In 2013 Natasha Marin premiered "Bagatelles: Twice Seven Haiku for Piano" written by prominent contemporary composer Paul Chihara.
Aside from classical repertoire Natasha also plays other genres. She has recorded with Grammy Award-winning producer Peter Asher for classical crossover album "Siren", and recorded music for a documentary film "Searching for Posada: Art and Revolutions." Natasha also performs with actor/comedian Cheech Marin. Together they appeared at the Hollywood Bowl, House of Blues and Bonnaroo Festival.
Radu Pieptea:
Since making his solo debut at 14 in the Morton H Meyerson Symphony Hall in Dallas with Saint-Saens' Violin Concerto, Radu's musical talents have continued to garner critical acclaim and recognition. Das Orchester in Germany called his performance "brilliant" and "flawless." Lauded by the Santa Barbara Independent, Radu is described as "astonishing," and the Los Angeles Times commended him for his "firm tone" and "technical proficiency and musical resolve." Radu has made solo orchestral appearances and performed in recital and as chamber musician in concerts across the United States, Europe, and Asia including places such as Carnegie Hall and at the Dorothy Chandler Pavilion as a winner of Los Angeles' Spotlight Awards. After graduating from Juilliard in 2000, he won a Fulbright Scholarship for continuing his studies with renowned violin pedagogue Zakhar Bron at the conservatory in Cologne, Germany. Currently Radu plays regularly with the LA Philharmonic, LA Opera, the Hollywood Bowl Orchestra, and is active recording in the studios for movies and records.
Featured visual artists: Los Angeles pioneer muralists Barbara Carrasco, Wayne Healy, Willie Herrón III, Frank Romero, and Kent Twitchell along with up and coming new generation.
About The Marin Salons:
Marin Salon Series were founded by Russian-born classical pianist Natasha Marin and her husband, art advocate and entertainer Cheech Marin. This exclusive series of events are designed to showcase and share their interests in art, music, good food, literary works, and great conversation with friends, new and old. Each event features an artist and/or an author, a musician, and a chef.
About The Mural Conservancy of Los Angeles:
In 1987, a coalition of artists, public art advocates, city and state officials, and restoration specialists came together to establish the Mural Conservancy of Los Angeles, a non-profit 501(c3). Its mission today was the same as it was then: to restore, preserve, and document the murals of Los Angeles. In its role as public art advocate, MCLA works to protect the legal rights of artists and to prevent the loss of significant works of public art. Most importantly, MCLA is committed to preserving the heritage of Los Angeles as one of the mural capitals of the world. MCLA took a leading role in helping write and pass the mural ordinance (signed by Mayor Garcetti in 2013) that ended the decade long mural moratorium, thus restoring muralists' freedom of expression.
http://www.muralconservancy.org
About the Trepany House at the Steve Allen Theater:
Trepany House is a 501c3 non-profit multi-disciplinary arts organization dedicated to the cultivation of original material and exploration of innovative forms of artistic expression.
In residence at the Steve Allen Theater in Los Angeles, we provide a home for unique established voices while acting as a laboratory for new productions. Theater, music and film screenings are just a few of our featured media. Drama, music, horror, comedy, and theological explorations mingle here, creating often uncategorizable works. Trepany House invites you to experience our experiments in storytelling.
Limited number of tickets available.