MCL Business-Environment Breakfast: Hog Island Oyster Co.'s Terry Sawyer

Friday, September 20, 2013 from 7:30 AM to 9:00 AM (PDT)
Event Details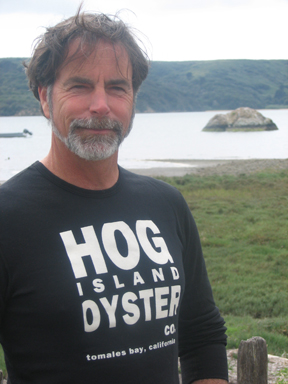 On Friday, September 20, the Marin Conservation League Business-Environment Breakfast will feature Hog Island Oyster Company scientist and co-owner Terry Sawyer giving an in-depth look at how the slow upwelling of water off the West Coast, which creates a particularly nutrient rich environment for shellfish, is now carrying carbon dioxide absorbed from the air in the 1960s and 1970s.
Hear what this foretells for the future of shellfish cultivation on the West Coast, and why Terry Sawyer and Hog Island co-owner John Finger are working toward opening Hog Island's own hatchery in Humboldt Bay.
Oysters are the proverbial canary in the coal mine that is the ocean. The world's oceans soak up atmospheric carbon dioxide causing ocean waters to become acidic. For some time, ocean acidification has been recognized as one of the causes of coral reef collapse. Recently ocean acidification has been identified as the reason fewer tiny "seed" oysters, known as "spat," develop into full grown oysters. This has significant ramifications for marine ecosystems. In addition to being major commercial food crops, oysters and mussels are members of a very diverse suite of marine organisms whose growth and survival could be disrupted by ocean acidification.

The event begins at 7:30 a.m. and includes a full breakfast buffet. There will be an opportunity for the audience to ask questions after the presentation.

Tickets are $25 for MCL members and $30 for non-members. Join MCL here!

Please pre-register by September 13. If you prefer to register by phone, call 415-485-6257.
Terry Sawyer began a career with the Monterey Bay Aquarium as a specialist in Marine Animal Husbandry. This was a fitting background for his current partnering with California scientists seeking a solution to the impact of ocean acidification on the cultivation of shellfish on the West Coast.
When & Where

Embassy Suites San Rafael
101 McInnis Pkwy
San Rafael, CA 94903


Friday, September 20, 2013 from 7:30 AM to 9:00 AM (PDT)
Add to my calendar
Organizer
Marin Conservation League was founded in 1934 to preserve, protect and enhance Marin County's natural assets.
MCL is a non-profit 501(c)3 organization. 
All contributions and memberships are tax-deductible to the extent allowed by law.
MCL Business-Environment Breakfast: Hog Island Oyster Co.'s Terry Sawyer