McDonald's Houston Children's Festival March 28 & 29, 2015 - 10:30 am - 6:30 pm
When and where
Location
901 Bagby Houston, Texas 77002
Description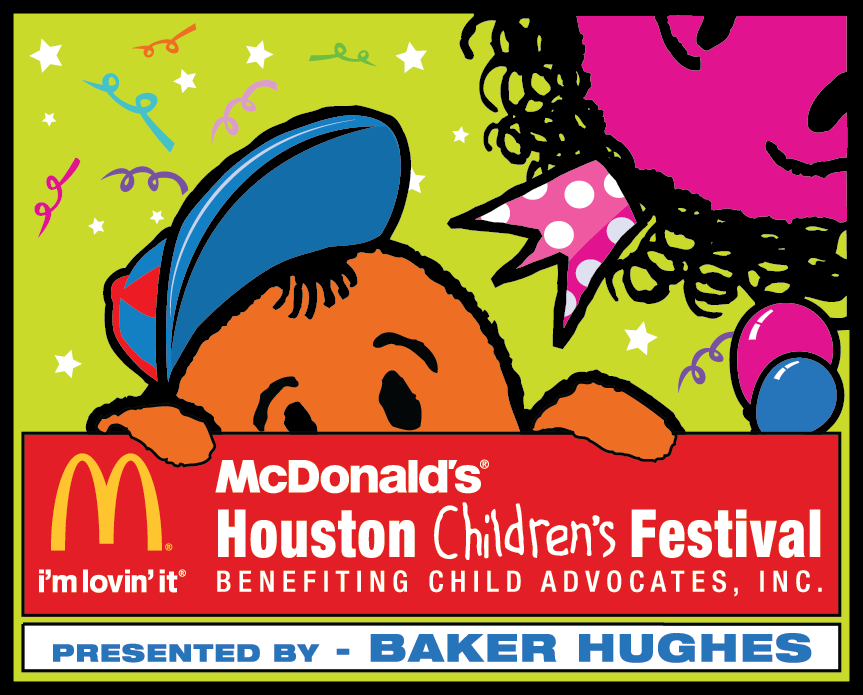 It's #1 for Family Fun!
McDonald's Houston Children's Festival
The Largest Children's Festival in the United States!
March 28 & 29 * Downtown Houston

The McDonald's Houston Children's Festival, presented by Baker Hughes, is the Largest Children's Festival in the United States and has been selected as "one of the world's 300 unmissable events" by Frommer's Travel Guides. Celebrating its 27 years, The Festival offers 5 Stages, 9 Big Family Adventure Zones and over 300 activities. It all benefits Child Advocates and the abused and neglected children they serve.
This Festival excitement includes THE personal appearance of OLIVIA HOLT, star of Disney Channel's "I Didn't Do It" on Sunday, the TEENAGE MUTANT NINJA TURTLES, Ronald McDonald & Friends, PLex, from Yo Gabba Gabba, plus take photos with Kevin, Stuart & Bob, stars of Universal Pictures' MINIONS.

On the Road to the Radio Disney Music Awards presents...Radio Disney recording artists: JORDAN FISHER (star of Disney's Original movie TEEN BEACH 2), JESSICA SANCHEZ (2012 American Idol runner-up & ALEX ANGELO, host of Radio Disney's "Saturday Night Party."

The non-stop fun continues intheexciing, interactive Big Family Adventure Zones including the action-packed McDonald's Dream Discovery Zone, Baker Hughes CircusTown, Nightlight Pediatric Urgent Care Tot Spot & Diaper Derby, Green Mountain Energy Kid's Zone, SABIC Super Science Zone, EP Energy Tile Painting Zone, Gorton's Smart & Crunchy Tour, Nathan's Hot Dogs, Metropcs Kid's Lounge and Child Advocates Under the Sea Zone.

For 27 years The Festival has consistently provided high-quality educational and fun
entertainment in a family friendly atmosphere. With programming carefully aimed at specific age
groups and interests, there is adventure and fun for everyone. The McDonald's Houston Children's
Festival reigns supreme as "Number One for Family Fun!"

THIS IS A RAIN OR SHINE EVENT. THERE IS A NO REFUND POLICY.


History
The McDonald's Houston Children's Festival was born in 1988 and was originally known as the "Children for Children Festival." Attracting a crowd of less than 5,000 people the first year, the goal was to create a family festival that would serve as the vehicle to educate the public about child abuse and the mission of Child Advocates. For the first few years, the festival was located across from the George R. Brown Convention Center, where Discovery Green Park is now located. When the festival continued to grow and needed a bigger home, it was moved to the Greenway Plaza area and occupied two large, then-vacant lots next to what is now Lakewood Church. After a two year stint at Hermann Park, the festival found its current home in downtown Houston in 1999. It was during this time that Mayor Bob Lanier saw the exceptional value in this event and designated it "The Mayor's Official Family Celebration." It has now grown to be The Largest Children's Festival in the United States!

Child Advocates
In Harris County alone, 5,000 children languish in foster care because of life-threatening abuse and neglect. Child Advocates recruits, trains and supports volunteers assigned by a family court judge to the cases of these children. Child Advocates' volunteers contact caseworkers, interview parents, ensure necessary medical care, look out for educational interests and make recommendations in court regarding the permanent placement of the child. Most importantly, they serve as a "constant" person for that child to count on during a very tumultuous time. The McDonald's Houston Children's Festival has become a cornerstone event for Child Advocates and to date has raised over $4.7 dollars to assist Child Advocates in this critical mission.