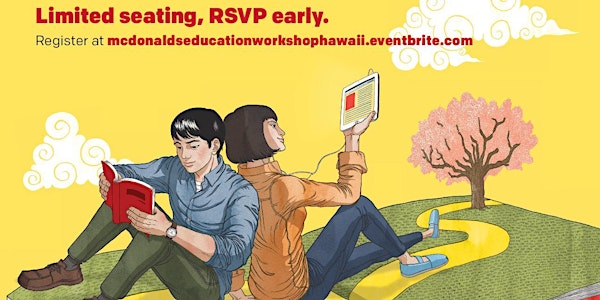 McDonald's Education Workshop
When and where
Location
University of Hawaii at Manoa (Campus Ballroom) 2500 Campus Road Honolulu, HI 96822
Description
*UPDATE*
ACTRESS AND YOUTUBE CELEBRITY MEGAN LEE TO SPEAK - Megan Lee currently stars in her new Nickelodeon #1 show 'Make It Pop' produced by Nick Cannon & Tommy Lynch as the lead character, Sun Hi. Born and raised in Southern California, Megan is a young rising entertainer by first officially beginning her professional career in acting, singing, and dancing at the age of 10. She has appeared in numerous national commercials including McDonald's, Verizon, and Nintendo, as well as TV shows such as Crash series, KidzBop, Nickelodeon, Disney, various indie-films, and after participating in South Korea's immensely popular Audition Reality Show on one of South Korea's main broadcast networks Megan released a very first Korean Pop debut single '8dayz' & OST 'Ready for Love' in South Korea. Megan also kept posting videos on her YouTube channel & ran it very successfully with more than 37million views. With endless support from her loving family, she aspires to continue working in the capacity of actor-singer-song writer in the entertainment industry to inspire more young people around the world with her talents.
McDONALD'S® RESTAURANTS OF HAWAII AIMS TO INSPIRE YOUTH TO ACHIEVE THEIR EDUCATIONAL DREAMS WITH EDUCATION WORKSHOP
WHEN: Saturday, November 12, from 10 a.m. to 4:30 p.m.
WHAT: Students and parents are invited to attend a free college workshop sponsored by McDonald's Restaurants® of Hawaii
WHERE: University of Hawaii at Manoa Campus Center Ballroom located at 2500 Campus Road, Honolulu, HI 96822
DETAILS: McDonald's Restaurants of Hawaii is proud to sponsor this year's Education Workshop, which helps parents and students gain the tools and resources to better equip them in the pursuit of higher education. The workshop will feature essential resources and expert tips on topics such as how to get into the college of your choice, college admissions process, financial aid and scholarships. The workshop will be held on Saturday, November 12 in the University of Hawaii at Manoa Campus Center Ballroom and will run from 10 a.m. to 4:30 p.m. The event is open to the public.
AGENDA:
10:00 am Doors open/Exhibition Opens
10:25 am Introduction, Mylen Yamamoto
10:30 am Welcome, Representative Takashi Ohno
10:35 am Welcome by McDonald's Hawaii
10:45 am - 11:20 am Inspirational Speaker MEGAN LEE (Actress, YouTube Celebrity, Kpop Star, Singer/Songwriter)
11:20 am - 11:30 pm Break
11:30 am - 12:00 pm "Using Big Data in College Admissions"" Ishan Puri - Counselor, Synocate
12:05 pm - 12:50 pm Breakout Session #1
Breakout Session #1
Room #1 - "Leveraging Resources in College" JP Fukumae (Digital Marketing Manager at
Universal Pictures)
Room #2 - On entrepreneurship: "How to build a startup while in college" Omar Sultan (Partner, XLR8UH)
Room #3 - Transitioning from High School to College Michelle Shin (Lecturer at KCC) and Dr. Jennifer Brown (Outreach at KCC)
Room #4 - Financial Literacy 101: "How to Live the Lifestyle You Want" Drake Zintgraff (Counselor at KCC)
12:50 pm-1:20 pm Lunch - "McDonald's Booth Running/Meet and Greet w/SPECIAL GUEST
1:30 pm - 2:15 pm Breakout Session #2
Breakout Session #2
Room #1 - "How to communicate with your professor and get that A" Mylen Yamamoto (Clinical Professor/Entrepreneur)
Room #2 - SAT Prep Workshop: Jim Kawashima, KCC
Room #3 - Graduates from an Ivy League Discussion Panel: Cecily Kaya (Dartmouth), Paoa Montgomery (Harvard), Marissa Akamine (Cornell)
2:20 pm - 2:45 pm "What to Expect During the College Admissions Process" - Shane Jackson (University of Hawaii Admissions Specialist)
2:45 pm - 3:15 pm College panel: Consisting of recent grads with Q/A - Zachary Espino (McDonald's Scholarship Winner), JP Fukumae (Seattle University), and more
3:15 pm - 3:45 pm "How to get Scholarships/Financial Aid" - Traven Watase, (Scholar's App)
3:45 pm - 3:50 pm Thank yous
3:50 pm - 4:15 pm Booths open for Q/A
PARKING/DIRECTIONS:
If you are traveling on H-1 Eastbound or H-1 Westbound, take EXIT 24B to University Avenue. Travel North on University Avenue and continue straight. Turn RIGHT on to Dole Street, turn RIGHT on to Lower Campus Road. Stop at the Guard Shack and pay the $6.00 parking fee. Continue to the Parking Structure. Take the elevator/stairs to the top floor of the parking structure and head North. Cross Dole Street toward the University of Hawaii upper campus and continue heading North to Campus Center building.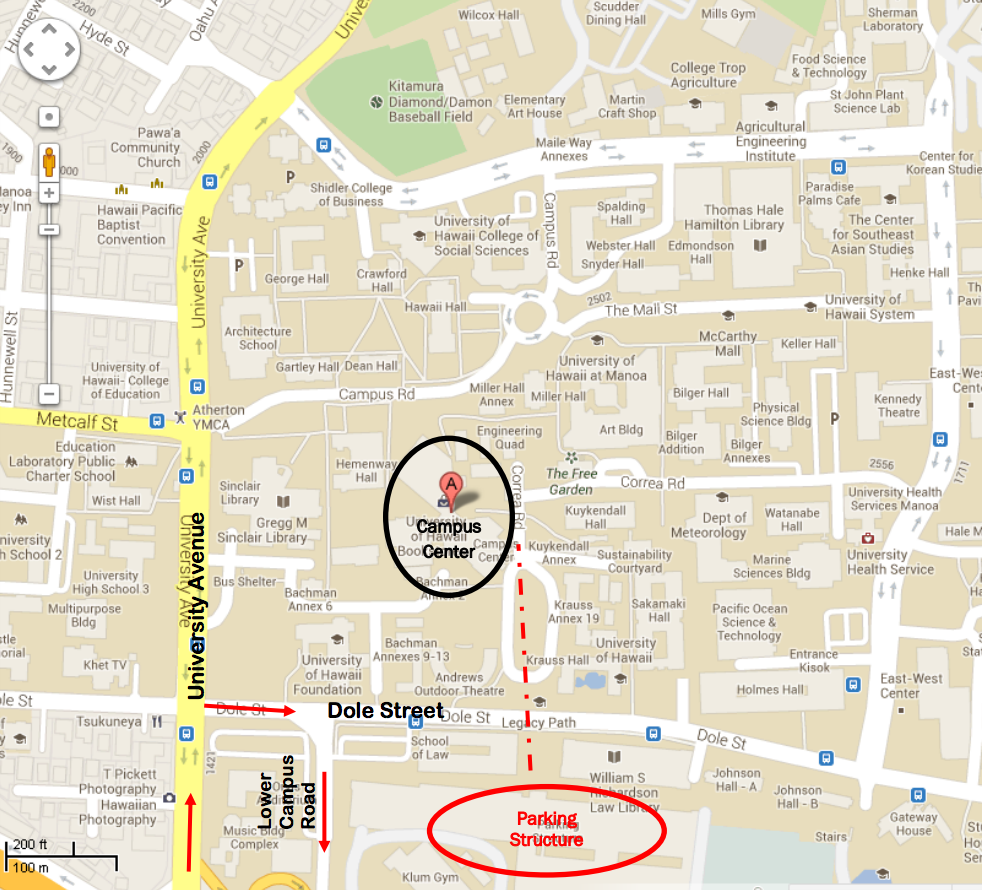 To register for the Education Workshop and a timeline of speakers and breakout session topics, RSVP on eventbrite.
For more information visit: http://www.myinspirasian.com/html/english/Edu2016/index.html