Description
Join us for a chance to win
1st Prize: Apple iPad Mini
2nd Prize: 5 Scholarships ($100 cash each)
Free Admission & Free Lunch
8:30 am Registration & Exhibition
9:10 am Ribbon Cutting & Opening Ceremony
9:20 am Alief Taylor ISD JROTC, Presentation of Colors
9:30 am VIPs Speeches
9:40 am Avalyn Montgomery, Deputy Superintendent, Alief ISD
10:00 am "The Need for Critical Thought and Analysis in Every Day Learning"
Tracy Scholz, Ed.D. Advanced Academics Coordinator, Alief ISD
10:20 am McDonald's Education Workshop Keynote Speaker: Texas State Representative Hubert Vo, District 149
"Enrichment of Children via Education and Opportunities"
10:40 am "UT Austin a great fit for you/ Admissions Process"
Tyler Cooper, the University of Texas at Austin
11:00 am "Alief ISD-Career and Technical Education in Alief ISD"
Jennifer Baker, Career and Technical Education Director
11:20am "Utilizing STEM as a STEPPING Stone for Success"
Dr. Karen Jacobs, Science Coordinator, Alief ISD
11:40 am "College degree is essential for getting a good job"
Dr. Parvin Bhagerpour- Chief Academic and Student Affairs Graduate Med
12:00 pm Exhibition & Lunch Break
1:00 pm "Education in the U.S. Army"
LTC Barry Winnegan, Commander US Army Houston Recruiting Battalion
1:20 pm "College Application and Essay Do's and Don'ts"
Li Zhang, CEO of To The Top Education Group To The Top International
1:40pm "2020 Census"
Debbie Lee & Dr. Nader Abualnaja / Partnership Coordinators/ U.S. Census Bureau, Dallas Region
2:00 pm "Admissions and DBU as a "Home Away from Home.""
Anthony Irving, Assistant to the Vice President for International Affairs -Dallas Baptist University
2:20 pm Exhibition & Break
2:40 pm "Introduction to Business Majors in College"
Debbie Su, Assistant Professor of Finance, University of St Thomas at Houston
3:00 pm Raffle/ Drawing iPad & Cash Scholarships
3:20 pm "Closing Remarks: Wea H. Lee – Chairman & CEO of Southern News Group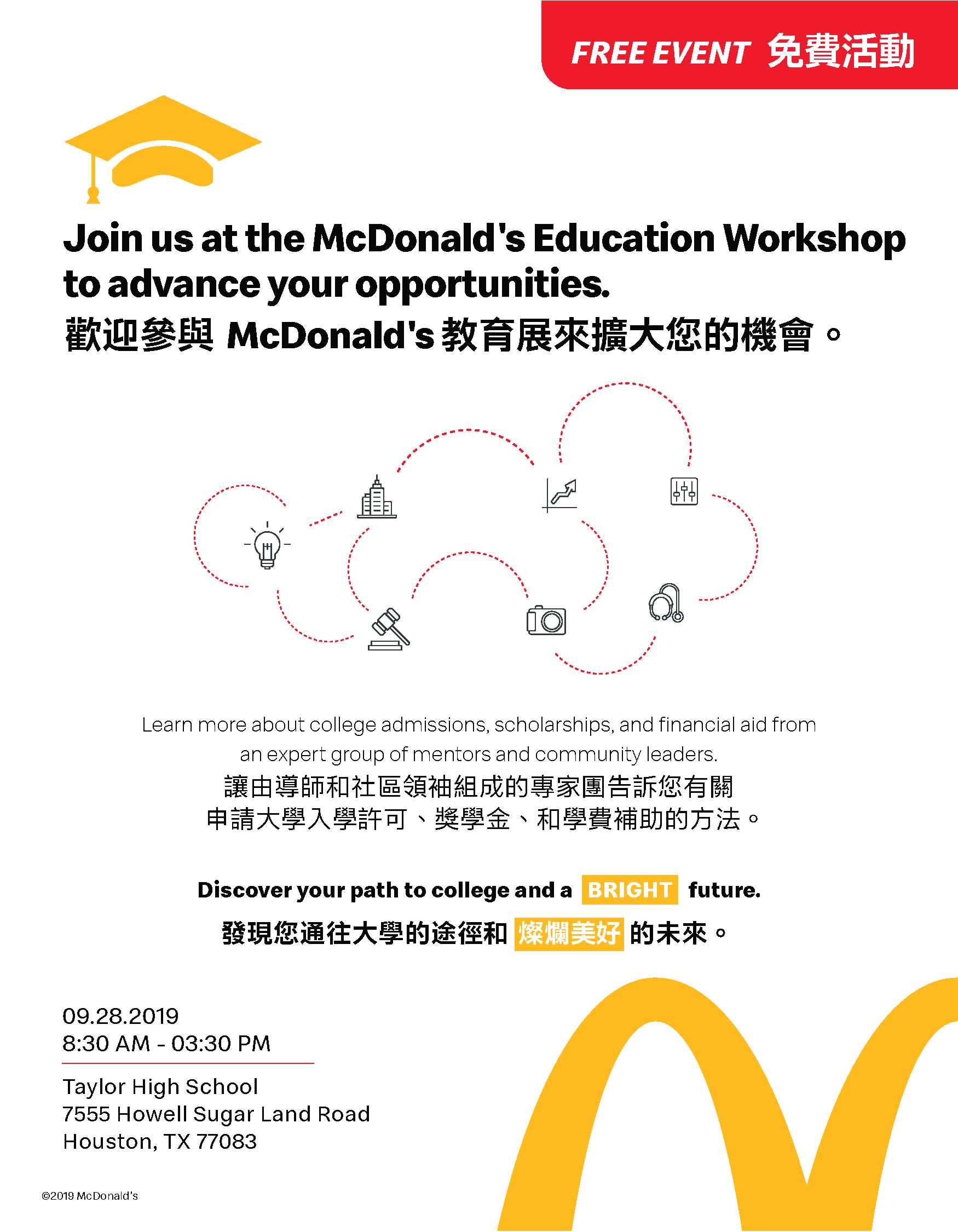 Southern News Group, and International Trade Center is proud to be part-nering with McDonald's Corporation to present the Education Workshops designed to support the effective pursuit of higher education by our young generation.
The event will be held on Saturday, Sepetmebr 28, 2019 from 8:30am to 3:30pm. McDonald's Cor-poration is the title sponsor for this event. In our Dallas workshop held on July 2019 we had 500+ students and parents attended and we are expecting more for this year in Houston.

The Education Workshop will include educational activities that will involve the students and also their parents. Career workshops in Engineering, Medical, Business….etc. as well as others on "How to prepare for SAT, ACT," "What to include in College Application Essay", "How to apply for college and Financial Aid"…etc. will be presented. The workshops for parents will include "Helping children make a right choice of college major and Career Path", "College Funding", etc…We will also invite the Admission officer from different college to explain how they seek in their students.

The purpose of this event is to help students to improve their learning skills, test taking tech-niques, curricula and activities, college admissions, essay and writing skills.
Organizer of McDonald's Education Workshop-Houston FREE EVENT