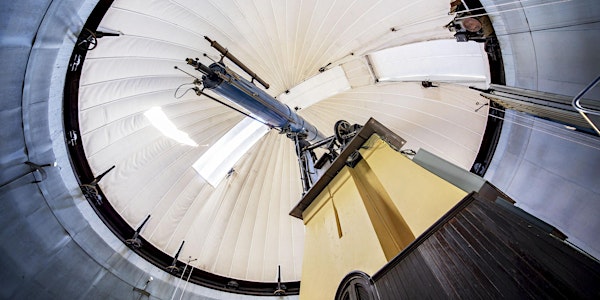 Multiple dates
McCormick Observatory Public Night
Tour the McCormick Observatory and look through our historic telescope!
By UVA Department of Astronomy
Date and time
May 6, 2022 · 9pm - August 18 · 11pm EDT
Location
Leander McCormick Observatory 600 McCormick Road Charlottesville, VA 22904
About this event
Welcome to the Leander McCormick Observatory!
Visitors can view celestial objects through the historic 26-inch McCormick Refractor and other smaller telescopes (weather permitting), tour the Observatory, hear a presentation by an astronomer, and see the exhibits. All faculty, postdocs and graduate students participate through a rotating schedule.
Please note, as the details around COVID-19 rapidly change, some public nights may be cancelled. If you register for an event that is cancelled, you will be notified by email.
COVID-19 POLICY: As of March 28, 2022, masks are OPTIONAL for people (both UVA staff and visitors) in UVA academic buildings. Some will be available for those who prefer to wear one, but they are not required. Observatory personnel may or may not be wearing masks, as it is up to the individual's personal preference. Additionally, you are NOT required to show proof of vaccination.
ACCESSIBILITY STATEMENT: Because the observatory is a historic site, it was not built with accessibility in mind. Please see below for information regarding potential barriers.
WHEELCHAIRS: McCormick Observatory is NOT wheelchair accessible. There are 3 steps leading into the building, and there are small steps throughout the building.
RESTROOMS: The only restrooms in the Observatory are down a long set of stairs, which may not be accessible for some guests. There is a handrail for support, but there are no additional accessibility aids.
TEMPERATURE OF THE DOME ROOM: The dome room of the observatory is NOT climate controlled. Whatever the temperature is outside will most likely be the temperature in the dome room.
NOISE IN THE DOME ROOM: The dome room is a very large space where sounds can echo at high volumes, and words can be difficult to hear. The dome moves on motors that can become very loud. We suggest visitors who are hearing impaired or sensitive to loud noises to bring assistive devices.
Please also note the below policies at the Observatory:
FOOD AND DRINK: The observatory is a historical site, and we ask that you do not bring food or drink into the building other than water. If a visitor MUST bring a snack for health reasons, we ask that it is kept in a sealed container. NO ALCOHOL IS PERMITTED AT ANY TIME, inside nor outside the building.
SMARTPHONE USAGE: For the benefit of all our guests, we ask that smartphones are kept put away in the dome room or in the small observatory . The screen light affects viewer's night vision when looking through the telescope and navigating in these low-light environments.
NIGHT VISIBILTY: To limit light pollution in the area, there are no street lights along the road leading to the Observatory. Along with the trees, it might be difficult to see while driving. Please be mindful as you arrive and leave the observatory.
For questions about your visit to the Observatory, call 434-924-7494 during normal business hours: 9am-5pm, Monday-Friday or email astro_admin@virginia.edu.
Dates that are sold out and have a full waitlist will appear as above. When selecting a date, it will appear as "Sold Out" with a greyed-out button.
Dates that have a full registration but an available waitlist will appear as above. You can select a date, and a button to join the waitlist will appear at the top. DO NOT CLICK THE REGISTER BUTTON AT THE BOTTOM. You will be prompted to fill in details, but you will receive an error code "Please correct the highlighted fields below" when there are no fields to correct. You can only join the waitlist for these dates.
This is an Eventbrite glitch that is being resolved.
Dates that are available for registration will appear as above. You will be able to select the number of tickets you would like, and you can click the register button with no errors.