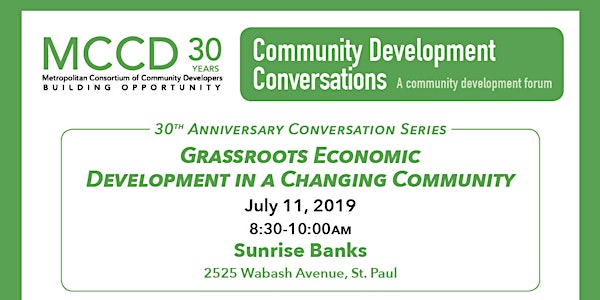 MCCD CD Conversation: Grassroots Economic Development in a Changing Communi...
Location
Sunrise Banks Corporate Headquarters (not a branch location)
2525 Wabash Avenue
Saint Paul, MN 55114
Description
Our metropolitan area has seen many changes in the last thirty years, which have been reflected by the work of MCCD members and partners. Join us for the second installment of CD conversation ins our 30th anniversary series.
From Eat Street on Nicollet Avenue to the thriving local economies of our suburban communities, entrepreneurs and community developers have been at the heart of grassroots economic development. How has the focus of this work changed in the last thirty years? What are some of the new tools and resources that are available? How can we continue to be responsive to community needs as demographic and economic trends evolve?
Featuring:
Ann Ahmed, Lat14 Asian Eatery and Lemongrass Thai Cuisine
Chris Eng, Washington County Community Development Agency
Cara Letofsky, Mill City Consulting and Hennepin History Museum
Robert Lilligren, Native American Community Development Institute
Registration, Coffee, and Treats at 8:00am
Program Begins at 8:30am
Sponsored by: CenterPoint Energy, Landmark Environmental, US Bank, and Xcel Energy