Description
Friday update:
Greetings! I'm excited for tonight's Paint Night. A few details for tonight...
- don't worry about printing tickets like Eventbrite says :)
- we wil be upstairs, so enter in the back of the church (6-8pm).
- we will have some smocks available, but feel free to bring your own or an old t-shirt for your kids.
- we have 75 signed up to come tonight - it's going to be a fun night!
- We'll be using 8x10 canvases and below are a few sample pictures that Cheryl painted up. Feel free to come with your own ideas! Maybe it's having your canvases together as one "big" picture such as the tree picture. Or using masking tape to outline your family name or maybe the word family. Or the wet-on-wet technique of the owl or leaves.
- the 4 samples below are ones that Cheryl will be giving some intructions on. But you are more than welcome to use these for inspiration and create your own pieces of artwork! Maybe a Christmas masterpiece for the grandparents!
See you tonight at 6.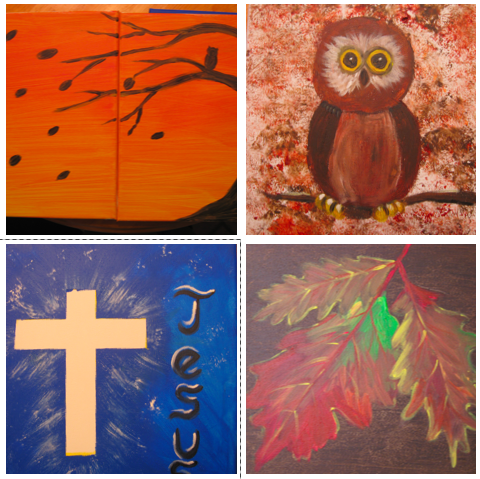 =-=-
This will be a fun experience for the whole family to Paint and Laugh TOGETHER! This is not a drop-off type of event.
Friday - Oct. 26 from 6-8pm upstairs at McBIC (enter in the back of the church). A $5/person or $15/family donation recommended to help offset the cost.