Event Information
Location
Presidio Riding Club
Bunker Road
Sausalito, CA 94965
Description
MCBC Dirt Fondo
Epic Ride on Mt. Tam, the Birthplace of Mountain Biking
Proceeds benefit the Marin County Bicycle Coalition's Off-Road Program
The Marin County Bicycle Coalition is proud to announce the 6th Annual MCBC Dirt Fondo, an all-day mountain bike ride on Sunday, August 27, 2017 raising funds for MCBC's Off-Road Program. We encourage bicyclists of all skill levels to join us on one of the most spectacular and challenging off-road bicycle rides you'll experience!
The ride will start in the Marin Headlands at the Golden Gate National Recreation Area, just north of the Golden Gate Bridge. The 45-mile route takes cyclists on a journey that climbs and descends a number of ranges before an ascent to the top of Mt. Tamalpais. After stopping to take in the amazing view, riders will continue on a loop around the mountain before rolling back to the Headlands for a grand BBQ feast and stories around the campfire.
While not everyone is prepared to ride such a great distance, we encourage all interested parties to give it a try. There will be turn-back options at the 5, 10 and 16 mile mark, creating loops of 10, 20 and 32 miles. And you have most of the day to complete the ride.
There will be great support along the journey, including three well-stocked energizer stations, ride leaders and sweeps, SAG and mechanics to help with minor repairs.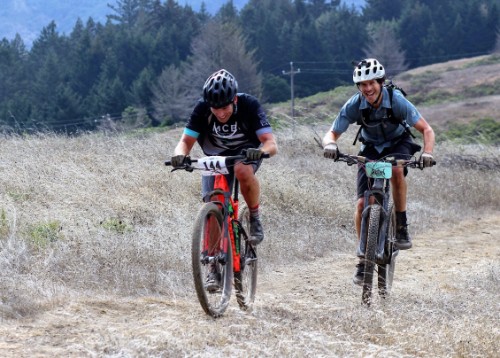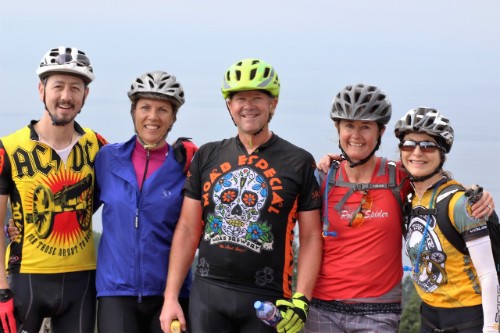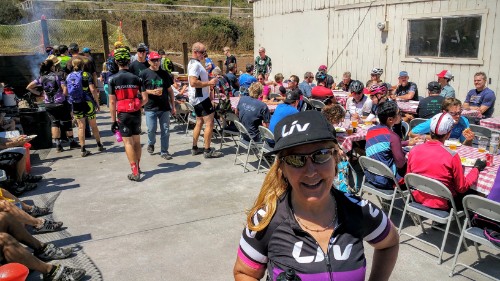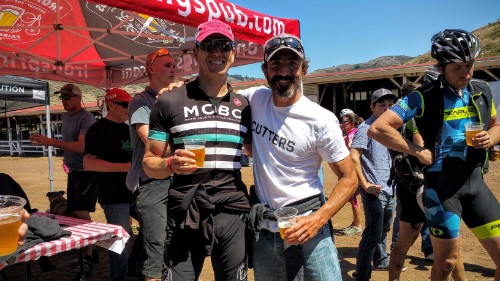 What: An endurance ride, with 20 mile, 32 mile and 45 mile options

When: Sunday, August 27, 2017 (Soft start between 7 AM and 8 AM - No starts after 8AM!)
Where: Presidio Riding Club on Bunker Road in Marin Headlands.
Registration fee: $95 Includes well supported ride complete with SAG and energizer stations, a BBQ feast with Lagunitas beer and a special MCBC Dirt Fondo t-shirt.
WOMEN'S Prep Night on Thursday, August 24! CLICK HERE for detials.

More information on the ride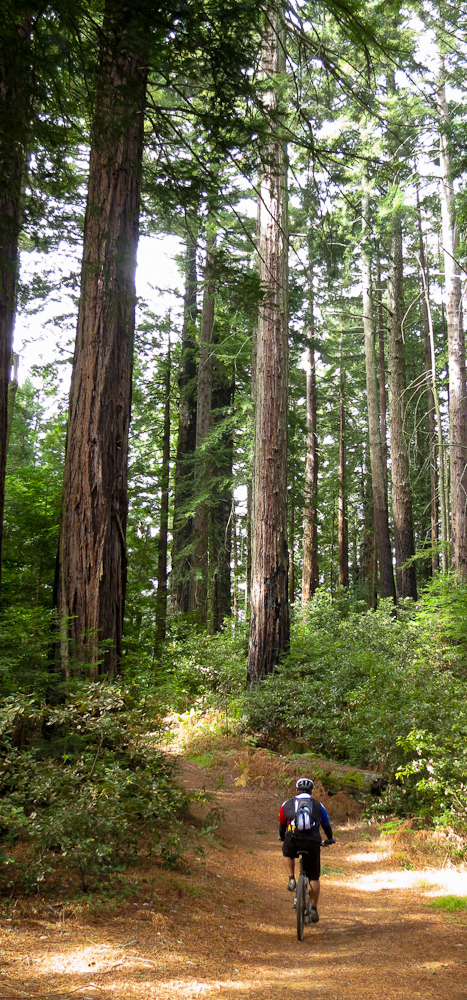 In 1911 William Kent (as in Kent Lake, Kentfield and Kent Woodlands) donated much of the land on Mt. Tamalpais for a park and watershed, and in 1908, encouraged President Theodore Roosevelt to protect Muir Woods using the newly created Antiquities Act (which ironically is now under threat by President Trump). These actions set a precedent, which has resulted in 50% of Marin's land mass being set aside for recreation and resource protection. Without these visionary actions, Marin may not have become the birthplace of the mountain bike.
Start / Finish - The event will start and finish at the Presidio Riding Club stables in the Marin Headlands.
Route – The epic route will take riders on a journey across three parks, starting in the Marin Headlands (GGNRA) and traveling north to Mt. Tamalpais (California State Park and MMWD) before returning to the Presidio Riding Club. The route will take riders on scenic fire roads, including Miwok, Deer Park, Bobcat and Old Rail Road Grade; and some of the best trails in Marin, including Old Springs, Coast View, Dias Ridge and Middle Green Gulch. There is just one route for all riders. It is a series of intersecting crossover loops. If you do the entire route it is a 46-mile ride. You can turn back at key locations for shorter ride options. Complete route details will be distributed to participants before the event.
Support - The ride will have incredible support, with three well-stocked energizer stations, trail marshals and roving mechanics.
Post-ride BBQ - We will draw on Marin's many organic beef, dairy and produce companies to supply top quality foods for our BBQ feast. There will also be a variety of beverages, including Lagunitas Brewing craft beers.
Proceeds benefit the Marin County Bicycle Coalition's Off-road program.
Route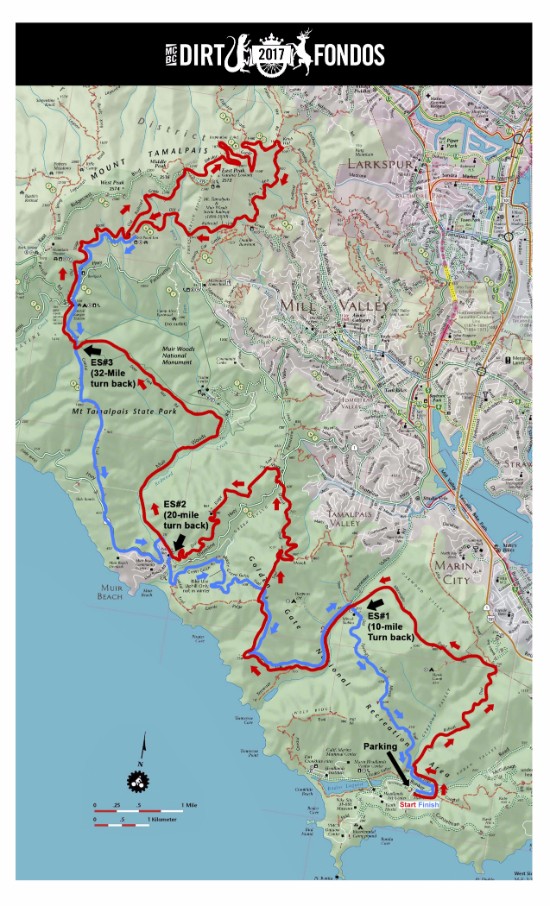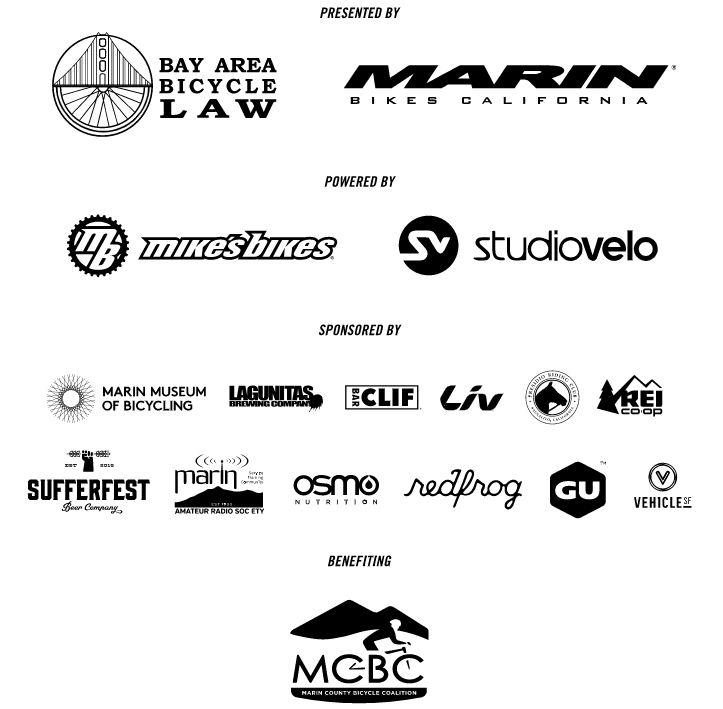 Date and Time
Location
Presidio Riding Club
Bunker Road
Sausalito, CA 94965