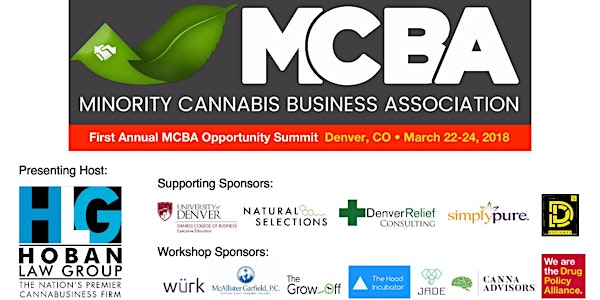 Location
Daniels College of Business
2101 South University Boulevard
Denver, CO 80210
Description
Overview
The Minority Cannabis Business Association (MCBA) has partnered with the University of Denver's Daniels College of Business and Hoban Law Group to host the first ever Cannabis Opportunity Summit March 22-24, 2018 in Denver. The purpose of the Summit is to provide resources, information, and connections to businesses, entrepreneurs and advocates from the communities most impacted by the war on drugs.

More than five years after Colorado legalized cannabis, best estimates have only 1% of cannabis businesses owned by people of color. As new markets emerge across the country there is a greater demand for an educated and knowledgeable workforce in management and entry level positions. Often communities that have been most impacted by the war on drugs do not have the proper knowledge, financial resources or necessary relationships to successfully navigate and enter the cannabis industry. The Cannabis Opportunity Summit will include speaker sessions and interactive workshops covering a wide range of topics, including market and opportunity analysis, operational differentiators, community reinvestment, cultural integration, advocacy and lobby training, and much more. Speakers and attendees will include lawmakers, entrepreneurs, advocates, activists, and those curious about developing a better and more inclusive cannabis industry.
Thursday March 22nd
2:00-5:00p at Joy Burns Center, room 229, University of Denver - Thursday afternoon March, 22nd, prior to the start of the summit, please join Daniels College of Business Faculty Paul Seaborn for a "Business of Marijuana 101" session. He will discuss the history of legalization, regulatory structure, key business challenges, and industry overview of cannabis. The session will be ideal for those new to the cannabis industry wanting to get up to speed prior to the main conference program. In Spring 2017, he taught the first ever "Business of Marijuana" course at Daniels and at any AACSB-accredited business school. Here is a link to Prof. Seaborn's bio https://daniels.du.edu/directory/paul-seaborn/. This session will be $25.00 to attend.
The topics that will be discussed in this session are:

History (how marijuana became legal, key political and legal events that led to return to legal status)

Legal and Regulatory Structure (federal vs. state vs. local, key regulatory bodies, current issues/debates)

Key Business Challenges (accounting & finance; marketing & branding; management & human resources; strategy & supply chain)

Colorado Industry Overview (both core and ancillary businesses, current state and future directions)

U.S. and World Industry Overview (key U.S. markets, interstate commerce challenges, international import/export)
Friday March 23rd
A full day of sessions and speakers from across the country talking about all things cannabis and social justice. Registration will be held with a light breakfast from 8:00-9:00a at Marcus Commons at the University of Denver's Daniels College of Business. Tickets are $99 for MCBA members and $119 for non-members. Confirmed sessions and speakers follow.
8:00-9:00a - Registration and Breakfast
9:00-10:15a - Session #1, Track A - Market Opportunities
Paul Seaborn, University of Denver
Christopher Alexander, Drug Policy Alliance
Shawn Coleman, Terrapin Care Station
Amber E. Senter, Supernova Women
9:00-10:15a - Session #1, Track B - Hemp
Bob Hoban, Hoban Law Group
Ben Droz, HEMP Magazine
Priyanka Sharma, Ph.D., Kazmira LLC
Samantha Walsh, Tetra Public Affairs
10:30-11:45a - Session #2, Track A - Ancillary Opportunities
Ricardo Baca, Grasslands
Wy Livingston, Joint Venture Flavors
Zairilla Bacon, Zairilla Bacon
Cindy Sovine, Utopia
10:30-11:45a - Session #2, Track B - Cultural Integration
Jake Plowden, Cannabis Cultural Association
Kali WIlder, EstroHaze
Caroline Phillips, National Cannabis Festival & National Cannabis Policy Summit
Ru Johnson, Roux Black Consulting
11:45a-12:45p - Lunch
12:45-2:00p - Session #3, Track A - Partnerships & Capital
Wanda James, Simply Pure Dispensary
Lanese Martin, Hood Incubator, Oakland Cannabis Regulatory Commission
Kaliko Castille, National Cannabis Industry Association
Marion Mariathasan, Simplifya
12:45-2:00p - Session #3, Track B - Community Impact
Dr. Chanda Macias, National Holistic Healing Center
Kelly Perez, kindColorado
Betty Aldworth, Students for Sensible Drug Policy
Matt Molinaro, Law Office of David Lichtenstein
Corey Pegues, Law Enforcement Action Partnership
2:15-3:30p - Session #4, Track A - Operational Differentiators & Understanding the Consumer
Rachel Knox, American Cannabinoid Clinics
Theresa Conley, PhD, University of Denver
Monique Chavez, Southwest CannEvents
Reuben Droughns, Athletes for Care
Jeff Doctor, National Indian Cannabis Coalition
2:15-3:30p - Session #4, Track B - Activism & Advocacy
Gabriel Pendas, Center for Complex Change
Stephanie Izquieta, Marijuana Policy Project
Julie Gonzalez, Hans Meyer Law Firm
Sabria Melina Still, Colorado Black Women Political Action
​Larisa Bolivar, Cannabis Consumers Coalition
Scott Cecil, Students for Sensible Drug Policy
3:45-4:30p - Keynote with NFL Hall of Famer and ex-Denver Bronco Terrell Davis
4:30-6:30p - Cocktails and Dinner
7:00p-Midnight - Afterhours Party at Tetra Lounge, 3039 Walnut St, Denver, CO 80203 Here is the link to register https://nightout.com/events/mcba-afterparty-hosted-by-roux-black-at-tetra-lounge/tickets
Saturday March 24th
10:00a-2:00p - Opportunity Clinic at Cultivated Synergy, 2901 Walnut St, Denver, CO 80205
The Opportunity Clinic will be broken up into five workshops that will be running in parallel with one another throughout the event. They will be directed by leaders in each area and will focus on:

- Business Planning 101, Hoban Law Group
- Record Sealing, McAllister Garfield, P.C.
- Entrepreneurship Ideation, The Hood Incubator
- Resume Building, Würk
- Cannabis Cultivation Entry, The Grow-Off
Keep your eyes on the MCBA website, and this page to get more information and the agenda for the conference: https://minoritycannabis.org/2018-opportunity-summit/. We will be providing more details as the event gets closer. www.minoritycannabis.org
About
MCBA is the only nationwide trade association representing the interests of minority-owned cannabis businesses and the communities that have been marginalized by the war on drugs. Hoban Law Group (HLG) is the nation's only full-service cannabis business law firm, servicing all legal medical and adult use states. HLG has attorneys in every state and territory where legalization has occurred and is expanding internationally in 2018. Like with all industries, the Daniels College of Business has faculty who research and study this emerging field, including active programming in their business and law schools.