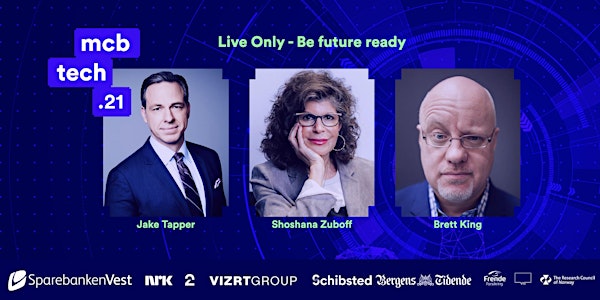 mcb tech .21 online
mcb tech, the future-focused conference for tomorrow's leaders.
About this event
Once again, It's time to get a tech update from some of the brightest minds in the industry. Join us for an out of the ordinary, virtual studio experience with a stellar line-up of world-renowned expertise on innovation and the future of technology.
HEADLINERS:
SHOSHANA ZUBOFF
– We may have democracy, or we may have Facebook, but we cannot have both.
We are living in the social and political chaos created by the digital age - what author and Harvard business professor Shoshanna Zuboff predicted in her groundbreaking, epoch-defining bestseller The Age of Surveillance Capitalism. Now, as we brace ourselves through pandemic-related waves of economic, social, and political instability, Zuboff presents the solution we must embrace.
JAKE TAPPER
Where do we go from here? When journalists are framed as "enemies of the people", and the lines between facts and lies are blurred - how can democracy prevail?
Jake Tapper, CNN Anchor and Chief Washington Correspondent, presents the story of the enthralling mix of fake news, alternative facts, disturbed leaders, and a never-ending election coverage - with CNN at the epicenter of it all.
Will newsrooms go back to "normal", will they forever change – or what is the new normal now?
BRETT KING
Is your business ready to adapt? Because chances are, you don't really have a choice.
Brett King, the King of Disruptors, provides a future vision on how huge tech shifts can impact your business as both a disruptive force and an area of significant opportunity.
From selfie-pay in China, blockchain in Africa, self-driving cars with their own bank accounts, and augmented reality tech, this proves once and for all that we're not in Wall Street anymore.
Are you a member of NCE Finance Innovation or NCE Media?
All members attending mcb tech .21 will get a 20% discount on next year's conference, mcb tech .22, a physical event. Order the member ticket to get your discount.
THE FUTURISTS:
MARIA AMELIE @ Factiverse
How can newsrooms successfully deal with misinformation in a time where fake news spreads 100 times faster than the truth? Is it even possible to defend against misinformation in a time where people are using increasingly sophisticated tools to spread their false messages?
Factiverse has done the math! Through the use of cutting-edge AI and NLP, their robust and patented deep neural networks learn from past patterns of fake news in a matter of seconds.
NICOLAI MØLLER @ Bulder Bank
Forget what you know about banking - there is a new kid in town; Bulder Bank - the next-gen bank!
Meet the challenger: Bulder Bank, who took Norway by surprise when they launched in 2019, with promises of a simpler, smarter, and more innovative way of handling your finances.
MIGUEL SILVA @ Visualyst
Before every movie and TV series are released to be enjoyed by the public, content must be checked, controlled, and adjusted to different audiences, markets and regulations. Violence, nudity, rude language, and ads must be detected and checked before release. This is a highly time-consuming and often painful process for the compliance team.
Visualyst aims to transform this process - getting the content available for you to watch quicker than ever before! By delivering a revolutionary tool, they're automating the process of compliance by using AI, making for faster and more accurate compliance checks.
EMMA TRYTI @ Kron
What if we told you that anyone could easily invest in funds (yes, even your grandparents!), and perhaps even crazier - there is even a way to make pension saving exciting? (who would have thought!)
STEINAR SØREIDE @ Mjoll
Have you ever spent hours upon hours to find that very specific video in the vast records that is your video archives? "Where is that video with the guy talking about Covid??". Maybe you only remember the location or the weather.
Mjoll's easy-to-use tool; Mimir, will still be able to find it for you! Mimir harnesses the power of market-leading AI services to automatically make your archives searchable and therefore more valuable. Mimir also gives you autotranslation, speech-to-text, video & image metadata logging, and much more.
JAN ÅGE SKAATHUN & MARTIN WIK SÆTRE @ Quantfolio
Quantfolio is evening out the financial playing field. No longer is individual investment advice reserved for the privileged only. With Quantfolios technology banks can provide true financial advice for ALL their clients through automated & digital journeys or by giving their advisors superpowers. By combining data, insight, and prize-winning financial theory they provide clients with individual and sustainable savings portfolios and protect them over time.
Free admission – The streaming link will be sent to your registered e-mail prior to the event.
If you are interested in more events like this, you can sign up for our newsletters here:
NCE Finance Innovation: http://bit.ly/financeinnovationnewsletter
Media City Bergen / NCE Media: http://bit.ly/NCEmedianyhetsbrev
Not a member of either of the clusters? Read more about becoming a member of the Media Cluster or NCE Finance Innovation.