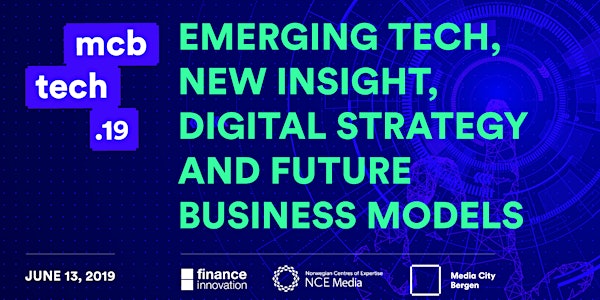 mcb tech .19
When and where
Location
Media City Bergen Auditorium Lars Hilles gate 30 5008 Bergen Norway
Refund Policy
Refunds up to 30 days before event
Description
mcb tech .19
Save the date June 13 for the Media City Bergen technology conference, organized by Media City Bergen, NCE Media, and Finance Innovation. Registration from 08.30 - the program starts at 09.00.

Check out the lineup of speakers and all details at our mcb tech .19 conference page.


SPEAKERS

Keynote Speaker: Marty Cagan
Marty Cagan is the writer of the bestselling book "Inspired: How To Create Tech Products Customers Love", and the founder of the Silicon Valley Product Group (SVPG).
Before founding SVPG to pursue his interests in helping others create successful products through his writing, speaking, coaching and advising, Marty was most recently senior vice-president of product and design for eBay, where he was responsible for defining products and services for the company's global e-commerce trading site. Marty is a guest speaker at conferences and major tech companies around the globe.

David Carroll
Carroll is the Associate Professor of Media Design at Parsons School of Design at the New School in New York known for taking on Cambridge Analytica in the UK court system; a crucial test of data protection laws and the prosecution of data crimes.

Yves Bergquist
Bergquist is the Director of the "AI & Neuroscience in Media" Project at the Entertainment Technology Center at the University of Southern California, where his team is developing next-generation applications drawn from AI and neuroscience for the media and entertainment industry.

Shivvy Jervis
Voted one of Europe's most trailblazing women in digital, Shivvy Jervis is a multi-award winning Futurist, author and broadcaster focusing on meaningful innovation and the digital economy in her talks and video series.

Eirik Solheim
Eirik Solheim is renowned for his inspiring and engaging presentations. At mcb tech .19, Solheim will show how NRK has combined skills, cutting edge tech and lots of creativity, including duct tape and Chinese gadgets, to develop unique experiences and storytelling techniques for its viewers.
Dr Ayesha Khanna
Ayesha Khanna is the Co-Founder and CEO of ADDO AI, an artificial intelligence (AI) advisory firm and incubator. In 2017, ADDO AI was featured in Forbes magazine as one of four leading artificial intelligence companies in Asia and Ayesha was named one of South East Asia's groundbreaking female entrepreneurs by Forbes magazine in 2018. She has also been named one of Singapore's leading female entrepreneurs and a leading Asian fintech influencer by Fintech Asia.

Håkon Pettersen & Tom Osnes Svellingen (City of Bergen)
Did you know that we don't need to leave our own back yard to find one of the Nordic region's most exciting and forward-looking digital public sector environments?
Ranked as number 4 in the world on the Future Today Institutes Smart Cities 2019 Ranking, the City of Bergen leads the way in digitalization of both public services and the public sector in Norway.
Deputy Mayor for Finance in Bergen kommune, Håkon Pettersen, and Enterprise Architect in Bergen kommune, Tom Osnes Svellingen are coming to mcb tech to tell us more.


Stay tuned as we will be launching a stellar lineup of speakers in the weeks to come. mcb tech .19 is a one day, future conference for leaders in all industries, facing similar challenges in a rapid and accelerating market.

Kimberly Larsen
Kimberly Larsen has her quite unique take on the future. She is a unique media talent, with more than 20 years experience from multiple sides of the creative industry, where she has been an actress, journalist, show host, director, concept developer, script writer, manager, casting agent, producer - and now founder.
She is the founder of timetoRIOT.com, a showcasing & hiring platform developed specifically for the creative industry. Three years after launch, they now have 50K+ members, a team of 14, and offices in four countries.
---
TICKET FEES
Special price apply for members of NCE Media or NCE Finance Innovation clusters.

Member:
General admission: NOK 3900 ex VAT/MVA
General admission group discount, 5 for 4: NOK 15600 ex VAT/MVA
Non member:
General admission: NOK 4900 ex VAT/MVA
General admission group discount, 5 for 4: NOK 19600 ex VAT/MVA
---
A part of Future Week
At the same time this conference is part of something much bigger. The mcb tech.19 conference is the cornerstone of the new MCB Future Week, which will consist of a series of research seminars, workshops, events, presentations, talks, and more during the days of June 11-14, 2019 – all taking place inside the Media City Bergen building, and all focused on topics that challenge our common future as it is driven and shaped by technology.
Future Week will hold events for designers, coders, journalists, developers, leaders, students and researchers within science, tech, humanities, art, design, media, finance and more. It will also include an "Open House" day on Friday the 14th where myriad tech talks/workshops/geek-level sessions take place.

Read more about Future Week here


---
Prefer to pay by invoice?
Click "Tickets" on this page, select your ticket and press checkout. At the bottom of the registration page you can choose "show other payment options" and click "Send invoice". You will have to provide your company's MVA/VAT number.


---

If you are interested in more events like this, you can sign up to our newsletters here:

NCE Finance Innovation: http://bit.ly/financeinnovationnewsletter
Media City Bergen / NCE Media: http://bit.ly/NCEmedianyhetsbrev