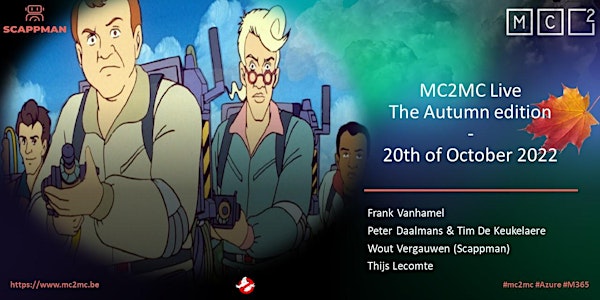 MC2MC Live - The Autumn edition
We are thrilled to announce the date of our second LIVE event in 2022, on Thursday October 20th. We hope to see you all there!
When and where
Location
Burgerij Sint-Laureiskaai 8 2000 Antwerpen Belgium
About this event
Agenda:
18h00 – 18h45: Welcome and intro with food and drinks
18h45 – 19h30: The use of Artificial Intelligence in a real business scenario. Driving positive impact on Planet Sustainability by Frank Vanhamel (MC2MC)
During this session we will give you some more insights in how you can embed Artificial Intelligence (AI) within state-of-the art PowerPlatform applications. We will start from a Smart Driving business scenario where we will inspire you on PowerApps, PowerAutomate, AI Builder & AI Cognitive Services. This all with the goal to solve challenges and have a positive impact on our lovely Earth Planet. Having a positive impact on sustainability and reaching these goals.
19h30 – 20h15: Intune tips and tricks – the 2022 edition by Peter Daalmans (Enterprise Mobility MVP) and Tim De Keukelaere (Enterprise Mobility MVP)
This session shares common tips and tricks for the Intune administrator. While working with Microsoft Endpoint Manager (Intune) for many years we learned a lot from peers in the community and created simple tips to work smarter. A variety of topics is covered: from automating simple tasks, to discovering hidden features in the console using PowerShell, PowerApps, community tools, and much more, this session covers it all.
20h15 – 20h30: Break
20h30 – 21h15: The NEW way of managing apps with MEM by Wout Vergauwen (Scappman)
In this session we'll give you a walk-through of Scappman and its capabilities and show you what makes it so different from the existing Application Management solutions.
Scappman is a 100% cloud and agentless platform that plugs in to Microsoft Endpoint Manager and fills the gaps of that product. 
Scappman is able to deliver ANY Windows app to your MEM environment thereby adding functionality like application update rings, updating of available Company Portal apps, user interaction when the app is in use, 8GB+ apps, etc.
This will be a demo-heavy session.
21h15 – 22h00: Notes from the field: Microsoft Sentinel in real life by Thijs Lecomte (Microsoft Security MVP)
While there is an abundance amount of information about Microsoft Sentinel, it's difficult to find out what is marketing speak and how the product actually behaves.
With his experience in implementing Microsoft Sentinel in multiple organizations, Thijs will walk through real-life scenarios and provide tips and trick on how to set up your environment.
These tips will range from thoughts about the machine learning algorithms, the built-in rule templates and integrations into your day-to-day operations.
22h00 – 23h00: …: Live social with beer and wine