MC Lyte's Hip Hop Sisters Legends Series - Los Angeles, CA - December 2012

Thursday, December 20, 2012 at 6:00 PM

-

Saturday, December 22, 2012 at 11:00 PM (PST)
Event Details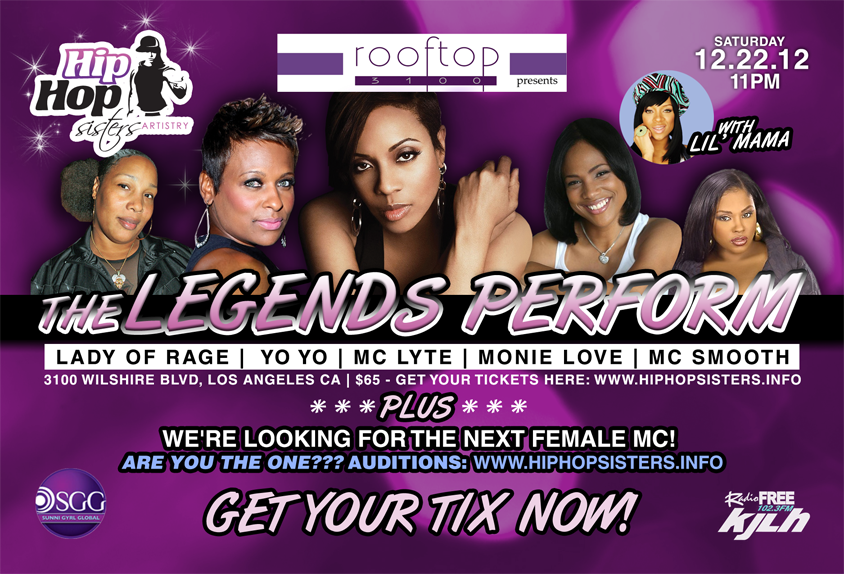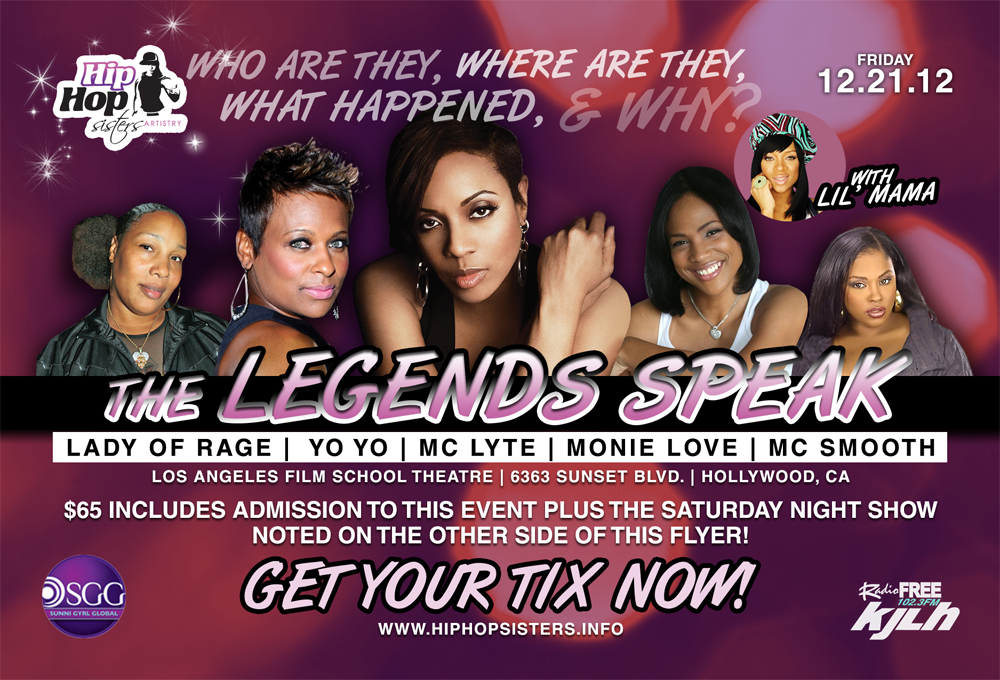 THE WORLD HAS BEEN WAITING FOR THE FEMALE EMCEES TO UNITE
KJLH, ROOFTOP 3100, SUNNI GYRL PRESENT:
MC Lyte's Hip Hop Sisters Legend Series
Who Are They, Where Are They, What Happened & Why?
Performances by MC Lyte, Yo Yo, Lady of Rage, Monie Love, MC Smooth - also featuring Lil Mama
PLUS: We're Searching for the Next Top Female MC
VIP Package Weekend Includes:
THE LEGENDS NETWORK: Meet and Greet with the Hip Hop Sisters Celebrities, VIP Access, Red Carpet Photo Ops for the Friday and Saturday events

THE LEGENDS SPEAK: Friday December 21st @ 7pm - Los Angeles Film School - 6363 Sunset Blvd, Hollywood, CA - Doors Open at 6pm:  "WHO ARE THEY, WHERE ARE THEY, WHAT HAPPENED AND WHY?" Get the skills and information needed to succeed in this business during ENTERTAINMENT 101 with MC Lyte (7pm sharp) and other industry celebrities and executives & moderated by the Chief Operations Executive of Russell Simmons' Hip Hop Summit Action Network; then get the answers to your questions at the NO HOLDS BARRED PANEL DISCUSSION with female emcee legends: MC Lyte Yo Yo, Lady of Rage, Monie Love, MC Smooth, and also featuring Lil Mama.

 

THE LEGENDS PERFORM: Show on Saturday Dec 22 @ 11pm - Rooftop 3100, 3100 Wilshire Blvd, Los Angeles, CA  
Get Your VIP Package Deal for $65.
LIMITED NUMBER OF VIP PACKAGES AVAILABLE!!
If you only want to attend the Performance on Saturday, get your ticket for $35.   IF YOU PURCHASE A PERFORMANCE ONLY TICKET FOR $35 AND YOU WANT TO UPGRADE TO THE VIP PACKAGE, PLEASE SEND AN EMAIL TO ticket@hiphopsisters.info and include your name and order confirmation number and someone will be in touch with you to upgrade your ticket.
After you purchase either ticket, you will be able to print your ticket, which will include a unique barcode.  Please bring your ticket with you to the event.  Tickets will be barcoded and scanned.  Do not attempt to duplicate or copy or participate in fraudulent activity to gain access to paid events.  Violaters will be banned without refund.
PLUS, MC LYTE'S HIP HOP SISTERS ARE LOOKING FOR THE NEXT TOP FEMALE MC. 
ARE YOU THE ONE?
Bring your RHYMES:  have three flows prepared; music will be provided.

Bring your CREATIVITY: think outside of the box.

Bring your UNIQUENESS:  be you and be original.

Bring your CROWD: tell your friends & family to purchase tickets for the weekend for the experience of a lifetime. You just might be one of the performers opening for MC Lyte and the Hip Hop Sisters!
Auditions start Thursday December 20, 2012 at 6pm - Cascade, 6611 Santa Monica Blvd, Hollywood, CA.  DO NOT CALL THIS LOCATION FOR ANY DETAILS.  All questions should be directed to audition@hiphopsisters.info.

You must select an audition ticket here in order to audition.  There is no cost to audition. 

READ CAREFULLY:  If you have chosen ONLY an audition ticket, you must also purchase a ticket to attend the Entertainment 101 / Real Talk Panel if you wish to be admitted to the auditions.  Why?  Because the Next Top Female MC will not only be talented, but will demonstrate to the legends that she desires to learn the business and be properly coached. Details will be sent in a follow up email to all who register for AUDITIONS ONLY to purchase the Entertainment 101 Panel ticket.  If you choose to purchase a VIP package you can use that ticket to get into the Entertainment 101 panel and you will not need to purchase a separate Entertainment 101 panel ticket.

 

You will receive an email with details, next steps and release forms, which will also include a release for possible television filming.  You will not be able to audition without a release form and government issued photo ID.  Release forms will be available on site.  If you are under 18, the release form must include the signature of  parent or guardian and you can show school id or a copy of your birth certificate in lieu of a government issued photo ID.

The audition ticket only gets you into the audition.  You must purchase a ticket to the other events in order to attend them.  Semi-finalists will not need a ticket for the show on Saturday.

You will not be able to bring anyone into the audition room with you.  In addition, anyone who wishes to see you perform if you make it as Semi-Finalist for the show on Saturday December 22 must purchase a ticket to the show.  This includes parents, guardians, managers and performance partners.  It is advisable for them to purchase their tickets as soon as possible, since capacity limits may prevent them from paying at the door and gaining access to the show.

The Next Top Female MC Semi-Finalists will be announced Saturday December 22 during the show at Rooftop 3100.   All who audition should plan to arrive at Rooftop 3100 by 8pm on Saturday.  Additional details will be provided at the auditons.

The Next Top Female MC Semi-Finalists will perform in the opening for MC Lyte and the Hip Hop Sisters Legends on Saturday December 22 at Rooftop 3100.  Semi-Finalists under the age of 21 must be accompanied by a parent or guardian over the age of 21 in order to enter Rooftop 3100 and will receive additional instructions prior to attending. 

The Next Top Female MC will be announced at the performance on December 22 and will receive prominent recognition on related media outlets, and will participate in performances and an international media campaign with MC Lyte and the Hip Hop Sisters Legends. 

Participation in the search for the Next Top Female MC is via your own expense and resources.  We do not provide compensation, logding, transportation, or any recommendations.  There is no geographical limit.  Contestants are welcome to participate from anywhere in the world.  Neither MC Lyte, Sunni Gyrl, Hip Hop Sisters, nor any of their affiliates, partners, sponsors, assignees

assume any liability nor do they make any guarantees or promises of any kind in connection with your participation in the search for the Next Top Female MC andyour participation is evidence of your acceptance of this policy. 

  For More Information About MC Lyte, Sunni Gyrl Inc, and Hip Hop Sisters Network visit www.mclytenow.com
When & Where

MC Lyte, Yo Yo, Lady of Rage, Monie Love, Smooth, w/ Lil Mama - DEC 20 AUDITIONS: Cascades 6611 Santa Monica Hollywood; DEC 21 PANEL: Los Angeles Film School 6363 Sunset Blvd Hollywood; DEC 22 SHOW: Rooftop 3100 3100 Wilshire Blvd Los Angeles
3100 Wilshire Blvd
Los Angeles, CA 90005


Thursday, December 20, 2012 at 6:00 PM

-

Saturday, December 22, 2012 at 11:00 PM (PST)
Add to my calendar
Organizer
Hip Hop Sisters Foundation
Founded by MC Lyte, the legendary lyricist and iconic hip-hop pioneer, Hip Hop Sisters Network includes Hip Hop Sisters Artistry, which provides a platform for female artists to showcase their talents in an environment of encouragement and respect, as well as Hip Hop Sisters Foundation, which is a non-profit charity that promotes positive images of women of ethnic diversity by bringing together leaders from the world of Hip Hop, the entertainment industry, and the corporate world. HHS provides national and international support to women and youth around the globe on the topics of: Cultural Issues; Financial Empowerment; Health and Wellness; Mentorship; and Educational Opportunities. Advisory board members include Faith Evans, Ledisi, Jada Pinkett Smith, Chilli, Russell Simmons, Cheryl "Salt" James, Malinda Williams, Lil Mama, Kelly Price, Fantasia, Valeisha Butterfield-Jones, Malcolm Jamal Warner, Kenny Lattimore, Melanie Fiona,Nicci Gilbert, Kim Kimble and Dr. Benjamin Chavis. Join the Movement: www.hiphopsisters.org
MC Lyte's Hip Hop Sisters Legends Series - Los Angeles, CA - December 2012