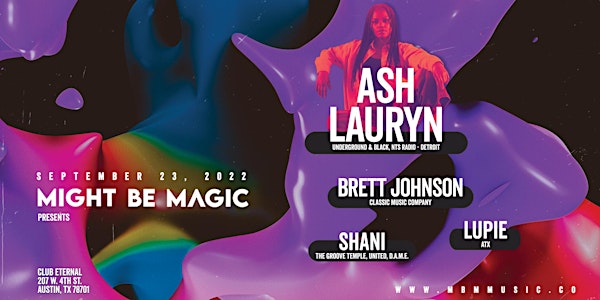 MBM Presents // Ash Lauryn, Brett Johnson, DJ Shani, Lupie
Sept. 23 we're hosting ATL/DETROIT'S own ◆︎ASH LAURYN◆︎ for an unforgettable night of HOUSE + DEEP HOUSE + TECHNO in Austin, Texas.
When and where
Location
Club Eternal 207 West 4th Street Austin, TX 78701
About this event
Might be Magic presents…
+++ ASH LAURYN +++
(Underground & Black, NTS Radio | Detroit)
~ ᴀ ɴɪɢʜᴛ ᴏꜰ ᴜɴᴅᴇʀɢʀᴏᴜɴᴅ ʜᴏᴜꜱᴇ ~
We are so excited to have Ash Lauryn here in Austin, Texas for an incredible evening of music and dance. Detroit-born, Atlanta-based Ash Lauryn is a rare mix of DJ and writer, selected by DJ Minx as an icon of the Motor City underground sound for her multi-talented contributions to the legacy of Detroit techno. It is an honor to have her here in our community. You are not going to want to miss her set so get your tickets and meet us on the dance floor!
Lineup:
-Ash Lauryn (Underground & Black, NTS Radio | Detroit)
-Brett Johnson (Classic Music Company | ATX)
-DJ Shani (The Groove Temple | United | D.A.M.E.| ATX)
- Lupie (ATX)
BYOB | BYOB |BYOB | BYOB
Friday, September 23, 2022
+ Club Eternal
+ 207 w 4th st Austin, TX 78701
+ 10pm-late, 21+
+ Limited Capacity
+ BYOB (complimentary drinks while they last)
ASH LAURYN
Ash Lauryn balances between two worlds, with an old-school house-head foundation and a digital age suaveness, blending her skills as a deejay, writer, curator, and radio host to champion black dance music. Discovering her passion for music in her native Detroit, she was inspired to start deejaying in her current residence Atlanta, taking inspiration from the legendary Kai Alce of NDATL and Vicki Powell. After seeing a gap in representation for Black millennials in electronic music, she started her blog Underground and Black, which has since grown into a wide-ranging platform covering her annual Movement Festival party, monthly NTS show, and RA podcast of the same name.
Her passion for music has led her across the globe, from her residencies in Atlanta, Expressions, and Deep South, to gigs at Nowadays in New York, Tresor Berlin, and Printworks London. She's played with musicians such as Joe Claussell, Theo Parrish, Larry Heard, and Moodymann, and for festivals such as Afropunk, Dimensions, and Flow Festival Helsinki. Her writing has appeared in The Face Magazine, Mixmag, and Resident Advisor, and she recently served as a guest editor for Beatportal. She's interviewed legends such as Robert Hood and Honey Dijon and recently curated a panel for Red Bull Arts in conversation with Waajeed and Cornelius Harris of Underground Resistance.
Lately, Ash was nominated for DJ of the Year at the 2021 Bembe DJ Awards and participated in Virgil Abloh's Off-White SS21 "Imaginary TV" platform. She's currently working on music production with her partner Stefan Ringer, and they released their first project together, the Expressions EP, in August of 2020. You can follow her at @ash_lauryn_ on Instagram and Twitter.
BRETT JOHNSON
Brett's sound is best known as groovy, bumping house with a hearty dose of techno elements, crafted and mixed in a way that is truly identifiable as his own. Whether DJing or creating music, his wild card is an ability to inject warmth and soul into his electronic sound. The result is an impressive discography filled with unique statements, otherworldly surprises, and undeniable club stompers.
Releasing his first record in 1999 on the now defunct, Aesoteric Records, Brett has released over 100 records and remixes for some of dance music's best labels. The list includes Crosstown Rebels, Classic Music Company, 20/20 Vision, Get Physical, Visionquest, Magnetic, Freerange, Cynosure, F-Communications; the list goes on and on. Aside from a busy remix schedule, Brett is currently releasing his own music on the labels Visionquest, Classic Music Company, Get Physical and Cynosure Recordings.
DJ SHANI
Heavily influenced by the soul, funk & jazz scenes of Chicago's south side, DJ Shani has always been enveloped by music. In May of 1998, DJ Shani created & produced a Deep House radio show coined "The Groove Temple®" on WLUW-88.7FM that filled a void for the most prominent, yet canceled house music radio station, WBMX. Even after her graduation from Loyola in 2001, she continued to produce The Groove Temple®, was a freelance writer for various Chicago music magazines (5Magazine, L'Afrique) & worked at the famous Gramaphone Records. There, she helped promote both, by organizing the first-ever record fair between Gramaphone & WLUW. In 2004 she moved to Paris & attended L'Universite de Paris - La Sorbonne. She performed at La Maroquinerie with Karl The Voice (Playing for the City) and at Sanz Senz with DJ Wamba (Les Nubians). Once returning from Paris, she kept producing & hosting The Groove Temple®, continued as a freelance music journalist & DJ'd throughout Chicago for various residencies, events & music festivals. In 2006 she worked with Jay-Cee & Glenn Underground, wrote & performed "Mon Ami, Mon Amour".
In 2013, she was diagnosed with MS and attributes the music & DJ culture to her healing. For 17 years, DJ Shani was the Executive Producer of the Saturday night, 4-hour radio show, with hundreds of listeners worldwide. The Groove Temple® has hosted an impressive roster of guest DJs & interviews like Derrick Carter, DJ Touch (France), Osunlade, DJ Légo, Alix Alvarez, Sean Haley, Oscar McMillan, Lady D, DJ Frique, Bucie, Andre Harris, Phil Asher, Leonard Part VI, Black Coffee, DJ Heather & Ron Trent just to name a few. In October of 2017 she relaunched The Groove Temple® and partnered with Soundwave Radio and 92.3 fm in London, England. The Groove Temple is now back to basics with the same vibe and energy that it once had almost two decades ago. As of September, 2020 "The Groove Temple" is featured on Shared Frequencies Radio's monthly radio show. Also in 2020, she was an official SXSW Artist. In 2022, she was again an SXSW Official artist. In 2009 she moved to Austin, Texas where she currently resides. Since moving to Austin, she's performed with Future Front Texas (formerly BossBabesATX) had residencies at The Line Hotel, Halycon, the Eastern & Volstead and performed at Empire Control Room, The Carver Museum, SoHo House, The Coconut Club Complex, Plush, Sahara Lounge, Cheer Up Charlie's and more.
*** Might be Magic is a LGBTQIA+ safe space. We do not tolerate any displays of homophobia, transphobia, racism, misogyny, or discrimination of any kind. If you do not respect our boundaries, you will be asked to leave. Keep the dance floor sacred.