Description
MBK Village presents
The 2018 Youth Leadership Conference
Saturday, November 10, 2018 at the Columbus Africentric Early College
My Brother's Keeper's Village
Youth Leadership Conference
Calling Young Men of Color
Ages 14 - 21 yrs. old
Join Us As We LEVEL UP
Moving from LIKES TO LIFE!:
Navigating Success in The Digital World
Featuring Dynamic Speakers, Workshops, Panel Discussion,
and The Opportunity Fair showcasing
Latest Innovations in College,
Career, and Entrepreneurship!
Special Guest Keynote Speaker Inky Johnson!
Music by DJ Krate Digga and Special Guest
Along with amazing Door Prizes & Giveaway!
RSVP TODAY!!! at MBKvillage.org
The My Brothers Keeper's (MBK) Village Youth Leadership Conference Saturday, November 10, 2018, at Columbus Africentirc Early College K-12 will feature a highly interactive, skills-based multimedia training designed to promote and produce positive leadership development for rising, talented youth and young adults. This workshop series will help emerging leaders navigate through the challenges of collegiate and career development, digital media technologies, cultural competence, leadership behaviors, civic engagement, and digital citizenship that they will encounter as young leaders. This training will allow participants to develop further competency of 21st Century Learning and Innovation Skills while fostering Workforce Development Skills that have been found to help lead toward success in the workplace and cultivate productive career pathways.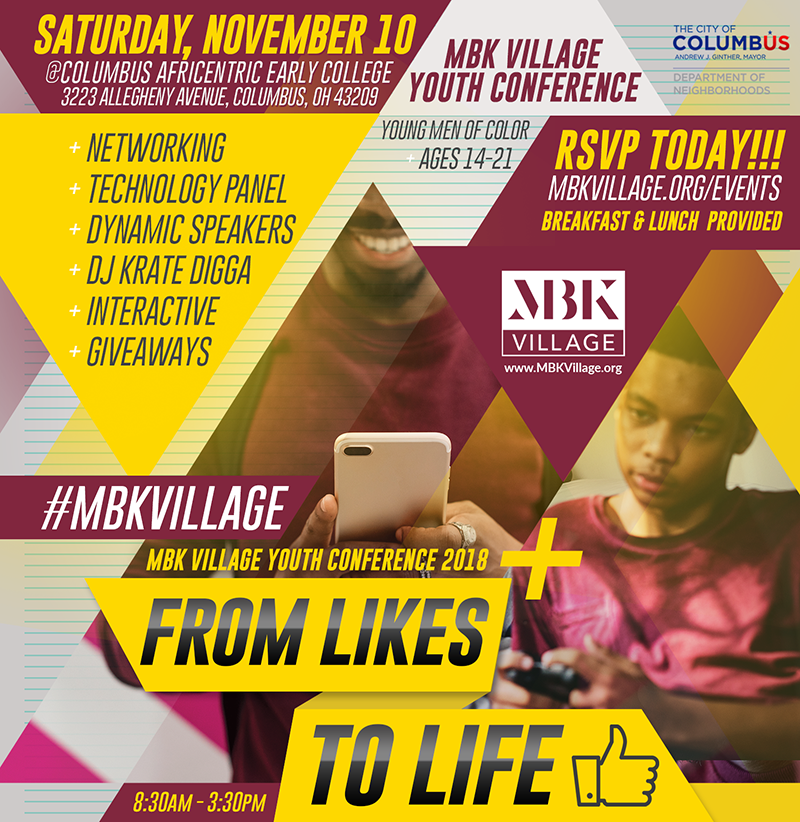 MBK Village.org
The 2018 Youth Leadership Conference
Learn How to Navigate Success in The Digital World
Saturday, November 10, 2018
at the Columbus Africentric Early College
Brought to you by City of Columbus
Department of Neighborhoods
Stay Tuned For More Information
and Log onto MBKvillage.org/events
Moving from LIKES TO LIFE!
Through our innovative and engaging workshops, panel discussion and exposure opportunities, GetDRIVEN's Team will create a unique learning experience for teens and young adults that combines creative classroom hands-on training with skill-building to empower talented youth and young adults to pursue positive paths of opportunity.
My Brothers Keeper's (MBK) Village Youth Leadership Conference
Saturday, November 10, 2018,
at Columbus Africentirc Early College K-12
3223 Allegheny Avenue, Columbus, Ohio 43209

For more information call 614-645-1993 or contact Joshua Bates JCBates@columbus.gov