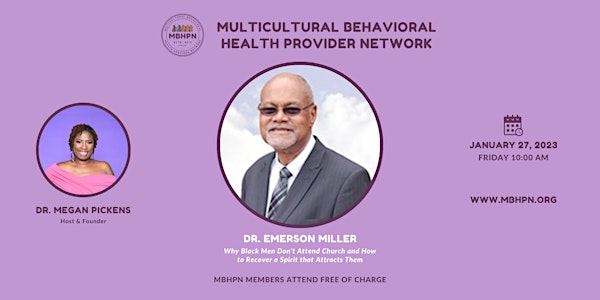 MBHPN Inaugural Membership Drive and First Meeting on January 27th at 10am
MBHPN is back! Our first meeting is previewed above. Our membership rates are reasonable and include a lot of perks.
About this event
This is for information only. To join MBHPN and attend the meeting, follow the link.
Membership benefits include:
Those who join the annual membership* during the inaugural year rate will be grandfathered in for those who participate in 2023 for two years. Discount codes are available for Bachelor/Master Level Students (with proof of current enrollment); Associate Level Professionals (a maximum of 2 years).
All membership plans are non-refundable. Please download any information you would like to keep because when you cancel, you lose access immediately. It is how the membership platform works; we have no control over that process.
As an annual member of MBHPN, you will receive the following benefits:
Includes 2 CEUs each month for each meeting, except for special events like breakfasts, dinners or events where more CEUs are available.
Access to meeting recordings, regardless of live attendance.
Access to our exclusive private network.
Live chats and Q & A events.
Exclusive members-only events.
Member discount on paid events.
Member discount on the annual conference.
ANNUAL MEMBER BONUS: Access to all MBHPN legacy presentations and materials!
This membership drive is an online-only event. I will hop on to do some Q & A. You can catch a preview of the group and learn more by following the link to the private group.