MBGH 2020 Annual Conference: It's Time to Reframe Health & Health Benefits
Event Information
Refund Policy
Refunds up to 30 days before event
About this Event
It is not an understatement to say that our world has changed overnight. The global coronavirus pandemic has uprooted our personal lives; our economy; our work. There is no aspect that has been untouched.
Now is a good time to prepare for what life will be like when we get to the other side of the pandemic. According to Zeev Neuwirth, physician and author, we need to reframe, redesign, and reorganize to thrive in this new world. We must bring fresh perspectives, new ideas, and bold solutions to both the old problems that aren't going away and the new challenges that await us.
Attend MBGH's conference where you will hear first-hand from national and regional experts how to pivot your thinking, strategy, and approaches to achieve higher performance in primary care, diabetes and organizational culture.
You will walk away with a better understanding and appreciation for how to REFRAME health benefits and well-being programming, thereby delivering positive business results.
HOW TO REGISTER
Register and either pay by credit card or indicate you will pay by check
Mail check payment (if applicable) to Memphis Business Group on Health and mail to the location indicated
REGISTRATION FEES 
MBGH Employer Members: Unlimited complimentary registrations 
CEO Culture of Health Participants: 2 complimentary registrations through July 31, 2020
Annual Supporters: See your material for number of complimentary registrations; all others are $40 each.
Early Registration for all others: $75 each until July 31, 2020
Prices will increase August 1, 2020
No refunds after July 27, 2020.
Special Registration Offer: Organizations with at least 50 employees located within 75 miles of Memphis, TN that complete the Lipscomb & Pitts Annual Employee Benefits Survey (www.lpbenefitssurvey.com) by July 15, 2020 are eligible for one complimentary registration to the conference. Additional registrations are only $50. You must register in advance, even for the complimentary registration. Registrations are due by July 31, 2020. Contact ctravis@memphisbusinessgroup.org for the promotional code once you have completed the survey.
OTHER INFORMATION
All registrants will receive the event login in your registration confirmation and reminders.
Please note that the event platform uses computer audio only and dial-in is not available.
Thank you to our Annual Supporters and Conference Sponsors!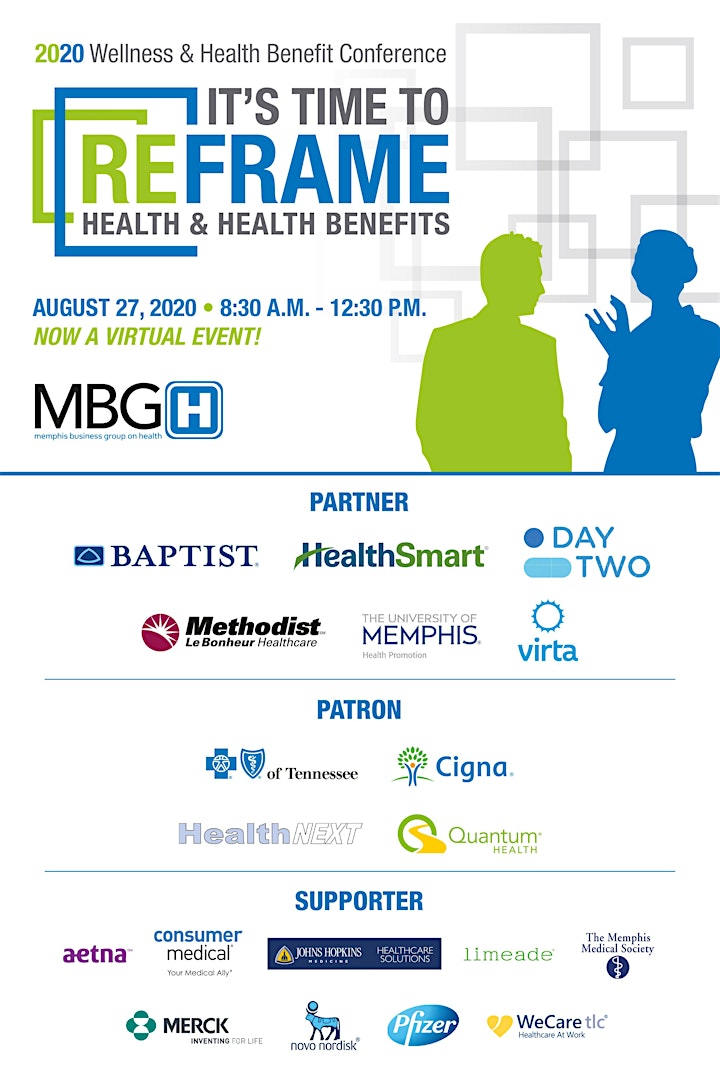 Date and Time
Location
Refund Policy
Refunds up to 30 days before event