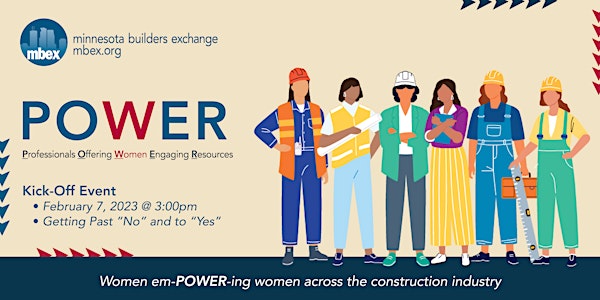 MBEX POWER Series
Women em-POWER-ing women. MBEX's new program, its Women's POWER series, tackles the unique obstacles women face professionally every day.
When and where
Location
Minnesota Builders Exchange (MBEX) 1123 Glenwood Avenue Minneapolis, MN 55405
About this event
MBEX is excited to announce its new programming series, the MBEX Women's POWER series, and its (Professionals Offering Women Engaging Resources) kick-off event on February 7, 2023.
All women working in the industry, whether operating an excavator on the jobsite or estimating bids at the office or somewhere in between, are welcome to join us for any POWER event. Four series events will take place throughout 2023, with the first being held at the MBEX Minneapolis location.
Our first session will focus on strategies for having those tough conversations, like negotiating a pay raise, asking for more career opportunities, or offering constructive criticism.
Our expert panel includes:
Carrie Cotch, owner and life coach of Carrie Jo Coaching
Cassie Nelson, Senior Vice President of Human Resources at McGough Construction
Dr. Barbara Carter, Assistant Professor of Leadership and Business Management at Dunwoody Technical College
These professional women will share tips and actionable tactics all working women should know when preparing and entering tough conversations encountered every day at work and at home.
Afterward, stay for light snacks, drinks, and networking and socializing with fellow attendees and our panelists. Make sure to bring a handful of business cards as we'll be drawing for a few prizes too!
-------
Stay informed and up to date on all POWER happenings by joining our mailing list and watching our website for event updates.