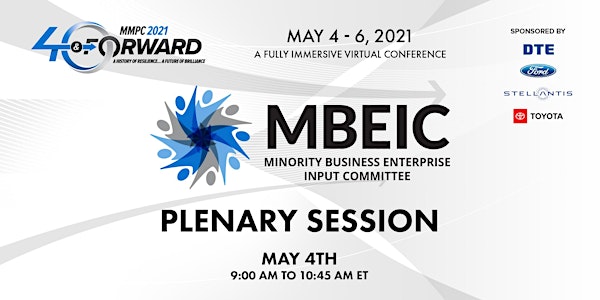 MBEIC Plenary Session @ MMPC 2021: Forty & Forward
MMSDC MBEIC Virtual Plenary Session: Ready. Set. Grow. Managing Out of the Pandemic Pothole
About this event
MBEIC Plenary Session
9:00 to 10:45 a.m.
Michelle Sourie-Robinson, President, MMSDC
Sylvester Hester, CEO, Grupo Antolin Primera
Ready. Set. Grow. Managing Out of the Pandemic Pothole
The Pandemic has disrupted the entire landscape impacting MBEs differently. RSG to walk through each section and offer counsel, advice, listening ear, and business continuity services via consultants.
Hosts:
Sylvester Hester, MBEIC Chairman and Automotive & Manufacturing Industry Leader
Charles Moore, President C. L. Moore & Associates, MBEIC Professional Services/Insurance Services/Staffing Industry Leader
Discussion Speakers:
Real World Engagement Consultants
T. Renee Smith, CEO of iSuccess Consulting, Inc.
Michael Sheppard, CFP IronwoodDrive Financial Group, LLC (IFG)
Real World Engagement Participants
Vickie Lewis, President, VMX International, LLC
Mariayah Saifuddin, President, Innovative Solution Partners, Inc.
John Thompson, President, Diversity Engineering Services, Inc.
Encouragement Speaker:
Leon Richardson, President, Chemico, LLC