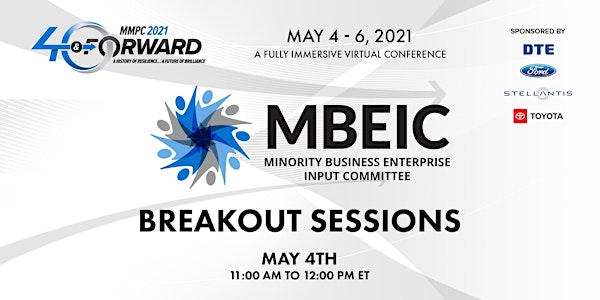 MBEIC Industry Group Breakout Sessions @ MMPC 2021: Forty & Forward
MBEIC Industry Group Breakout Sessions
About this event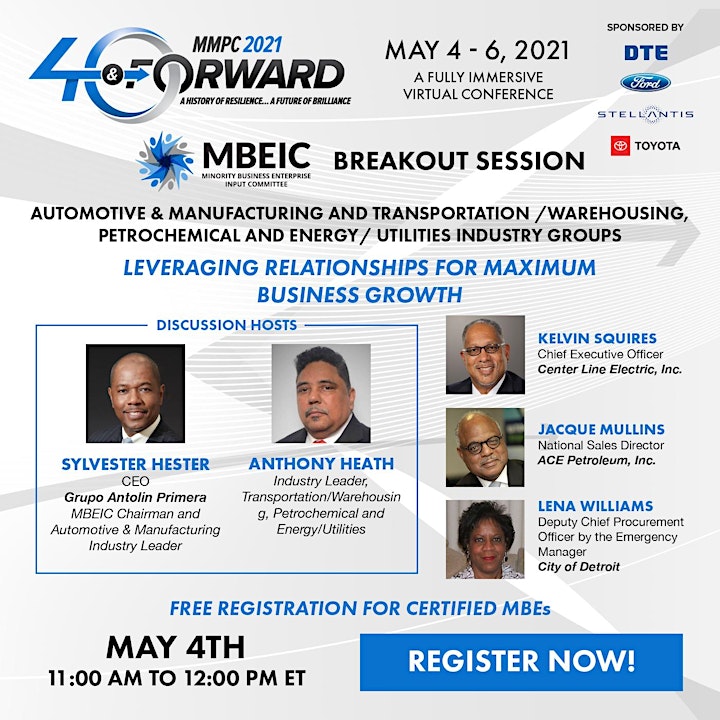 COMBINED SESSION: AUTOMOTIVE & MANUFACTURING AND TRANSPORTATION/WAREHOUSING, PETROCHEMICAL AND ENERGY/UTILITIES INDUSTRY GROUPS:
Sylvester Hester, MBEIC Chair & Industry Leader Automotive & Manufacturing
Anthony Heath, Industry Leader, Transportation/Warehousing, Petrochemical & Energy/Utilities
LEVERAGING RELATIONSHIPS FOR MAXIMUM BUSINESS GROWTH
Every successful business understands the power of relationships in building and growing their business. Join this discussion to learn how to maximize your relationships for maximum business growth.
DISCUSSION SPEAKERS
Kelvin Squires, Chief Executive Officer, Center Line Electric, Inc.
Jacque Mullins, National Sales Director, ACE Petroleum, Inc.
Lena Williams, Deputy Chief Procurement Officer by the Emergency Manager, City of Detroit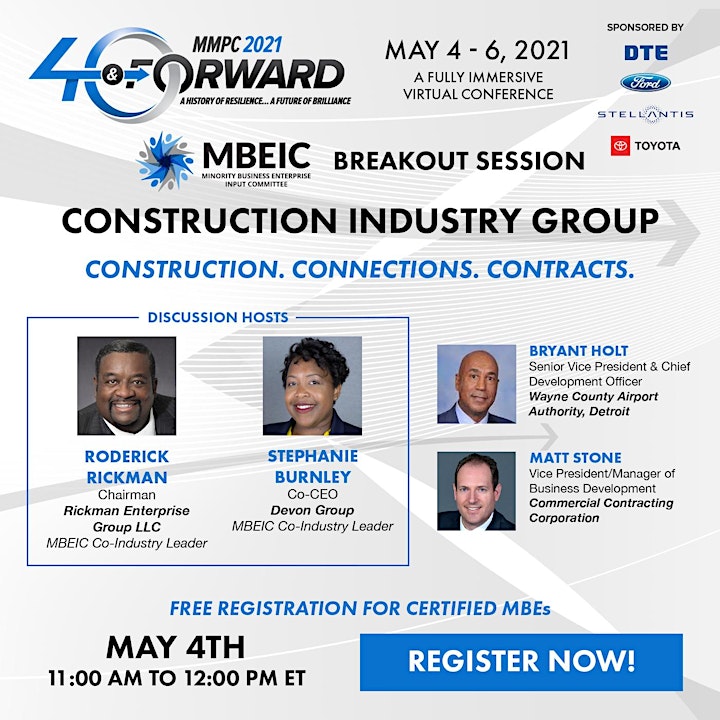 CONSTRUCTION INDUSTRY GROUP:
Roderick Rickman, Chairman, Rickman Enterprise Group LLC, MBEIC Co-Industry Leader
Stephanie Burnley, Co-CEO, Devon Group, MBEIC Co-Industry Leader
CONSTRUCTION. CONNECTIONS. CONTRACTS.
The program provides opportunity for MBEs to connect with corporate members as well as to learn about contracting opportunities with Wayne County Airport Authority.
DISCUSSION SPEAKERS
Bryant Holt, Senior Vice President & Chief Development Officer, Wayne County Airport Authority, Detroit
Matt Stone, Vice President/Manager of Business Development, Commercial Contracting Corporation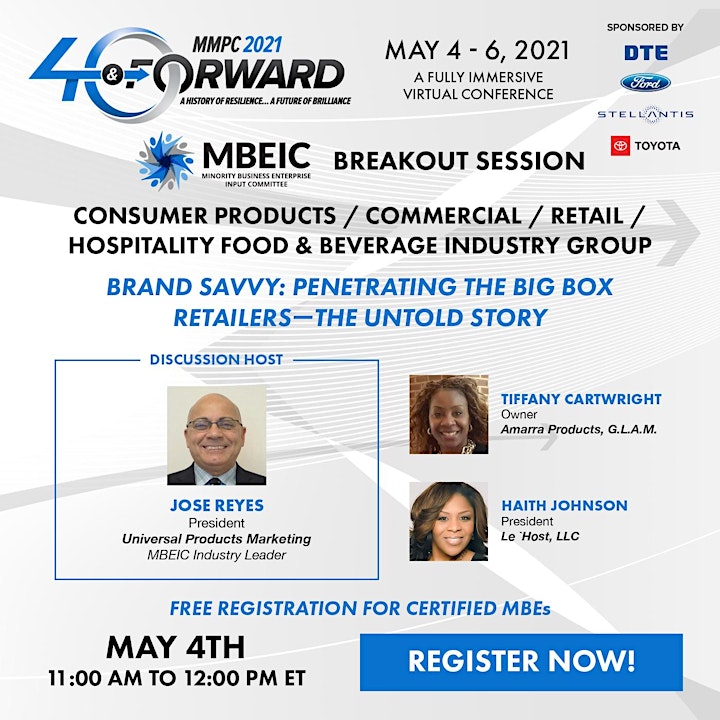 CONSUMER PRODUCTS / COMMERCIAL / RETAIL / HOSPITALITY FOOD & BEVERAGE INDUSTRY GROUP:
Jose Reyes, President, Universal Products Marketing MBEIC Industry Leader
BRAND SAVVY: PENETRATING THE BIG BOX RETAILERS—THE UNTOLD STORY
Many MBEs dream about having their products on the shelves of retail big leagues, such as Walmart, Target, Meijer, and others. Many are clueless about what it takes to not only get there, but start there. If this is your goal, you want to attend this session where our speakers will share what it takes to penetrate and stay with retail big leagues.
DISCUSSION SPEAKERS
Haith Johnson, Le `Host, LLC, President
Tiffany Cartwright, Owner, Amarra Products, G.L.A.M.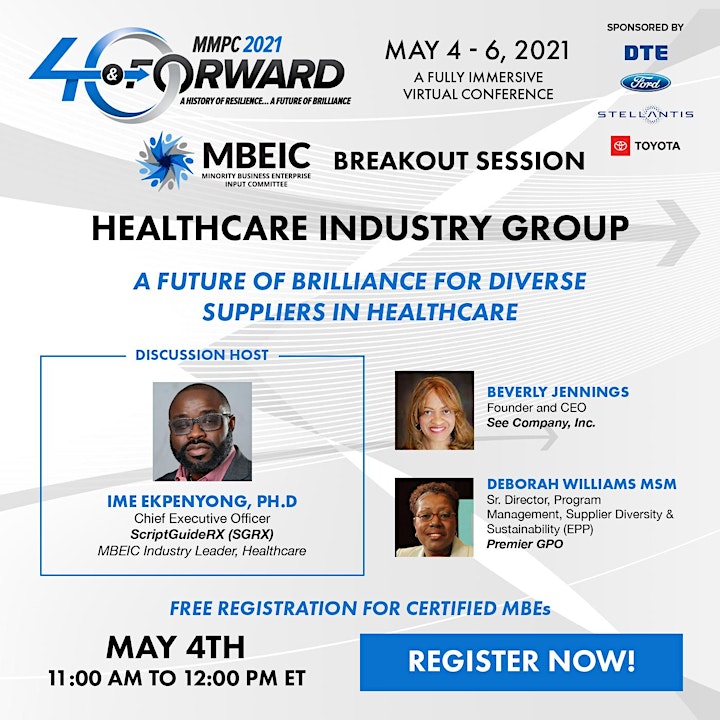 HEALTHCARE INDUSTRY GROUP:
Ime Ekpenyong, Ph.D, Chief Executive Officer, ScriptGuideRX (SGRX), MBEIC Industry Leader, Healthcare
A FUTURE OF BRILLIANCE FOR DIVERSE SUPPLIERS IN HEALTHCARE
It has been said that difficult times bring great opportunity for business. COVID-19 brought many lessons of resilience for diverse suppliers as we saw the landscape change in the healthcare industry. New doors open through innovation and pivoting to support the needs faced by hospital systems across the nation. This session will feature a minority business that made the shift and found success along with legends in healthcare supplier diversity that will highlight how to keep the doors open.
DISCUSSION SPEAKERS
Deborah Williams MSM, Sr. Director, Program Management, Supplier Diversity & Sustainability (EPP) Premier GPO
Beverly Jennings, Founder and CEO, See Company, Inc.
PROFESSIONAL SERVICES / INSURANCE SERVICES / STAFFING / EDUCATION AND GOVERNMENT ENTITIES INDUSTRY GROUP:
Charles Moore, President C. L. Moore & Associates Industry Leader, Professional Services/Insurance Services/Staffing
INNOVATIVE POSITIONING FOR YOUR BUSINESS – DUE TO THE EFFECTS OF COVID-19
Covid-19 has forced many businesses into a new normal. Compelling many of us to reposition and become more innovative with our products and services. What worked Pre - COVID may no longer be affective, so an adjustment to our Marketing, Branding, Advertising, and Business Plan is necessary to survive.
DISCUSSION SPEAKERS:
Lisa MB Burton, L Insight Group 2 LLC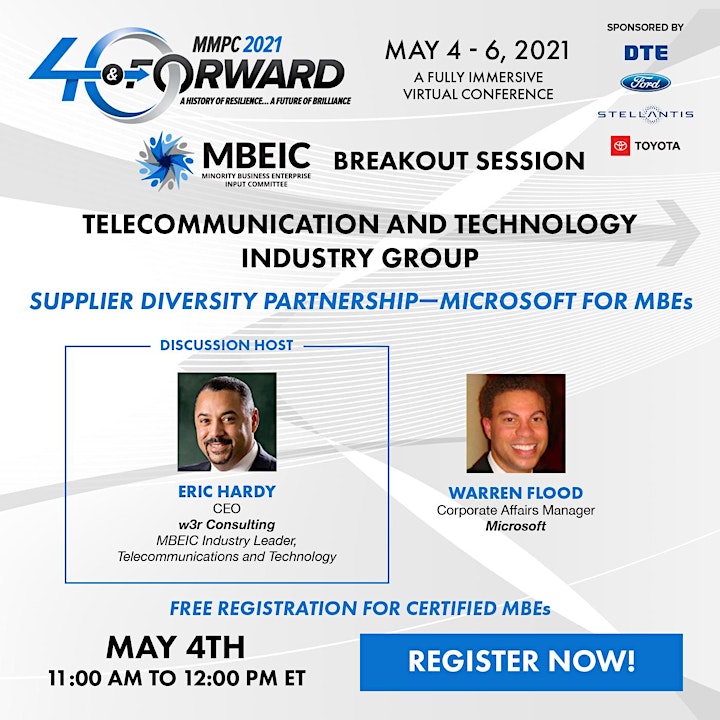 TELECOMMUNICATION AND TECHNOLOGY INDUSTRY GROUP:
Eric Hardy, CEO W3R Consulting MBEIC Industry Leader Telecommunications and Technology
SUPPLIER DIVERSITY PARTNERSHIP—MICROSOFT FOR MBES
In summer 2020, Microsoft CEO Satya Nadella announced Microsoft would double the number of Black- and African American-owned approved suppliers over the next three years and spend an incremental $500M with those existing and new suppliers. Also announced were additional investments into the Microsoft partner community. What opportunity does this create for your business? Come and find out.
DISCUSSION SPEAKER:
Warren Flood, Corporate Affairs Manager, Microsoft