MBE24 Core Managing Broker Eligible Qualifying Course & Broker Review
About this Event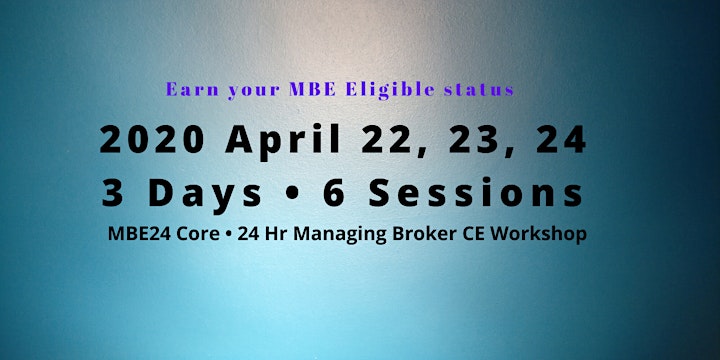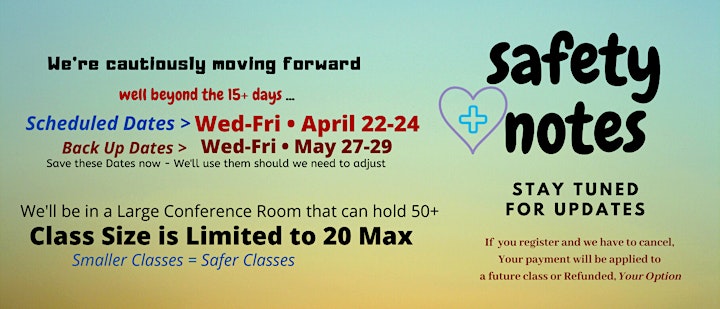 Brokers ~ Engage with other Brokers & Managing Brokers in real peer-to-peer discussions
• Want to get qualified to be a Broker Boss? Take All 24 hours
• Managing Broker Now? Take Any 4-Hr Core for MBE CE
• Just looking for Broker CE? Take Any combination to complete your annual 12 hours CE required
"Broker Boss Bootcamp" ~ The Conversation ~ Broker Roundtable Style
Not an ordinary CE class - Pick a Topic . Pick a Session
3 Days . 6 Sessions . 24 Hrs Managing Broker CE Workshop
Breakfast Bites & Lunch provided
Drawing for $25 Gift Card each session
Daily 08:00AM-12:00N + 1/2Hr Lunch + 12:30P-04:30P
Register for the number of hours you want, then Pick the sessions you'll attend
"EarlyBird " Discounts to the 1st 10 to Register ~ (Any combination ~ see "EB")
Class Size Limited to a MAX of 20 at any session
Free Parking
FAQs & Session Topics below
Have you ever wondered ... What if I was Boss? What if I had to step up and cover? What do I need to know?
Get ready for any future you can imagine - become Managing Broker Eligible
Have you ever asked ... What if I started my real estate company today?
... What would I have wanted to know? What would I do differently?
Engage with other Managing Brokers in real peer-to-peer discussions
... What are the options? Can I make changes now?
Are you concerned ... Why would I want my agents to get MBE qualified?
To be your in-house "Backup Plan". To act as a Manager, or to cover a Managing Broker - even for a day, MBE status is required
Many Brokers will still chose to work under a seasoned Pro
Many Brokers prefer to be part of a team
Be a part of The Conversation
FAQs • Frequently Asked Questions
Q. Do I have to take ALL 24 Hours?
Yes. If you are trying to meet the 24-hour educational requirement to apply as designation in Indiana as "Real Estate Managing Broker Eligible" status
No. If you are just looking for Real Estate CE. All 6 sessions/all classes are Indiana Real Estate CE and Managing Broker CE approved
Q. How do I register?
Register online. Quick and easy
Select the number of hours you want, then select which sessions you want
Q. I do want the earn the MBE status. Can I take just part of this course?
No. Per Indiana Code, you must take a full 24-hour course. It must be a specifically approved course (not a general group of 24 misc CE hours)
Q. Are there others who offer this education?
Yes. Currently, there are 12 providers/schools approved with a MBE course, per IREC-IPLA. NEW DAY Realty Training is one of these, offering the course in a L-I-V-E workshop.
Q. Can I take the required course online?
Yes. You can take the required course online through one of the approved providers
VIP. The online course has an Exam that must be taken and passed. Live courses do not require an Exam
Q. What are the benefits to me in taking this LIVE vs online?
No Exam! This MBE24 Core has No test :) to take
Online can be very dry
LIVE classes offer lively discussions
Q. I have my designation as MBE status now, do I need to take this again?
______________________________________________________________________________________________
Q. What are the current Indiana Real Estate CE requirements?
12 Hours of CE must be taken each education year (July 1 - June 30)
36 Hours total (12 Hrs per year) for the 3-Year RE License renew period
Managing Brokers and Managing Broker Eligible status - 4 Hours of the annual 12 Hours need to be MB CE approved courses
Q. When I take this 24-hour MBE course, do I still have to take this year's 12 Hrs CE?
No. The 24-hour MBE course will fulfill one year of required CE
Q. What are the Topics to be covered?
short version
Core One & Two - Sec 3-1 Introduction to Broker Management
Core Three & Four - Sec 3-2 Brokerage Operations
Core Five & Six - Sec 3-3 Role of the Managing Broker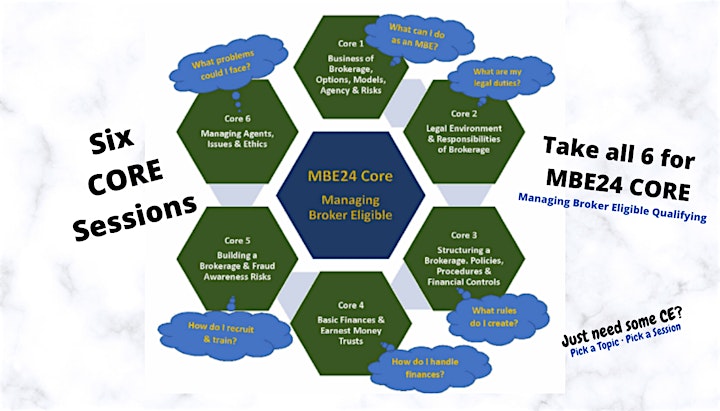 Q. What are the Topics to be covered?
long version
Day 1 Section 3-1 Introduction to Broker Management
MBE24 Core 1 Part One - 4 Hrs Morning
• brokerage business & models
• law of agency & agency
• risk reduction & insurance - errors & omissions, business
MBE24 Core 2 Part Two - 4 Hrs Afternoon
• legal environment of real estate brokerage
• Indiana license law
Day 2 Section 3-2 Brokerage Operations
MBE24 Core 3 Part One - 4 Hrs Morning
• office policy & procedures manuals
• basic financial concepts
MBE24 Core 4 Part Two - 4 Hrs Afternoon
• basic finances
• earnest money & trust accounts
Day 3 Section 3-3 Role of the Managing Broker
MBE24 Core 5 Part One - 4 Hrs Morning
• recruiting, training & retention
• professional development of sales force
• types of fraud
MBE24 Core 6 Part Two - 4 Hrs Afternoon
• dispute resolution
• agent responsibilities & safety concerns
• advertising issues
• business ethics
If you register and we have to cancel,
Your payment will be applied to
a future class or Refunded, Your Option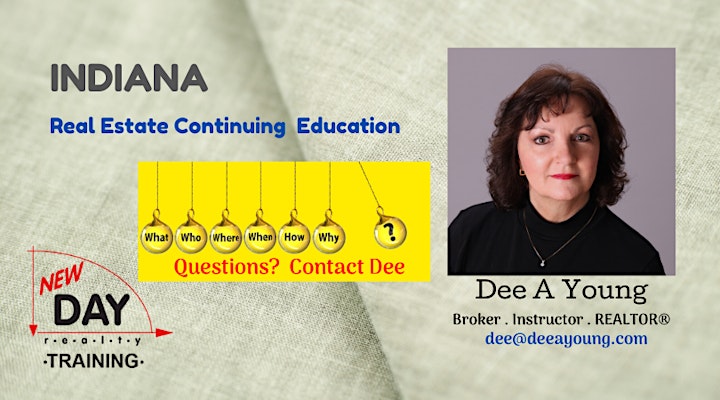 Thank You!
Our Generous Sponsors
Contributing Food & Beverages and Gift Cards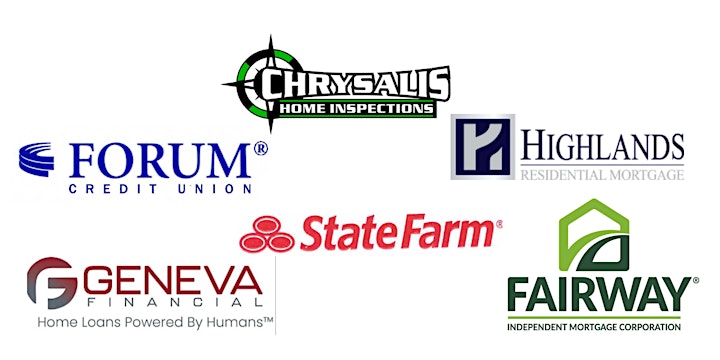 Venue Sponsors ~
Connie Jurey & Kim Hurst, Brokers • REALTORS®
connie@conniejurey.com 317.446.2559 Mobile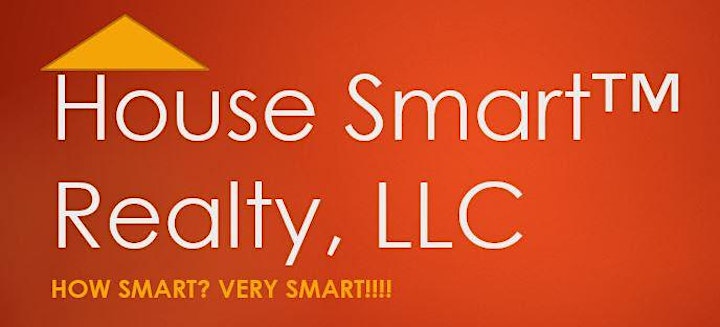 Sponsoring Organization ~
Indiana Real Estate Independent Brokers Association™
Independent Brokers • Small Business Owners