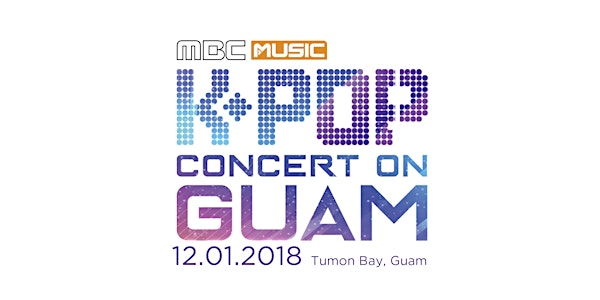 MBC Music K-POP Concert on Guam
When and where
Location
Governor Joseph F. Flores Beach Park Tumon, GU 96913 Guam
Description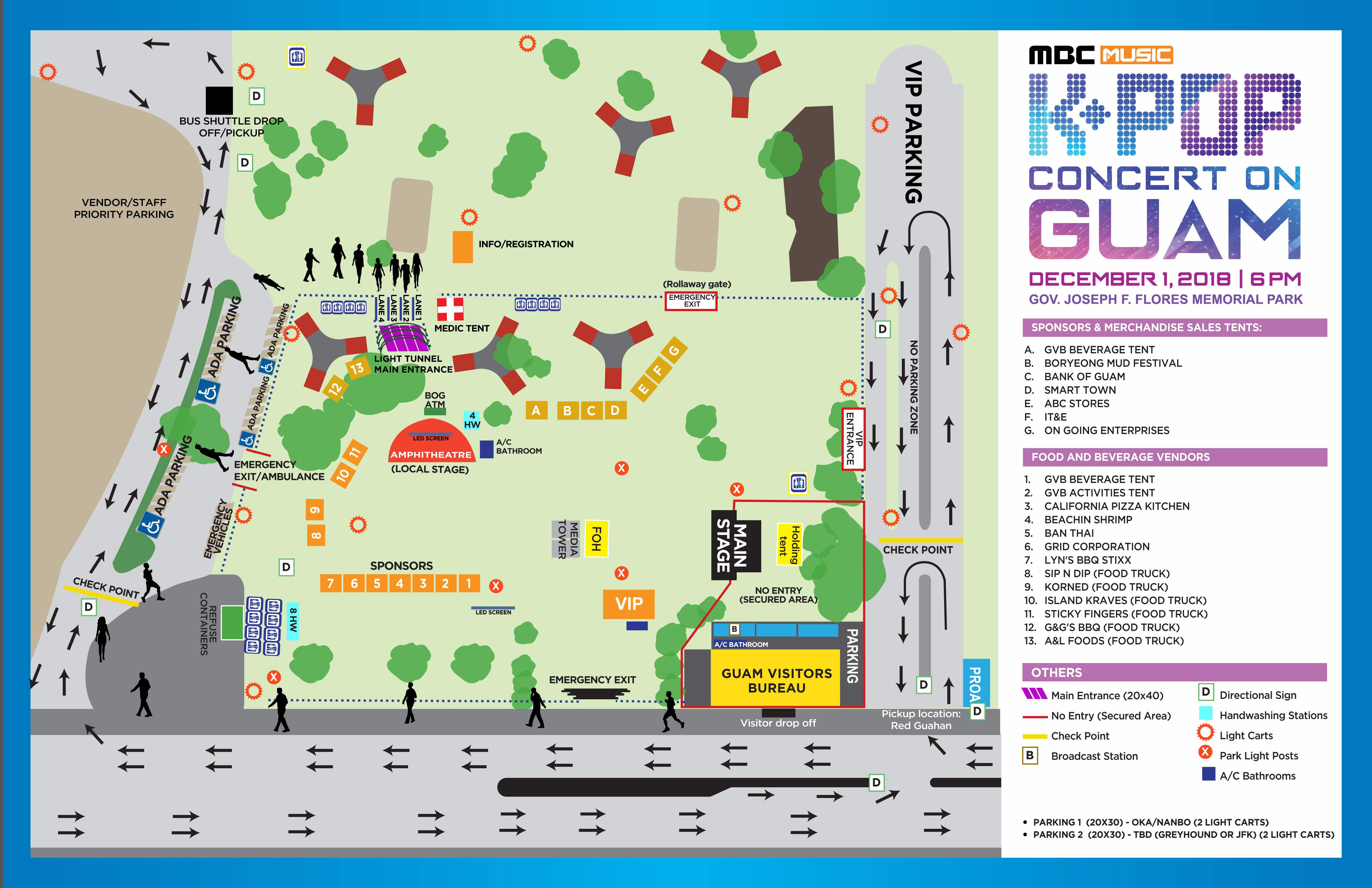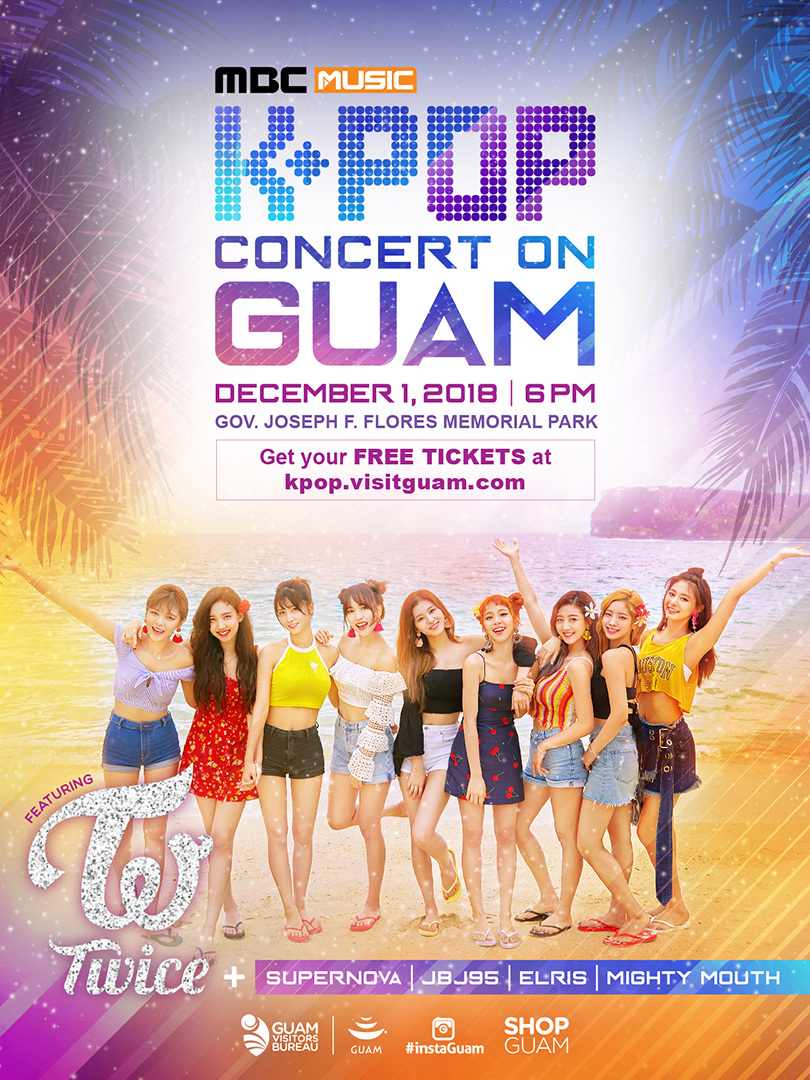 MBC Music K-POP Festival on Guam featuring TWICE, SUPERNOVA, JBJ95, H.U.B., and MIGHTY MOUTH

DATE AND TIME
• Saturday, December 1, 2018
• 6pm - 9pm, Gates open at 4pm
日時
• 2018年12月1日(土)
• 開場4PM、コンサート6PM 〜 9PM
일시
• 2018년 12월 1일 토요일
• 오후 6pm – 오후 9pm (오후 4pm 부터 입장)

LOCATION
• Gov. Joseph Flores Memorial Park, also known as Ypao Beach Park
場所
• ガバナージョセフフローレスメモリアルパーク(イパオパーク)
위치
• 거버너 조셉 플로레스 메모리얼 파크 (이파오 비치 공원)


WEATHER
• The concert venue will be outdoors, which means the event may be affected by potential sun, rain, wind, etc.
気象状況
• コンサートは屋外で開催されるため、晴天、雨天、風などの影響を受ける場合があります。
날씨
• 본 공연은 야외 공연이므로 태양, 바람, 비 등의 영향을 받을 수 있습니다.

AGES
• All ages, 15 and under must be accompanied by an adult
年齢制限
• 全ての年齢の方 *15歳以下のお子様は保護者の同伴が必要です
연령
• 모든 연령, 15세 이하의 어린이는 보호자 동반 시 입장 가능합니다.

WHAT TO BRING
• Your ticket
• Comfortable clothing and shoes
当日の持ち物
• ご自身のコンサートチケット
• 過ごしやすい服装
필수 지참 소지품
• 티켓 확인증
• 편안한 옷차림과 신발

EVENT PARKING AND FREE SHUTTLE
• Event parking and free shuttle service are available at the JFK High School Lot, the Oka Lot (across from Oka Pay-Less) and the Pleasure Island Tumon Central Air Terminal (T-CAT).
We encourage you to carpool and allow additional time to park and ride to the event. Shuttle service will be ongoing from 4:00 p.m. until 10:00 p.m. ADA Parking is located on the south side (Hilton side) of the Gov. Joseph F. Flores Memorial Park (Ypao Beach Park). There will be no general parking available at the Gov. Joseph F. Flores Memorial Park (Ypao Beach Park).
TICKETS
Free tickets to the concert can be acquired at kpop.visitguam.com. One ticket per person must be presented at the gate for entry to the concert grounds, with the exception of children three years old and younger.
If two or more tickets are acquired under the exact same name and email address, GVB will inform you of the duplicate ticket(s) and delete the identical transaction.
Tickets are on a first come, first serve basis. Total concert capacity is limited to 15,000 people.
チケット
無料チケットは、 kpop.visitguam.com. で入手できます。お一人様につき1枚のコンサートチケットを入口ゲートでご掲示ください。3歳以下のお子様はチケットなしで入場可能です。

同姓同名、かつ同じメールアドレスによる登録チケットが2枚以上確認された場合、グアム政府観光局より重複チケットに関する案内をさせていただき、重複している余分なチケットを破棄させて頂く場合がありますのでご注意ください。
※ イベント当日まで先着順で申込み可能ですが、定員(15,000名)になり次第締め切りとなります。
티켓
공연 무료 티켓은 kpop.visitguam.com 에서 발급받으실 수 있습니다. 입장 시 3세 미만의 유아 외에 개별적으로 티켓을 보여주셔야 합니다.
만약 2개 이상의 티켓이 동일한 성함, 이메일 주소로 확인될 시, 괌정부관광청은 중복 예약으로 간주하고 동일한 티켓의 예매를 취소 시킬 것입니다.
티켓은 선착순으로 발급됩니다. 콘서트 수용 가능 인원은 총 15,000명입니다.
POLICIES
GVB is committed to creating a safe, comfortable and memorable experience for all participants. As a guest, you agree to the following policies:
• Guests may be subject to a search upon entry
• No moshing, crowd-surfing or stage-diving
• No unauthorized solicitations, handbills, sampling or giveaways
• No tailgating or camping

UNLAWFUL SALE OF TICKETS
Unlawful sale of tickets (or attempted sale) is grounds for seizure and cancellation without compensation. A ticket shall not be used for advertising, promotions, contests or sweepstakes, unless formal written authorization is given by GVB, provided that even if such consent is obtained, any use of GVB's trademarks and other intellectual property is subject to GVB's consent.


PERFORMERS/ARTISTS SUBJECT TO CHANGE
Performers/Artists are subject to change or cancellation at any time without notice. No refund will be owed if any performer or artist or any other scheduled performance, person or group is changed or canceled and the event still occurs.


NO EXCHANGE
All tickets are unable to be exchanged for another good, service or event.

CANCELLED/POSTPONED EVENTS
Occasionally, events are canceled or postponed by the promoter, team, band or venue. Should this occur, we will attempt to contact you. GVB will not be liable for any losses - direct, indirect, financial or intangible - due to the cancellation of an event.

LIMITATION OF LIABILITY
You expressly understand and agree that in no event shall this site, including its affiliates and licensors, be liable for any damages whatsoever, including any direct, indirect, incidental, consequential, special or exemplary damages, and any damages for loss of profits, savings, goodwill or other intangible losses, regardless of whether this site had been advised of or could have foreseen the possibility of such damages, arising out of or in connection with: (a) the use, inability to use or performance of any of the services of this site, or (b) any unauthorized access to or modification to any of your content or transmissions, or (c) any other matter relating to this site or any of the services.
This event is for everyone.
GVB is dedicated to providing a harassment-free experience for everyone, regardless of gender, sexual orientation, disability, physical appearance, body type, race, or religion. We do not tolerate:
• Verbal or physical abuse/fighting
• Derogatory or discriminatory language
• Offensive gestures
• Any form of harassment
• Any other disruptive or abusive behavior
• Excessive intoxication


PERMITTED ITEMS
Items approved to carry into the event:

• Empty plastic water bottle
• Small-sized personal cameras without a case
• Children's soft-sided single serve beverage containers
• Seat cushions (without pockets)
• Umbrellas
• Tablets (including iPads, Kindles, etc.)
• Exceptions are given for medical supplies (such as breast pumps and milk).
• Beach chairs
• Bags 13" x 17" or smaller (diaper bags must conform to the listed size restriction of 13" x 17")


PROHIBITED ITEMS
There are a few things we don't allow inside the venue:

• Illegal or illicit substances, drugs, or drug paraphernalia
• Betel nuts
• Vape juice
• Aerosol containers
• Drones or any other remote controlled flying device
• Speakers or boomboxes
• Instruments
• Toy guns or slingshots
• Hoverboards, skateboards, scooters, bicycles, wagons, carts or any other personal vehicles (with the exception of disability-related items)
• Unauthorized/unlicensed vendors
• Flasks
• Pepper spray
• Pets (with the exception of service animals)
• Laser pointers
• Air horns
• Glass, cans or coolers
• Spray paint
• Bags larger than 13" x 17"
• Outside food or beverages (including alcohol and candy)
• Weapons of any kind (including pocket knives, pepper spray, fireworks)
• Professional photography, videography or audio recording equipment (no detachable lenses, tripods, big zooms or commercial-use rigs)
• Any items deemed by GVB to be inappropriate that may disrupt other guests' enjoyment.
These are subject to change.
Participants are expected to follow these rules or they may be removed from the event. We reserve the right to deny or eject anybody who violates our code of conduct or the law.


DISCLAIMER
You expressly understand and agree that: (a) this site and any of the services are provided on an "as is" and "as available" basis and that this site makes no warranties, representations or conditions (as used in this section "warranties") of any kind, whether express or implied, including but not limited to implied warranties of merchantability, fitness for a particular purpose and non-infringement and that any such warranties are hereby expressly disclaimed, and (b) this site specifically makes no warranties that a it or any of its services, including any content, information, products or services obtained from or through the use of this site or any of the services, will be provided on an uninterrupted, timely, secure or error-free basis or that such services or the results derived therefrom will meet your requirements or expectations.
FAQ's

Q: Is the concert for all ages?
A: Yes. All children 15 years old and younger must be accompanied by an adult. Children three years old and younger do not need a ticket.
Q: How much do tickets cost?
A: The MBC Music K-Pop Concert on Guam is free.

Q: Are my tickets transferable?
A: No. Each person must get a free ticket under his/her name and present that ticket to enter the festival.
Q: Can I get tickets for a group?
A: Yes, tickets are limited to five (5) per transaction.
Q: How do I get my tickets?
A: You can get your tickets by going to kpop.visitguam.com and ordering them in advance. Tickets for this event are free. Tickets will be sent to attendees via email. Please print your tickets and bring them with you to the concert or download the Eventbrite app and present the ticket on your phone.
Q: What can I bring with me?
A: See the complete list of permitted and prohibited items under our Policies.
Q: What is the camera policy?
A: Professional photography and videography is not allowed. Small cameras and phones with flash disabled are permitted.

Q: Will there be a place to get tickets at the entry?
A: Yes, a kiosk to sign up and get free tickets will be available at the entrance, pending capacity and availability.

Q: Can I see a concert venue map ahead of time?
A: Yes, maps showing stage location, food, bathrooms and more will be available prior to the event on the concert website.