President Anta Cisse-Green, the Officers and the Board of the Metropolitan Black Bar Association invite you to the 37th Annual Awards Gala
About this Event
President Anta Cisse-Green, the Officers and the Board of Directors of the Metropolitan Black Bar Association cordially invite you to the
Thirty-Seventh Anniversary Awards Gala, a virtual (online) event on Friday, May 21, 2021
Honorees:
Trailblazer of the Year: Alphonzo A. Grant, Jr. - Managing Director, Morgan Stanley | Head of the Global Litigation Group's Special Investigation Unit for Institutional Securities and Investment Management, SIU
Corporate Counsel of the Year: Kevin Clunis, Senior Vice President, Legal, Ross Stores, Inc.
Private Practitioner of the Year: Lori Anne Douglass, Partner, Douglass Rademacher LLP
Public Servant of the Year: Rosemonde Pierre-Louis, Chief Operating Officer at the McSilver Institute
Jurist of the Year: Hon. Cheryl E. Chambers, Associate Justice, New York Supreme Court, Appellate Division, Second Department (Past Chair of the Board of Directors of the Metropolitan Black Bar Association)
Event Details:Location: OnlineDate: Friday, May 21, 2021 Time: 6:00 PM To pay by check, make checks payable to: Metropolitan Black Bar Associationand mail to:
Metropolitan Black Bar Association
275 Madison Avenue,14th Floor
New York, NY 10016.
Checks must be received by May 1, 2021 (payments after this date must be made by credit card or wire transfer.  No payments will be accepted at the event.
Visit us online at www.mbbanyc.org.
For Sponsorship, Ticket and Virtual Journal Ad Information, Please Contact: info@mbbanyc.org
All Tickets, ads, and sponsorships are non-refundable.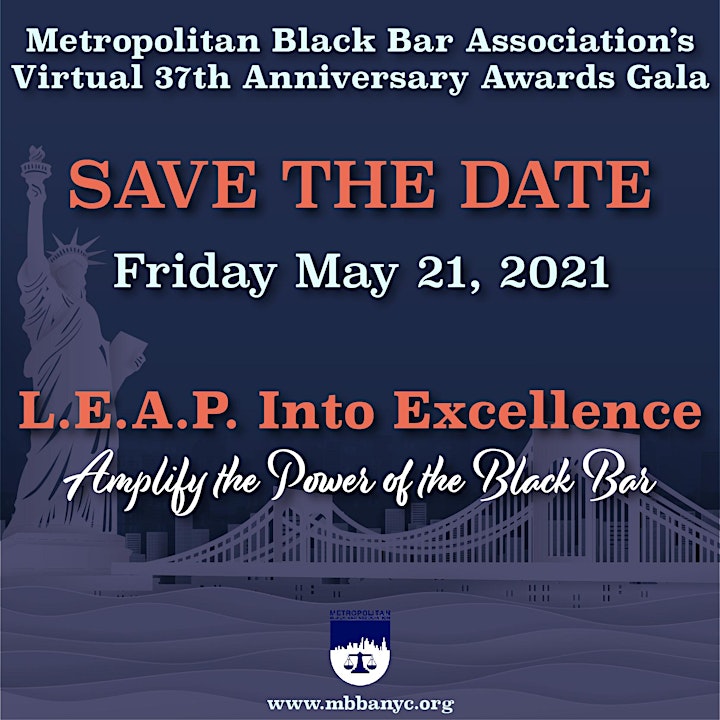 Date and Time
Location
Refund Policy