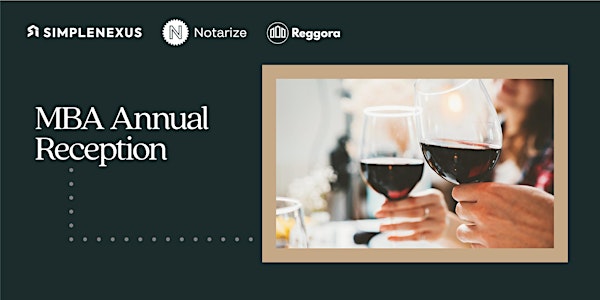 MBA Annual Cocktail Party
Come party with us and kick off MBA Annual 2021
When and where
Location
San Diego Wine & Culinary Center 200 Harbor Drive ##120 San Diego, CA 92101
About this event
Heading to San Diego for MBA Annual this year? Looking for something fun to do to kick-off your week? Pop on over to the San Diego Wine and Culinary center to chat and have a bite to eat with your fellow mortgage banking professionals - courtesy of your friends at Reggora, Notarize and SimpleNexus!
No sales pitches.
Just a bunch of like-minded individuals getting together to enjoy each others' company (and some tasty apps). We can't wait to toast with you!
About the Co-Organizers:
Reggora's appraisal management platform for lenders and appraisal vendors delivers unprecedented efficiency and agility across the entire appraisal process. Through smart automations, configurable workflows, and LOS and POS integrations, Reggora unites systems and stakeholders to help lenders and appraisers increase capacity and deliver high quality appraisals. The platform combines advanced payment processing, algorithmic appraisal ordering, detailed and customized reporting, and finally, a modern user experience, helping to allocate orders efficiently, reduce human error, and prepare everyone for the future of valuation. For more information visit reggora.com.
Founded in 2015, Notarize is the leading remote online notarization platform and the first to enable thousands of people each day to sign and notarize documents online. Powering digital transformation across countless industries and in key life moments, from adopting a child to buying a home, Notarize builds trusted products and services that support and bring trust to life's most important and mission-critical transactions. Notarize is a remote-first technology company backed by leading investors including Canapi Ventures, Capital G, TrueBridge Capital Partners, Wells Fargo, Citi Ventures, Fifth Wall Ventures, Camber Creek, Polaris Ventures and more. For more information, visit notarize.com.
SimpleNexus is a homeownership platform transforming the mortgage experience and connecting borrowers, loan officers, real estate agents, and settlement service providers throughout the homebuying process. Loan officers can originate and process loans from anywhere using the platform's native mobile app. Borrowers enjoy a single sign-on experience from home search all the way through closing and beyond. Collaboration with real estate agents and settlement service providers is streamlined with dedicated toolsets enabling a more efficient transaction. For more information, visit simplenexus.com.
Covid-19: We ask that you adhere to the covid-19 policy put in place by MBA's Annual Convention and Expo.
Please feel free to contact events@notarize.com with any questions leading up to the event.