Description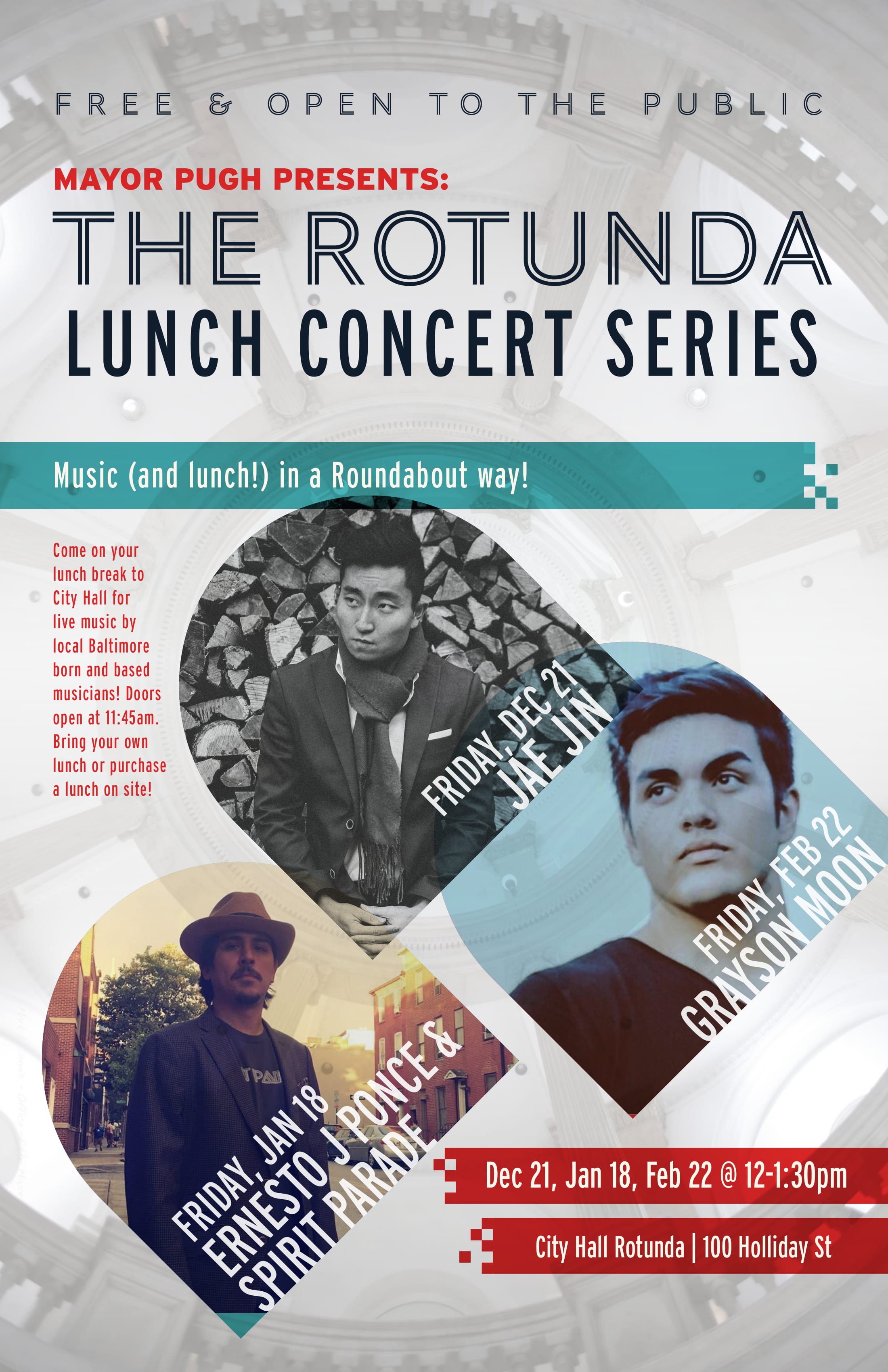 **FREE and open to the Public**
Mayor PughPresents: The Rotunda Concert Series!- Music (and lunch) in a Roundabout Way!
Doors Open at 11:45am
Come on your lunch break to City Hall for Live Music by local Baltimore born and based musicians! Bring your own lunch or purchase a lunch on site!
12/21- Jae Jin
Jae Jin is an unsigned, independent artist, singer/songwriter, & multi-instrumentalist from Baltimore, MD. His latest full-length album, titled 'Letters and Drinks' has already received award nominations and amassed nearly one million streams on Spotify in its first few months of release. He has been recognized as an emerging force by the likes of Pat Monahan (Lead singer/songwriter of TRAIN), Russell Simmons (Def-Jam co-founder), and has also been featured on The Huffington Post, SOFARSOUNDS, WorldStarHipHop, has been a part of the prestigious global Communion Residency, & appeared on the Emmy Award-winning TV show, House of Cards. In 2017 Jae received a 2017 WeWork Creator Award for his musical achievements and compelling life story.
01/18- Ernesto J. Ponce & Spirit Parade
Spirit Parade is a Baltimore-based band originally formed as a backing band for Ernesto J. Ponce's solo project, "The Dream is Gone". With the solid blues base of Ernesto's solo material as a jumping point, the crew has been recognized by veteran Baltimore blues crooner, Ursula Ricks, who immediately recognized the viability of the bands neo-blues aesthetic. Spirit Parade featured Ursula Ricks while playing such gigs as Artscape Mainstage 2016 and showcases in Pennsylvania organized by Grammy award winning producer David Ivory.
02/22- Funsho
**Grayson Moon is unable to perform on this date***
Praised as an "R&B singer who's steadily building an audience" by The Washington Post, Nigerian-born singer-guitarist Funsho has been making a name for himself since performing at colleges, and some of the most prominent venues all throughout the DMV, and east coast. His biggest accomplishment to date happened in September 2018 when he auditioned for NBC's The Voice, where he excelled as a contestant climbing to the top 24 and even working under the likes of Adam Levine and Blake Shelton.