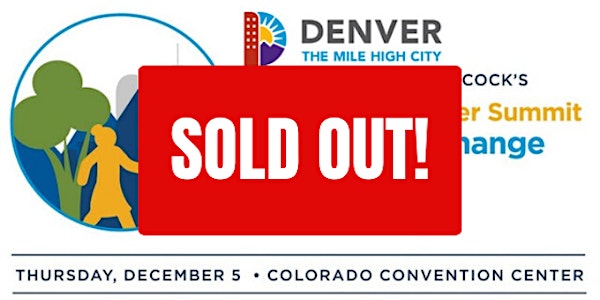 Mayor Michael B. Hancock's 2019 Sustainable Denver Summit Presented by VF Corp
When and where
Location
Colorado Convention Center 700 14th Street Denver, CO 80202
Refund Policy
Refunds up to 30 days before event
Eventbrite's fee is nonrefundable.
Description
The Summit is now SOLD OUT!
Please join us on Facebook Live for Our Keynote Speakers starting at 8:30am.
No registrations will be taken onsite.
Thank you for your support in making this another stellar Summit!
Mayor Michael B. Hancock invites you to the 2019 Sustainable Denver Summit
Presented by VF Corporation
LEADING THE CHANGE
We know the road ahead to a sustainable future is challenging, even daunting at times. We know change needs to be accelerated at a systems level and an astonishing scale. We also know that you, our Denver sustainability leaders, have the passion, tools, and know-how to inspire our people and lead that change.
This Summit will reignite your passion for change, help galvanize people to lead, celebrate leadership successes, and give us the tools we need to move forward. We know the vision we want for our future and we know we have the community to make it happen. Let's come together, let's lead the change!
ABOUT THE SUMMIT
The Sustainable Denver Summit is Colorado's perennially sold out, premier gathering of sustainability champions committed to making their communities and Denver sustainable. The Summit attracts nearly 1000 attendees, over 100 presenters, and more than fifty exhibitors to the Colorado Convention Center. The Sustainable Denver Summit is unique in that it is the launching pad for new Commitments to Action, efforts that local businesses, nonprofits and city agencies promise to make in order to make Denver more sustainable. Summit attendees hear from exceptional speakers, collaborate and network to create and act on sustainability solutions, get behind the wheel of an electric vehicle, and celebrate the Love This Place award winners who are pushing the envelope on sustainability! It is the must-attend sustainability event of the year!
SUMMIT SCHEDULE AT-A-GLANCE
(subject to change)
7:30 - 8:30 AM

Check-in, Breakfast, Exhibition Hall

8:30 - 9:55 AM

Welcome Address by Mayor Hancock, Presenting Sponsor, Keynote, Mile High Ballroom
9:55 - 10:10 AM Networking Break, Exhibition Hall

10:10 - 11:05 AM

Breakout Sessions, 400 & 500 Rooms
11:05 - 11:15 AM Attendees move between breakout rooms
11:15 AM - 12:10 PM Breakout Sessions, 400 & 500 Rooms

12:15 - 1:15 PM

Luncheon & Love This Place Awards, Mile High Ballroom

1:15 - 2:00 PM

Dessert & Networking, Exhibition Hall

2:00 - 3:30 PM

Workshops, 400 & 500 Rooms

3:30 - 5:00 PM Cocktail Reception: Opening Remarks, Governor Jared Polis

Exhibition Hall
Interested in sponsoring or joining our exhibit hall? See our sponsor and exhibitor benefits page and contact us at Janna.West-Heiss@denvergov.org for more information.
BREAKOUT SESSIONS
The 2019 Summit will provide attendees with opportunities to learn and to interact. Breakout sessions will include several different topic areas including conversations around climate, corporate and community engagement, equity, energy, food, green spaces, mobility, water, and waste and the intersection of these important sustainability areas.
Attendees will have ample opportunity to engage in hands-on workshops or sit back and learn about something entirely new from experts. There will be something for everyone!
Registrant will be asked to select breakout session choices during registration. We suggest you take a look at what the Summit has to offer before you register due to the large amount of choice in content we have this year. If you change your mind about the sessions you would like to attend, you can update your selections up until November 15. Please note we do not suggest this as we often sell out of some of the more popular sessions. Session speakers and details will be added, so please check back on a regular basis.
PRICING
Early Bird Pricing Available through Friday, November 1: $80

Regular Pricing Available Saturday, November 2 - Cyber Monday, December 2: $95

Last Minute Tickets Available Tuesday, December 2 through Wednesday, December 4: $105

Last Minute Pricing Available Thursday, December 5: $120

Registration fee includes all sessions, exhibit hall access, breakfast, lunch, coffee breaks and closing reception.

Student Pricing Available through Saturday, November 30: $65. Inquire by emailing us at sustainability@denvergov.org.
OFFSET YOUR ATTENDANCE
New this year, we will be encouraging participants to consider offsetting their transportation and energy emissions associated with getting to and attending the Summit. For more information about our partner, the Colorado Carbon Fund, head here. For more information about the project we will be contributing to in order to help offset the event head here.
SPONSORS
Thank you to our sponsors for supporting this Summit!
Presenting Sponsor
Platinum Sponsor
Silver Sponsors
Ameresco

CSU

GE Johnson

Nissan


Suncor
Bronze Sponsors
Ambient Energy

Colorado Pollution Prevention Advisory Board (CDPHE)

Group 14

NREL

Swire Coca-Cola, USA

Serendipity
Scholarship Sponsors
City & County of Denver - Office of Strategic Partnerships

Denver Water

Denver Zoo

Jacobs

Prologis

SSA

Stantec
Xcel Energy
CANCELLATION AND REFUND POLICY
Cancellations will be accepted through Tuesday, November 4, 2019 with no cancellation fee. No refunds will be made for cancellations after this date.
Requests should be sent by email to Summit@Denvergov.org with subject line 'CANCELLATION' by November 4, 2019. Substitutions are always welcome.
PHOTOGRAPHY CONSENT

By registering to attend, you are consenting to the publication, reproduction, distribution or other use bythe Denver Office of Sustainability of attendee's name, photograph, video and/or likeness for advertising future events or other marketing purposes.
PARTICIPANT LIST
Participant lists generated from the 2019 Sustainable Denver Summit will not be distributed to any other entity. However, in the spirit of continued collaboration, a participant list for the event will be made available to all attendees in print or electronically, and will include Name, Title, and Organization only. No contact information will be shared publicly.
---
El alcalde Michael B. Hancock lo invita a la Cumbre 2019 Denver Sustentable 2019 presentada por VF Corporation
LIDERAR EL CAMBIO
Sabemos que el camino que nos espera hacia un futuro sustentable es difícil, incluso en ocasiones desalentador. Sabemos que se debe acelerar el cambio a nivel de sistemas y a una escala sorprendente. También sabemos que ustedes, nuestros líderes de sustentabilidad de Denver cuentan con la pasión, instrumentos y conocimientos para inspirar a nuestra gente y liderar ese cambio.
Esta Cumbre reavivará su pasión por el cambio, ayudará a impulsar a las personas a liderar, conmemorará los logros de liderazgo y nos ofrecerá los instrumentos que necesitamos para seguir adelante. Conocemos la visión que queremos para nuestro futuro y sabemos que contamos con la comunidad para hacerlo posible. ¡Vamos a unirnos, lideremos el cambio!
ACERCA DE LA CUMBRE
La Cumbre Sustainable Denver (Denver Sustentable) es la principal reunión de defensores en materia de sustentabilidad vendida continuamente de Colorado, comprometida a lograr que sus comunidades y Denver sean sustentables. La Cumbre atrae a casi 1000 participantes, más de 100 presentadores, y más de cincuenta expositores al Colorado Convention Center (Centro de Convenciones de Colorado). La Cumbre Sustainable Denver (Denver Sustentable) es única, ya que es el punto de partida para nuevos compromisos de acción, iniciativas que las empresas locales, organizaciones sin fines de lucro y organismos municipales prometen realizar con el objetivo de lograr que Denver sea más sustentable. Los participantes de la Cumbre escuchan a oradores extraordinarios, colaboran y establecen contactos para crear y actuar en base a soluciones de sustentabilidad, ponerse al volante de un vehículo eléctrico y conmemorar a los ganadores del premio Love This Place que se encuentran expandiendo los límites en materia de sustentabilidad. ¡Es el evento de sustentabilidad más importante del año!
PROGRAMA GENERAL DE LA CUMBRE
(sujeto a cambios)
7:30 - 8:30 AM Registro, Expo Hall, desayuno

8:30 - 9:45 AM Discurso de bienvenida: Patrocinador presentador del alcalde, discurso principal

10:00 - 12:00 PM Sesiones de trabajo en grupo por la mañana

12:15 - 1:15 PM Premios Love This Place

1:15 - 2:00 PM Postre, Expo Hall y establecer contactos

2:00 - 3:30 PM Sesiones de trabajo en grupo por la tarde

3:30 - 5:00 PM Establecimiento de contactos y cóctel de bienvenida
¿Tiene interés en patrocinar o acompañarnos a nuestra sala de exposiciones? Consulte nuestra página de beneficios para patrocinadores y expositores y para obtener más información, comuníquese con nosotros al correo electrónico Janna.West-Heiss@denvergov.org.

SESIONES DE TRABAJO EN GRUPO
La Cumbre 2019 ofrecerá a los participantes oportunidades de aprender y relacionarse. Las sesiones de trabajo en grupo abarcarán distintas áreas temáticas, entre ellas, conversaciones sobre clima, participación empresarial y comunitaria, equidad, energía, alimentos, espacios verdes, movilidad, agua y desechos y la intersección de estos importantes ámbitos de sustentabilidad.
Los participantes tendrán la gran oportunidad de participar en talleres prácticos o relajarse y aprender algo completamente nuevo de los expertos. ¡Habrá algo para todos!
Se le pedirá al solicitante que escoja las opciones de sesión de trabajo en grupo durante el registro. Aún queda mucho más, así que por favor revise de manera frecuente.
PRECIOS
Precios por venta anticipada disponibles hasta el viernes 25 de octubre: 80 dólares

Precios normales disponibles del sábado 26 de octubre al sábado 30 de noviembre: 95 dólares

Entradas de última hora disponibles desde el domingo 1 de diciembre hasta el miércoles 4 de diciembre: 105 dólares

Precios de última hora disponibles el jueves 5 de diciembre: 120 dólares

La cuota de inscripción abarca todas las sesiones, acceso a la sala de exposiciones, desayuno, almuerzo, recesos y recepción final.

Precios para estudiantes disponibles hasta el sábado 30 de noviembre: 65 dólares

Se encuentran disponibles una serie limitada de becas. Para obtener más información,

haga clic aquí

.
PATROCINADORES
Gracias a nuestros patrocinadores:
PATROCINADOR PRESENTADOR
PATROCINADORES DE PLATINO
PATROCINADORES DE PLATA
CSU

DaVita

GE Johnson

Suncor
PATROCINADORES DE BRONCE
Ambient Energy

Colorado Pollution Prevention Advisory Board (CDPHE)

Group 14

NREL

Swire Coca-Cola, USA

Serendipity
Patrocinador de becas
Zoológico de Denver

Xcel Energy

SSA

Jacobs
POLÍTICA DE CANCELACIÓN Y REEMBOLSO
Se aceptarán cancelaciones hasta el martes 4 de noviembre de 2019 sin costos por cancelación. No se harán reembolsos por cancelaciones después de esta fecha.
Se deben enviar las solicitudes por correo electrónico a Summit@Denvergov.org con el asunto 'CANCELACIÓN' antes del 4 de noviembre de 2019. Siempre son bienvenidas las sustituciones.
CONSENTIMIENTO DE FOTOGRAFÍAS
Al inscribirse para asistir, usted acepta la publicación, reproducción, distribución u otro uso de la Oficina de Sustentabilidad de Denver del nombre, fotografía, video y/o imagen del participante para promocionar futuros eventos u otros fines comerciales.
LISTA DE PARTICIPANTES

Las listas de participantes creadas a partir de la Cumbre 2019 Sustainable Denver (Denver Sustentable 2019) no se repartirán a ninguna otra entidad. Sin embargo, con el ánimo de colaboración constante, estará disponible una lista de participantes del evento para todos los participantes de manera impresa u electrónica, y sólo contendrá el nombre, título y organización. No se compartirá la información de contacto en público.
El organizador del evento se reserva el derecho de revocar su autorización para asistir a este evento. Por favor, respete todas las normas que facilita el organizador del evento. Al reconocer a continuación, usted acepta estos términos.
FAQs
What are my transportation/parking options for getting to and from the event?
Help us accomplish our 2020 Mobility Goal – don't be an SOV. We encourage all attendees to consider walking, biking, talking alternative transportation, or carpooling to the event.
Public Transportation Options: LightRail, RTD Bus, B-Cycle, and walking directions here.
Parking: Directions and pricing for Convention Center parking can be found here.
How can I contact the organizer with any questions?
For general questions, please contact sustainability@Denvergov.org
Interested in sponsoring or joining our exhibit hall? See our sponsor and exhibitor benefits page and contact us at Janna.West-Heiss@denvergov.org for more information.
What's the refund policy?
Refunds must be received in writing via sustainability@Denvergov.org by 5PM Tuesday, November 5th.
Is my registration fee or ticket transferrable?
Substitutions are allowed until Friday, November 19. Please contact sustainability@Denvergov.org and provide the name, title, company and email address of the person who will be attending in your place.

What's the dress code?
Attire: Business Casual