Sales Have Ended
Ticket sales have ended
Thank you for your interest in the 2018 Sustainable Denver Summit. The event is now SOLD OUT. Registrations will not be taken onsite due to space limitations. If you have further questions about the event or sustainability initiatives through the Mayor's Office, please contact sustainability@denvergov.org
Sales Have Ended
Ticket sales have ended
Thank you for your interest in the 2018 Sustainable Denver Summit. The event is now SOLD OUT. Registrations will not be taken onsite due to space limitations. If you have further questions about the event or sustainability initiatives through the Mayor's Office, please contact sustainability@denvergov.org
Description
Mayor Michael B. Hancock invites you to the 2018 Sustainable Denver Summit
A City For All: Today and Tomorrow
ABOUT THE SUMMIT
The Sustainable Denver Summit is Colorado's premier gathering for the exploration of and commitment to sustainability solutions. The Summit attracts over 700 people and dozens of exhibitors to the Colorado Convention Center. Summit attendees hear from exceptional speakers, review the latest sustainability commitments from businesses, non-profits and city agencies, see the latest in electric vehicle and other technologies, interact on a variety of current sustainability issues, and celebrate annual award winners who are pushing the envelope on sustainability. It is the must-attend sustainability event of the year!

A CITY FOR ALL: TODAY AND TOMORROW

With Denver's growth comes opportunities and challenges. If basic resources are to be available and affordable to all we must manage them vigilantly so that everyone moves ahead together.
At the 2018 Summit, we will explore how to be good stewards of critical basic resources while equitably providing economic opportunity, clean energy, food, water, green space, mobility, and more to all of Denver's people.


SUMMIT SCHEDULE AT-A-GLANCE (subject to change)
8:30 AM – 9:30 AM: Check-In and Continental Breakfast
9:30 AM – 10:45 AM: Opening Keynote
11:00 AM – 12:30 PM: Morning Breakout Sessions
12:45 PM – 1:30 PM: Luncheon, Sustainability Awards
1:30 PM – 2:00 PM: Dessert and Networking
2:15 PM – 3:45 PM: Afternoon Breakout Sessions
4:00 PM – 5:30 PM: Networking and Cocktail Reception
*Program is subject to change. Click here for a more detailed program.
Note: As part of registration we ask each participant to choose breakout sessions they plan to attend for the day. This facilitates breakout room assignments.
KEYNOTE
Mustafa Santiago Ali, Senior Vice President of Climate, Environmental Justice & Community Revitalization, Hip Hop Caucus.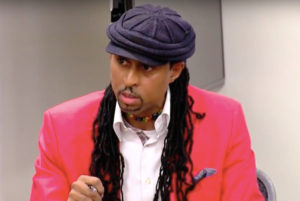 Mustafa Santiago Ali is the Senior Vice President of Climate, Environmental Justice & Community Revitalization for the Hip Hop Caucus. The Hip Hop Caucus is a national, non-profit and non-partisan organization that connects the Hip Hop community to the civic process to build power and create positive change. As HHC Senior Vice President, he leads the strategic direction, expansion andoperation of the Hip Hop Caucus' portfolio on Climate, Environmental Justice and Community Revitalization. Mustafa is renowned as a National Speaker, Trainer and Facilitator specializing in Social Justice issues focused on revitalizing our most vulnerable communities. Throughout his career, Mr. Ali has conducted over 1,000 presentations across the country, including speeches, guest lecturers and trainings. He has also worked with over 500 domestic and international communities to secure environmental, health and economic justice. Read more of his bio here.
BREAKOUT SESSIONS
The 2018 Summit will provide attendees with opportunities to learn and to interact. Breakout sessions will include several different topic areas including flagship conversations around climate and energy, mobility, water, and waste as well as newer summit discussions of equity, affordability, corporate engagement, and green infrastructure. There will be something for everyone!

Attendees will have ample opportunity to engage in hands-on workshops or sit back and learn about something entirely new from experts.
Each registrant will be asked to select both a morning and afternoon breakout session during registration. Full breakout descriptions can be found here.
TRACK: Resource Management
Morning Sessions
Design with Success in Mind
Talking Transparency: Life-Cycle Analysis Tools from Unique Perspectives
Waste Diversion Challenges in Tenant-Occupied Spaces
Afternoon Sessions
One Water, Many Opportunities
Pioneering Sustainability: The National Western Center Campus
TRACK: Engaging Businesses and Communities
Morning Sessions
Embracing Sustainability as a Public Value
Beyond CSR- Instilling a Culture of Sustainability Values
Afternoon Sessions
Sharing your Sustainability Story Effectively
Sustainability Driving Business Value
TRACK: Mobility
Morning Session
Equitable and Affordable Mobility - Is There a Panacea?
Afternoon Session
Transit That Works Better for All
TRACK: Green Spaces
Morning Sessions
Providing Greater Access to Parks and Other Green Spaces
Water Conservation and Protecting Water Quality in Denver Parks
Afternoon Sessions
SITES: An Alternative to LEED for Parks and Open Spaces
What's Up With Our Trees?
TRACK: Food Systems
Morning Session
Complete Neighborhood Food Environments
Afternoon Session
Food Matters: Food Waste Prevention, Rescue, and Recycling in Denver
TRACK: Climate and Energy
Morning Session
From the Green Roof Initiative to Denver's New Green Building Policy
Afternoon Sessions
Energize Denver and PACE Financing: A Perfect Match
Denver's 80x50 Plan – Implementation Plans
TRACK: Equity & Affordability
Morning
Establishing an Equity Balance: Common Language and Principles of Working with Diverse Communities
Sustainability Starts with Stability
Afternoon
Creating Change Starting Within: Organizational Models for Equity
Voices from the Community: Sustainability in Person