Description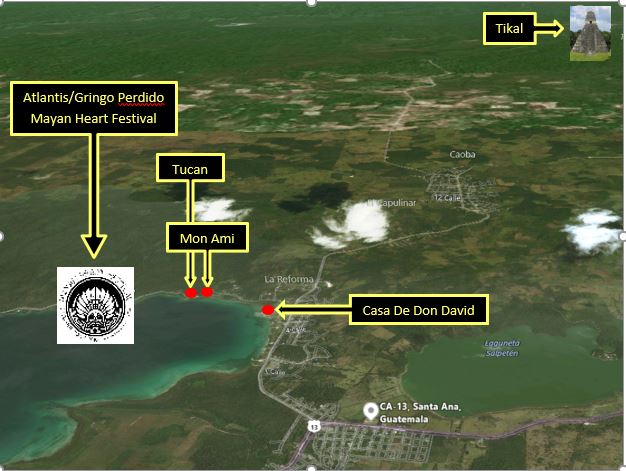 PACKAGES DO NOT INCLUDE FESTIVAL TICKETS. EACH HOTEL HAS DIFFERENT ITEMS IT INCLUDES, PLEASE READ CAREFULLY. (MORE NIGHTS at AVAILABLE at all properties, PLEASE write artistascreativos@gmail.com to add nights before or after)

OFFICIAL HOTELS: Gringo Perdido / Mon Ami / Don David / Turtle
HOTEL 1 - ATLANTIS / GRINGO PERDIDO - terms of service.
CHECK IN: THURSDAY, DECEMBER 20TH from 2pm / CHECK OUT: MONDAY, DECEMBER 24th noon

Summary: ALL 4 nights packages at GRINGO PERDIDO include organic breakfast and dinner. READ carefully before you purchase, we've taken the time to include all information on each room. Photos available on the Facebook link on this page.
Official hotel packages for Mayan Heart Festival (MHF) ATLANTIS take over of El Gringo Perdido here. At ATLANTIS take over of El Gringo Perdido Hotel; We have Rooms to accomodate 85 people in 7 Luxury Suites (SOLD OUT), 2-3 and 4 person rooms (SOLD OUT). and an additional 55 glamping spaces that can accomodate 120 people in fully serviced tents (tents include matress, pillows and sheets available in the same property.

Our official web page is www.mayanheartfestival.com
**CHOOSE THIS HOTEL FOR FULL FAMILY AND FINAL DAY LATE NIGHT ACTIVITIES INTO EARLY SUNRISE (Sunday 23rd night). This is a Lake Side hotel on fresh water that is crystal clear, clean and swimmable, free GREEN MAYA coffee and tea service all day. Free use of kayaks and paddleboards on a first come first served basis. Early morning yoga and movement classes, intimate talks with our elders, cacao ceremonies, women empowerment workshops + lots more only for Atlantis guests.

ALL ATLANTIS HOTEL PACKAGES INCLUDE ORGANIC BREAKFAST AND DINNER + ACCESS TO ACTIVITIES RESERVED ONLY TO ATLANTIS HOTEL GUESTS. Daily activities include yoga classes, workshops, surprise Artists sets and healing sanctuary. Front door Maya Express bus stop and Mayan Heart Festival concierge office and main tours central office will be here.

BREAKFAST HOURS: 9:30am to 10am 2 Options on included organic breakfast: 1 - Eggs any style, Beans, homemade bread and butter, cheese, coffee, Juice. 2 - Fresh fruit plate with homemade Yogurt, homemade bread and butter, organic local honey.
DINNER 7pm to 9pm: Choice of Chicken or Veggies with 2 other sides, homemade bread and butter Juice.
__________________________________________________________________________________________________
REGULAR ROOM (Rooms 3-4-5-6-7 & 8 are this configuration of KING w bunk for up to 4 people. Private bath and shower, double sink, safe and closet.

HOTEL 2 - TURTLE - BIG SUITE, sleeps up to 5 people MAX. This is absolutely a beautiful suite with a kitchen, a Queen bed, sofa sleeper and a Full bed. This is just across the street from ATLANTIS hotel and you may purchase a meal plan to eat at Atlantis Hotel (Breakfast and Dinner). Your Maya Express Local Bus stop is at Gringo Perdido/Atlantis.

HOTEL 3 - Mon Ami - official Mayan Heart Festival hotel - We have three amazing rooms here: CASA AZUL, AVATAR, NICO DIEGO see the descriptions in the ticketing page. NO MEALS are included here. This hotel is an official Maya Express Local Bus Stop.
HOTEL 4 - CASA DON DAVID official Mayan Heart Festival Hotel - We have 9 rooms here, 7 of which have Air Conditioning two of those are Suites. This hotel includes BREAKFAST only. This hotel is an official Maya Express Local Bus Stop.