About this Event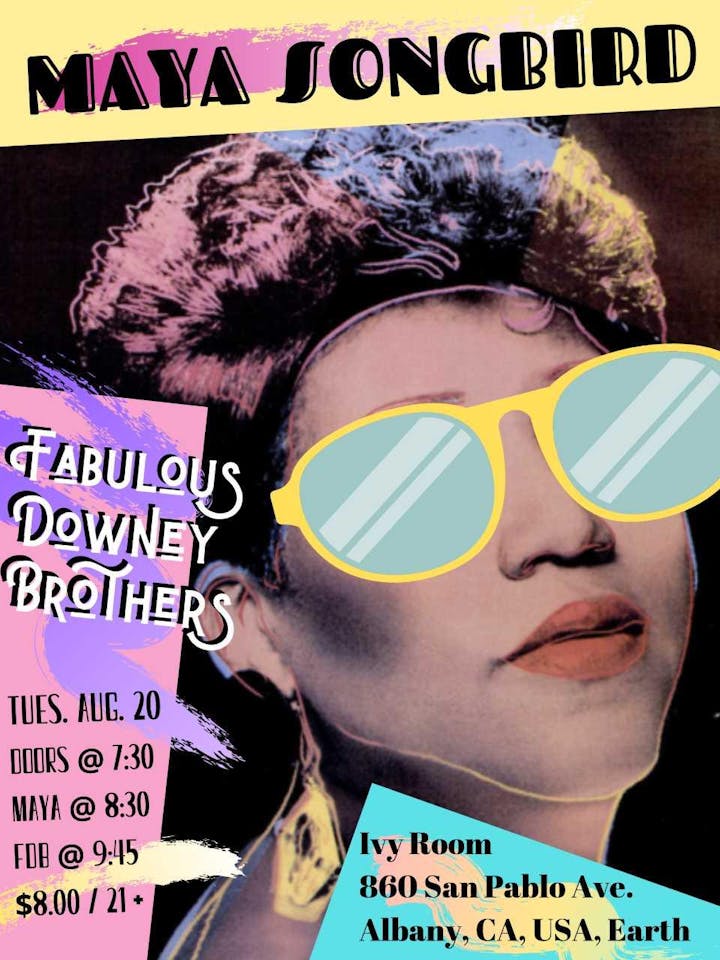 Maya Songbird
Experimental, electric, cosmic, galaxy, trippy strange one-woman-project from San Francisco.
Meet Maya Songbird, the next electric superstar. Songbird mixes Disco, Electro, Pop, and Funk to make her own out of this world sound influenced by being raised in the colorful and historic Castro District in SF. Themes of liberation, self-love, feminism, and empowerment permeate the artist's extensive and diverse discography.
Songbird knew at an early age she was different. Growing up in the Castro helped her understand that she was liberated even if the rest of the world beyond her beloved home was not, and she lived her life outside of the box, longing to share her inner rainbow with the world. Singing since the age of four and writing her first full song at the age of 12, she knew she would create her own stardom through her art.
Despite hearing "no" many times and doubts from the world around her, Maya Songbird took a big risk in May of 2009: she left corporate world to pursue music full time. Not fitting the music industry's standards fueled Maya to take different routes and learn many different skills like directing and editing her own videos to let the world know who she was as an artist. Maya Songbird was here to stay.
Debuting her first single to the world in 2011, "Lust" touched the hearts and dancefloors of many. With three dance remixes, it was quickly downloaded over 60,000 times. Dance remixes included production from some of the top electronic producers at the time like JASWHO and SOULSPIN of TEMPLE MUSIC GROUP, and DJ CECIL from the legendary PEOPLE's PARTY in Oakland.
Songbird has hit many stages nationwide. A well known and loved local performer in the San Francisco Bay and Los Angeles metro areas, her sound can be heard echoing from the East Coast, as well. A favorite in Baltimore and Philly, with plenty of love also in the Pacific Northwest, Songbird's music touches the heart of many and inspires many artists to walk their own path.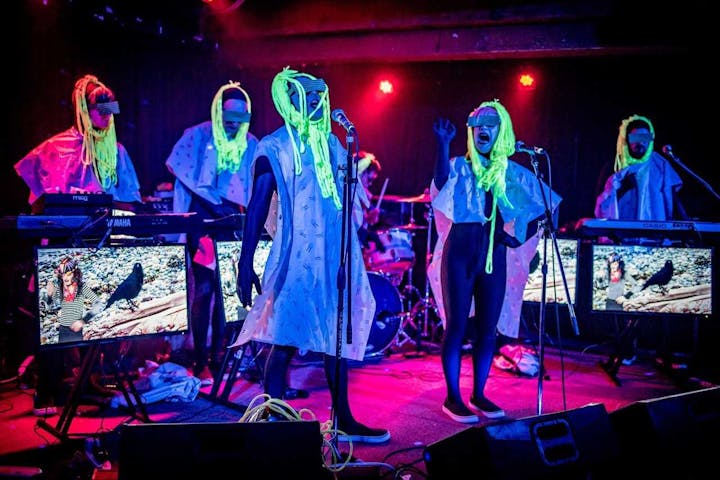 6-headed electro pop slime sandwich The Fabulous Downey Brothers are from Seattle. They have opened for The B-52s, Trailer Park Boys, Andrew W.K., and Gary Wilson, and still they find ways to lose friends and alienate people. Their sound is equal parts synthesizer, vocal processor, sharp edges, bouncy beats, and squish. They have been called post-punk new-wave but then again they have been called a lot of things. This band is what happens when filmmakers and art students have amps.