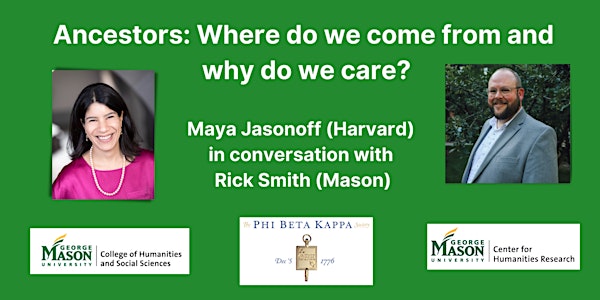 Maya Jasanoff (Harvard) in conversation with Rick Smith (Mason)
Mason CHSS/CHR/Phi Beta Kappa Present: Maya Jasanoff in conversation with Rick Smith, "Ancestors: Where do we come from and why do we care?"
About this event
JOIN THE ZOOM HERE
https://gmu.zoom.us/s/93860659244
Webinar ID: 938 6065 9244
MEETING PASSCODE: 516306
This event will run from 1:30-3 pm ET and will be followed by a reception.
Location:
Join us in person in Merten 1201 and virtually on Zoom (link will be emailed upon registration).
Event Description:
The event, sponsored by Phi Beta Kappa at Mason and co-hosted by CHSS and CHR, will open with remarks from Provost Mark Ginsberg.
Next, Professor Maya Jasanoff will give a presentation about her research on ancestry. She will then be interviewed by Professor Rick Smith. The two will discuss resonances between Professor Jasanoff's work on imperialism and ancestry.
An audience Q&A will conclude the event, and all in person attendees are invited to a reception in the adjacent room (Merten 1202) from 3-4 pm.
Speakers:
Maya Jasanoff is the X.D. and Nancy Yang Professor and Coolidge Professor of History at Harvard University. Professor Jasanoff is a historian of British imperial and global history. Her books Edge of Empire (2005), Liberty's Exiles (2011), and The Dawn Watch (2017) have won numerous accolades including the National Book Critics Circle Award, the Cundill Prize in History, the George Washington Book Prize, and the Windham-Campbell Prize for Non-Fiction. She is currently writing a history of the human preoccupation with ancestry and genealogy, the topic of a popular undergraduate course she teaches in Harvard's General Education curriculum. She is also completing a short book on the craft of historical narrative, looking at ways to bring out the "story" in history. Professor Jasanoff writes widely about history, literature, and world affairs for publications including The New Yorker and The New York Review of Books. In 2021 she was chair of judges for the Booker Prize.
Rick W. A. Smith is an Assistant Professor in the Department of Sociology and Anthropology at George Mason University. They are also a research affiliate with the Indigenous Science, Technology, and Society Lab in the Faculty of Native Studies at the University of Alberta and a core founding faculty member of the Summer institute for INdigenous peoples in Genomics (SING) Canada. Their work merges genomics with queer, feminist, and Indigenous Science Studies to trace the ways that shifting systems of power become molecular. This includes a focus on the genetic and environmental impacts of imperialism and colonialism in the Americas, but also the rise of genetic ancestry technologies and the ways they have attempted to transform what it means to be Indigenous into a question of a DNA test. To disrupt the role of genetic ancestry technologies in defining what it means to be Indigenous, Dr. Smith has produced academic articles on this topic, worked directly with leading consumer genomics companies to alter their products and informational materials, and offered media commentary on genetic ancestry in print and radio outlets such as the New York Times, Boston Globe, and NPR.