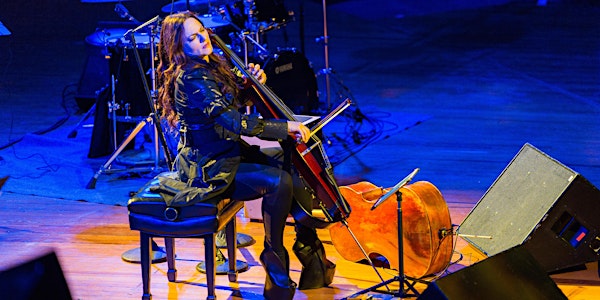 Maya Beiser/Ambient Orchestra/Evan Ziporyn - David Bowie's Blackstar
When and where
Location
Kresge Auditorium 48 Massachusetts Avenue Cambridge, MA 02139
Description
There will be a number of tickets available for sale at the door, as well as advance online tickets. Cash is preferred at the door.
---
The Terry and Rick Stone Concert, featuring a startling new version of the complete Blackstar, David Bowie's last album, by CAST Faculty Director Evan Ziporyn & cellist Maya Beiser. Beiser, CAST's Mellon Distinguished Visiting Artist, will perform with the 60 piece Ambient Orchestra, conducted by Ziporyn, as part of the MIT Sounding series. The program will also a new ambient-ized version of Erik Satie's Gymnopedies featuring guitarist Branden Landis, and Ziporyn's own Frog's Eye.
The audience experience will be enhanced by NoteStream, a real time app developed by MIT Professor & alum Eran Egozy (creator of Rock Band and Guitar Hero) and his students. NoteStream allows user to stream program notes, lyrics, and other content about the performance in real time on their smartphones.
---
Seating is reserved by section: you will not receive a specific seat number within each section. Please arrive early to find your seats.