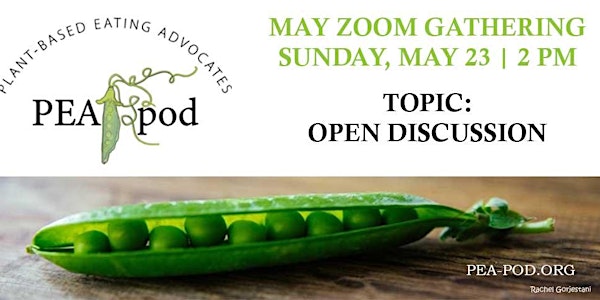 May Zoom Gathering 2021 - PEA Pod (Plant-based Eating Advocates)
You are invited to join us for our May PEA-Pod Gathering Online. We are a whole food, plant-based eating group who gather regularly.
About this event
We would like to invite you to join us for our May online gathering open discussion.
Do you have questions regarding a whole foods, plant-based lifestyle?
Maybe a bit confused about why some people say carbs are okay and others say eat all you can?
Perhaps you just want to meet with some like minded people?
Bring those questions and more to our next open discussion online PEA Pod gathering, Sunday, May 23rd, beginning at 2 pm. 
A Zoom link to join the gathering will be sent on Friday, May 21 for those who have provided an RSVP. We look forward to seeing everyone and invite everyone who is interested in learning more or becoming part of the plant-based movement support group.