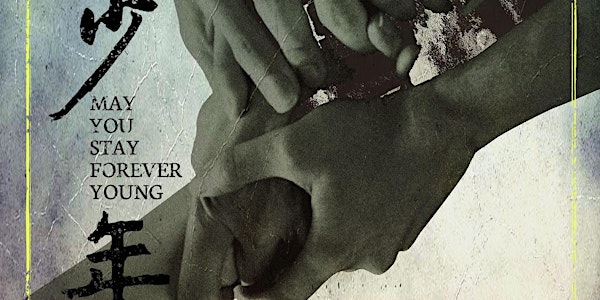 "May You Stay Forever Young"《少年》
Save her― whatever it takes. 少年疾走 危城救命
When and where
Location
cSPACE King Edward 1721 29 Avenue Southwest #Suite #125 Calgary, AB T2T 6T7 Canada
Refund Policy
Contact the organizer to request a refund.
Eventbrite's fee is nonrefundable.
About this event
"May You Stay Forever Young"
In June, 2019, a series of massive demonstrations against the Hong Kong government's attempt to revise and pass the Extradition Law led to a chain of suicides by young protesters to validate their opposition. The story took place on 28th July, a week after the white mob attack in Yuen Long. YY, a 17-year-old girl, announced her attempt to end her life on Instagram. After that, she couldn't be contacted or located. Nam, the 20-year-old "comrade" she met after a protest-related arrest, and amongst others, frantically searched for her around Kwai Tsing district where she lived. Her photo and other information were posted on Telegram and LIHKG Forum, resulting in hundreds of volunteers joining the search. It was a run against time. After an emotionally exhausting hunt, she was finally located in Mongkok, the busiest area populated by young people. Meanwhile, on the island side, protesters were confronting the fully armed riot police. Yet, it became a dilemma for those who were still searching for YY... ...
Language: Cantonese with English subtitles
Year of release : 2021, Origin : Hong Kong, Length : 1 hour 26 minutes
Nominated: Best New Director and Best Editing at The 58th Golden Horse Awards, FIPRESCI Golden Horse Awards, Network for the Promotion of Asian Cinema (NETPAC) Awards
Won: NETPAC Awards
Children under 14 must be accompanied by a parent
《少年》
自香港政府為強行通過修訂「引渡逃犯」條例,而出現多次大型示威及武力鎮壓後,多名年輕人先後墮樓自殺,以死明志。7月28日(即721元朗白衣人無差別襲擊市民的一星期後),曾被補的17歲中學生YY在社交媒體Instagram 留言自殺。同樣於抗爭被補的阿南、Louis、Zoe等人,連同朋友、社工,甚至素未謀面的「手足」組成搜救小隊,於YY居住的葵涌區分頭搜索。縱使Telegram上「救命」公海群組與「連登」討論區的網民仗義加入搜索,卻仍大海撈針。地點從葵盛到全城最熱鬧的旺角,均芳踪渺然。與此同時,示威者在烽煙四起的港島區街頭奮力抵抗,更導致搜救小隊出現嚴重分歧。抗爭與搜救之間,少年們猶如陷入進退維谷……
語言: 廣東話附英文字幕
出品年份 : 2021,產地 : 香港,長度 : 1小時26分鐘
提名:金馬獎最佳剪輯、最佳新導演、國際影評人費比西獎、金馬影展奈派克獎
獎項:金馬影展奈派克獎