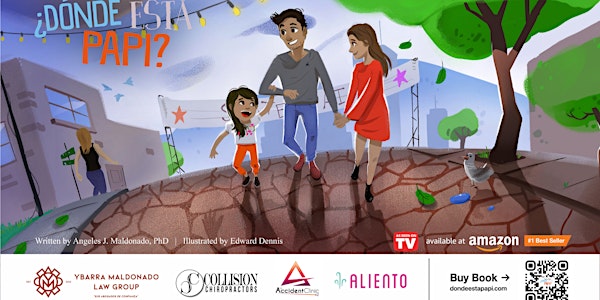 May the Walls Come Down Book Launch & Scholarship Fundraiser
Donde Esta Papi Book Launch & Scholarship Fundraiser for Immigrant Children in honor of YMLG's 10 Year Anniversary
When and where
Location
Arizona Latino Arts and Cultural Center (ALAC) 147 East Adams Street Phoenix, AZ 85004
Refund Policy
Contact the organizer to request a refund.
Eventbrite's fee is nonrefundable.
About this event
Dear YMLG Friends, Colleagues and Human Rights Supporters,
It is with great enthusiasm that we are reaching out to you to request your support in our upcoming May the Walls Come Down Book Launch & Scholarship Fundraiser. Since its inception, Ybarra Maldonado Law Group has remained deeply rooted in the greater struggle for human rights. As a law firm, we have remained focused on our mission of being Sus Abogados de Confianza and the best law firm for Spanish speaking communities in Arizona. We hope you will stand in solidarity with us as we seek to celebrate YMLG's tenth year anniversary serving our communities in the areas of Immigration, Criminal Defense, and Personal Injury.
Ybarra Maldonado Law Group – A firm founded on resistance on all fronts. The Ybarra Maldonado Law Group's story is one of resistance and a commitment to fight for the rights of those we love. YMLG takes our social responsibility very seriously. Every year we support our communities in a myriad of ways; we unapologetically support migrant & BIPOC communities by collaborating with local social justice organizations, legal entities, and grassroots movements. In addition, Dr. Maldonado & Abogado Ray founded The Border Crit Institute, as a way to foreground the voices of people of color through academic social justice critical race research and publications that uplift issues of importance to the communities we serve.
This year, we are proud to announce that our organization the Border Crit Institute will be releasing its first Book Publication. A Children's book, entitled "Donde Esta Papi" will be released on August 20th, 2022 of this year. The book was illustrated by world renowned artist Edward Dennis, author of upcoming book "The Boy from Mexico," and was written by our CEO, Dr. Maldonado. Dr. Maldonado has presented in Europe and Mexico on the international rights' of children and has been published in Educating for Social Justice in Early Childhood, the Sage Handbook of Global Childhoods, and The Routledge International Handbook of Young Children's Rights. In Donde Esta Papi, Dr. Maldonado takes her years of academic research, writing, and activism and tells the often overlooked story about what a child experiences when one of their parents is deported. Through Dr. Maldonado's qualitative research documenting the voices and experiences of immigrant children in Arizona and our law firm's experience in working to stop deportations or to bring back parents who have been deported, we have come to see that our communities' experiences need to be told.
Through her academic and community work, Dr. Maldonado found it important to find resources she could provide children going through forced family separation. "I realized quickly that there simply aren't enough books written about our experiences. So I felt called to write one. I wanted to write a story that could help serve as a tool for healing and praxis for immigrant children and their families " reveals Dr. Maldonado. Abogado Ray states, "in our line of work, we frequently see the impact our harsh immigration laws have on families; we have had countless children in our office in tears and it is truly difficult to find the words to console them. I really look forward to making this book accessible to the families we serve and any organization or educational institution that works with directly impacted communities."
With this in mind, it is with great interest that we are writing to our YMLG friends and supporters to invite you to the upcoming May the Walls Come Down Book Launch and Scholarship Fundraiser. An event to help fund the printing of Donde Esta Papi, but even more importantly to fund a scholarship for Akemi, one of the children whose story inspired the writing of this important book. Donde Esta Papi illustrates the importance of resistance and hopes to teach children that no matter what happens in their lives, no one can take away their spirit or their fight. It has been such an incredible journey, and we look forward to continuing to serve. May we come together to continue to stand in solidarity for children who have their lives permanently altered because of our unjust and harsh deportation system.
Respectfully,
Sus Abogados De Confianza, Ybarra Maldonado Law Group
www.bordercrit.org / www.abogadoray.com / www.doctoramaldonado.org
May the Walls Come Down Book Launch and Scholarship Fundraiser Location: Arizona Latino Arts and Cultural Center, 147 E Adams St, Phoenix, AZ 85004
Date and time: Aug 20, 2022. 7:00 pm, VIP Reception 5:30 pm Cultural performances, raffles, immigration panel discussion
***Your support will cover publishing costs & FUND THE AKEMI SCHOLARSHIP ***
To Sponsor or Co-Host (Contact Alvaro Vasquez / call or text (602) 910-4040 or email info@abogadoray.com.
Description of the Book: "Donde Esta Papi ?" was inspired by conversational interviews with migrant children living in Arizona. The book hopes to illustrate the beauty, strength, and resilience of immigrant children and their families who find themselves in a state of liminality and uncertainty because of unjust immigration policies and practices. About the Author Dr. Maldonado is a mother, human rights scholar-activist, and CEO of Ybarra Maldonado Law Group. She is a published academic author living in Arizona, but proudly born and raised in Salvatierra, GTO, Mexico. She holds a Ph.D. in Education, a Master's Degree in Public Administration, and a Bachelor of Science in Justice Studies. Dr. Maldonado's parents brought her to the United States when she was just eight years old to provide her and her siblings with better educational opportunities. Her experiences as an immigrant child inspired her to become an advocate for social justice and migrant rights. Dr. Maldonado is part of an international network of children's rights advocates, whose research focuses on preserving children's participation rights in research and foregrounding the voices of young children.