Description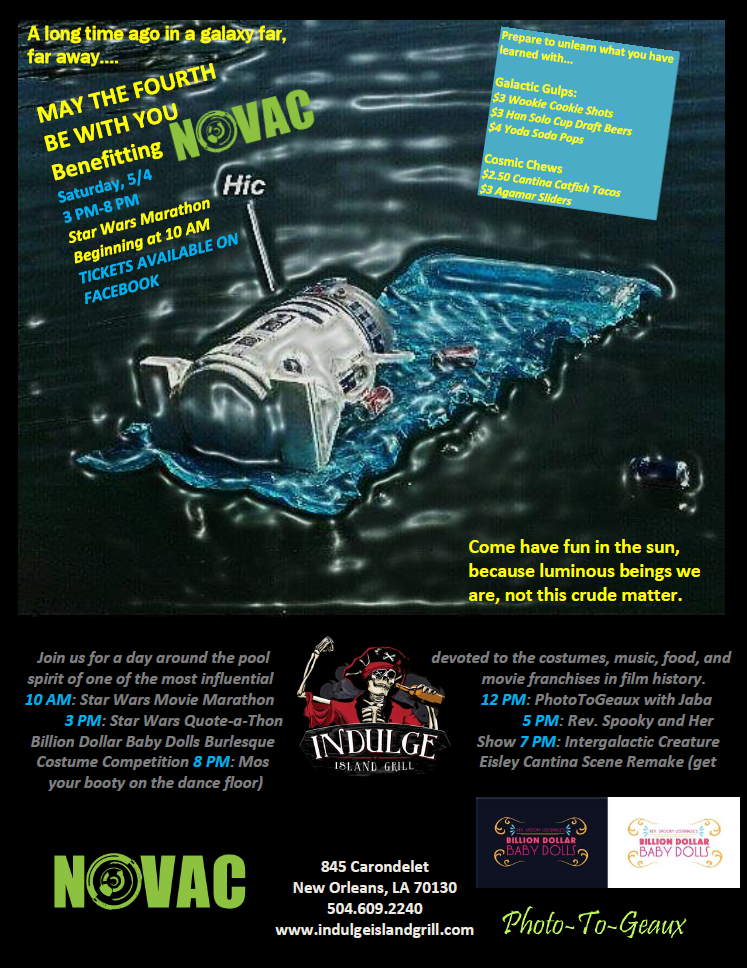 Saturday, May 4th
5 PM - 10 PM
$10 Ticket Inclues 1 FREE DRINK
2 FREE DRINKS FOR COSTUMED INDIVIDUALS
BENEFITTING NOVAC
PET FRIENDLY
Prepare to unlearn what you have learned with...

Galactic Gulps:
$3 Wookie Cookie Shots
$3 Han Solo Cup Draft Beers
$4 Yoda Soda Pops

Cosmic Chews
$2.50 Mos Eisley Cantina Catfish Tacos
$3 Agamar Sliders

Featuring:
10 AM: Star Wars Movie Marathon
12 PM: PhotoBooth with Jaba
3 PM: Star Wars Quote-Off
5 PM: Rev. Spooky and Her Billion Dollar Babies Burlesque Show
6 PM: Intergalactic Costume Contest
8 PM: Mos Eisley Cantina Scene Remake!!
Poolside grilling, dancing, and music all day long
MUCH MORE TO COME!!

Come have fun in the sun, because luminous beings we are, not this crude matter.

Sponsors Include:
Reverend Spooky LeStrange and Her Billion Dollar Baby Dolls
http://www.bestofneworleans.com/gambit/rev-spooky-lestrange-and-her-billion-dollar-baby-dolls/Event?oid=2114093

Photo-To-Geaux
http://www.photo-to-geaux.com/#

NOVAC Video
http://novacvideo.org/