May Symposium: Mental Health & Women's Health Tech
About this event
Join us for our monthly Symposium. Hear from experts in the field about the latest in digital health tech innovation, and how it is leveling the playing field of health equity around the globe.
HITLAB presents an assortment of digital health experts from a range of industries and backgrounds!
You will be treated to a rapid fire of panel discussions, interviews, and keynote speakers from leaders and innovators in the digital health space, which will leave you armed with insights and learnings from the frontlines of health and human rights.
This three-hour digital health conference is perfect for anyone interested in healthtech startups, pharmaceuticals, medical and humanitarian development, health equity, public health, or students from sustainable development, medical fields, or tech/engineering backgrounds.
You can join here now: https://us02web.zoom.us/j/88117128252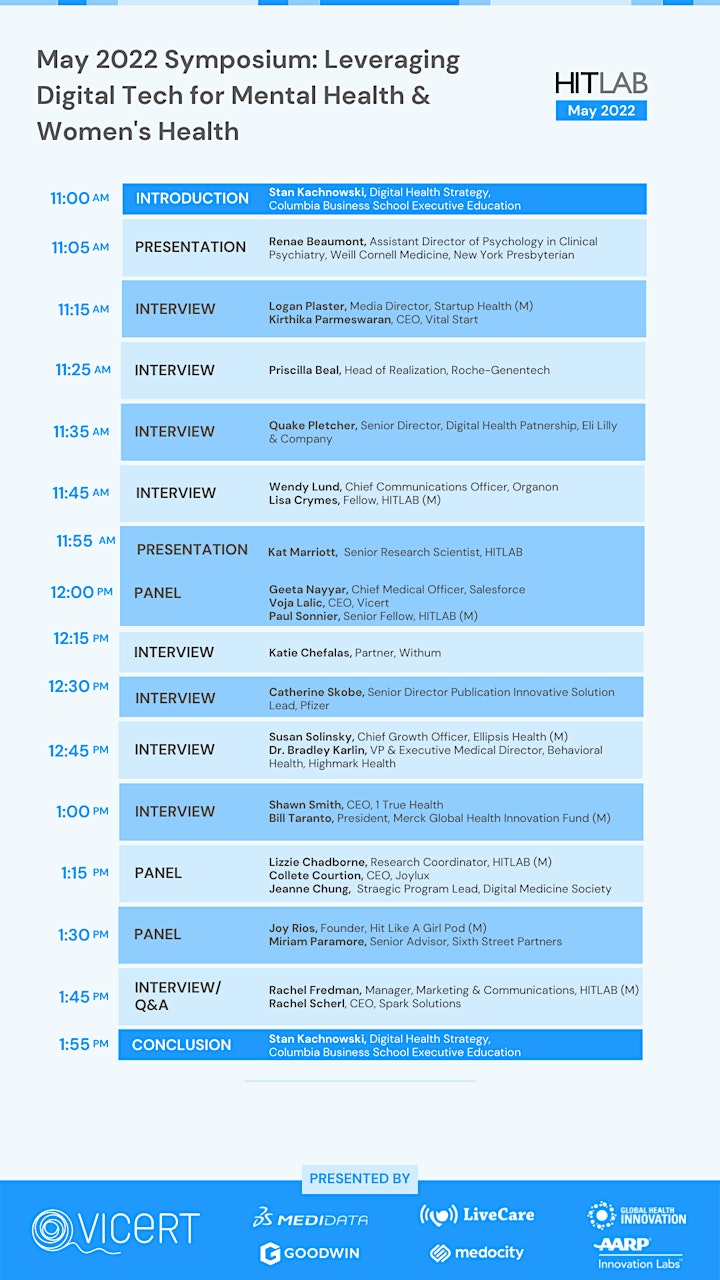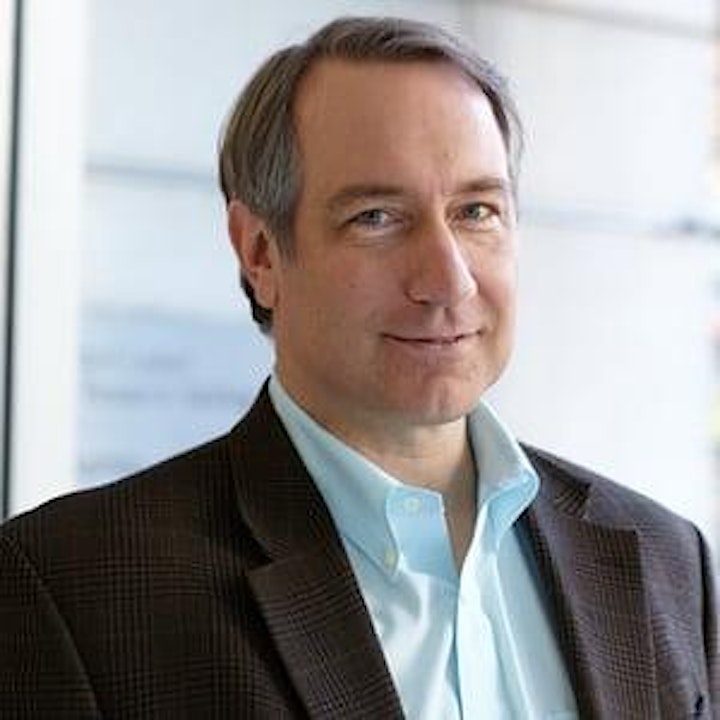 Stan Kachnowski, MPH PHD
Chair
HITLAB
Professor Stan Kachnowski, PhD MPA CSEP, an Oxford trained researcher, has taught over 5,000 students from Columbia University, IIT-Delhi, and Quinnipiac College. His teaching and research over the past 25 years includes educating graduate level and executive students on 4 continents and conducting extensive studies on the efficacy and diffusion of digital health, including electronic data capture, ePRO, wearables, and predictive algorithms.
Professor Kachnowski has authored over 200 peer-reviewed papers and presentations for national and international journals and societies in digital health development, management, and diffusion. He was selected as a Fellow to CHIME in 1998. In 2003 he received a letter of commendation for teaching excellence from the Dean of the School of Public Health at Columbia University. Professor Kachnowski was named a Fellow to England's Royal Society of Medicine for his research demonstrating the outcomes effectiveness of using the Palm Pilot in managing haemophilia patients in 2005. Professor Kachnowski has received grant funding from a wide ranging groups of sponsors, including over a dozen nations, AARP, WHO, USAID, Gates and Dell Foundations, and most of the top 20 global life science companies. Over the past 25 years he has also served as interim CTO for life science organizations, including Eyetech and Oncology.com. He currently serves on the Board of Directors for Oursmedicina, The Hudson Center for Health Equity, and Aptus Health.
Professor Kachnowski holds Bachelors and Master's Degrees from the University of Vermont, and a Doctorate from the University of Oxford.
As Senior Director, Publications Innovative Solutions Lead, Catherine co-leads the Publications Management Team (PMT) within Pfizer's Worldwide Medical and Safety organization. She joined Pfizer in 2007 as a Publications Specialist managing scientific publications for a broad range of products across Pfizer. She currently oversees the various digital innovative projects led by the PMT and co-lead the Publications Technology Steering Committee. Additionally, she represents Pfizer on Open Pharma which is a multi-stakeholder collaboration focused on innovations in medical publishing. Catherine is an advocate of accessibility to medical research through publications and support initiatives that improve equity and diversity in global public health.
As a scientific publications professional, Catherine is an active member of the International Society for Medical Publication Professionals (ISMPP). Over the years, served as Chair and member of the Board of Trustees (2018-21), co-founded the Social Media and Web-based Metrics working group (2016), and was a long-time member of the Ethics committee. She is presently on the ISMPP U committee which organizes webinars for continuing education.
Previously, Catherine worked in the clinical chemistry lab at the University of North Carolina Hospitals in various positions, at Becton Dickinson VACUTAINER Systems in Franklin Lakes, NJ for over 12 years in various clinical roles, and prior to joining Pfizer, managed the medical publications team at IntraMed - a division of Sudler & Hennessey, in New York City.
Catherine currently hold the following qualifications:
· B.S. Medical Technology, University of North Carolina at Chapel Hill
· MPH Community Health Education, Hunter College School of Urban Public Health
VIP Benefits Include:
Exclusive VIP Networking Opportunity
Priority Access to Event Recordings
Transcription of chatbox
*Media Disclosure
HITLAB reserves the right to use any photograph/video taken at any event sponsored by HITLAB, without the expressed written permission of those included within the photograph/video. HITLAB may use the photograph/video in publications or other media material produced, used or contracted by HITLAB including but not limited to: brochures, invitations, bookas, newspapers, magazines, television, websites, etc. You are agreeing the media policy upon entering the event; further details are available at the event or at hitlab.org/media-disclosure.