Description
Join us on May 25th for our second social club gathering at the James May North in Algoma We've put together an arts panel consisting of Kendra Bulgrin & Jimmy Eddings (James May Gallery/James May North) and Heidi Raak Yardstick Books), Stephan Anderson-Story (photographer), Dona Look & Kirsten Christianson (artists) moderated by Sara Krouse, Director of the Algoma Chamber of Commerce.
After the arts panel, we will go on a walking tour visting these places. Followed by a social at Steele Street Hops.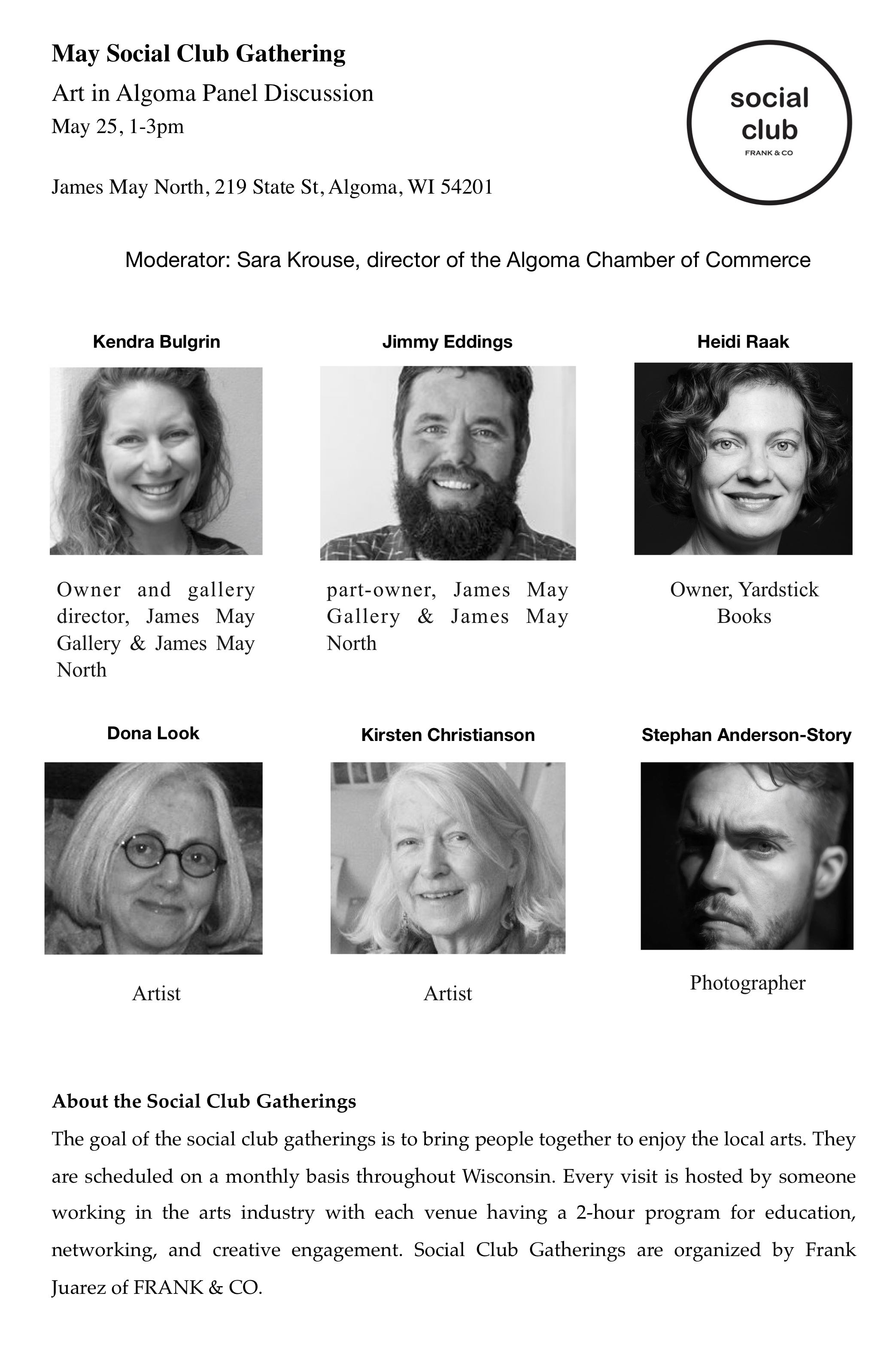 About the panelists
Kendra Bulgrin | James May Gallery and James May North
Born in Beaver Dam, Wisconsin, Kendra Lynn Bulgrin attended the University of Wisconsin Whitewater where she received a BFA with an emphasis in painting and a minor in Japanese Cultural Studies in 2005. Bulgrin completed her MFA in interdisciplinary arts at Memphis College of Art in 2007. Bulgrin draws from a unique vantage point as an adopted child and continues to explore the complex issues surrounding her identity, memory, and past. Recently, she has been coming to terms with the birth and the ongoing care of her two sons, both with special needs.
Bulgrin has shown nationally and internationally, with shows at the Brooks Museum of Art, Memphis, Hardy Gallery, Ephraim, Wisconsin, and at Beijing Normal University, China. Bulgrin has taught everything from Painting to Design at Memphis College of Art, Washburn University, Emporia State University, University of Wisconsin-Whitewater, University of Wisconsin-Green Bay, and St. Norbert's College. Currently, she is director and owner of James May Gallery & James May North.
Jimmy Eddings | James May Gallery and James May North
Jimmy Eddings was born in Milwaukee, Wisconsin. At an early age he moved to Madison, Wisconsin where he spent most of his life. Observing nature and immersing himself in it provides information for color, texture, form and concepts in his art. He received his BFA from the University of Wisconsin Whitewater in 2005 and his MFA from the University of Kansas in 2009. He has exhibited both nationally and internationally and maintains an active studio practice. Currently he is living in Algoma, WI where he works as a carpenter and is part owner of James May Gallery.
Heidi Raak | Yardstick Books
Heidi Raak is the owner of Yardstick Books in Algoma, Wisconsin. She previously owned and operated the Raven Book Store in Lawrence, Kansas and worked as a publication manager for a small publisher of scientific journals and books. She was the publisher of the literary journal, PARCEL, for five years.
Stephan Anderson-Story | Photographer
Stephan Anderson-Story is a photographer born and raised on a rural homestead in Baldwin City, Kansas, and is currently based in Algoma, Wisconsin. He received his BFA in Photography from Emporia State University. Through his work, he observes nuance in land, light, body and mind. His lens is objective; his photographs personal and universal.
Kirsten Christianson | Artist
Kirsten's educational background includes a BA in sculpture from Manhattanville College, New York, an MFA in sculpture from the University of Wisconsin-Milwaukee, study in handmade paper with Timothy Barrett at Oxbow – the Art Institute summer residence. and internship at Dieu Donne Press, New York City. Her research in sculpture and handmade paper was supported by 3 NEA-Wisconsin art grants.
Her teaching experience entails college level instruction at the University of Wisconsin – Madison and Milwaukee, working with children in Wisconsin and Idaho in a residency situation often supported by the state arts councils; and teaching at the Peninsula Arts School, Door County, Wisconsin, as well as local workshops in sculpture and handmade paper in Algoma. For 7 years Kirsten ran a Center for Hand Made Paper at Woodwalk Gallery,Door County, Wisconsin.
About the Social Club Gatherings
The goal of the social club gatherings is to bring people together to enjoy the local arts. They are scheduled on a monthly basis throughout Wisconsin. Every visit is hosted by someone working in the arts industry with each venue having a 2-hour program for education, networking, and creative engagement. Social Club Gatherings are organized by Frank Juarez of FRANK & CO.