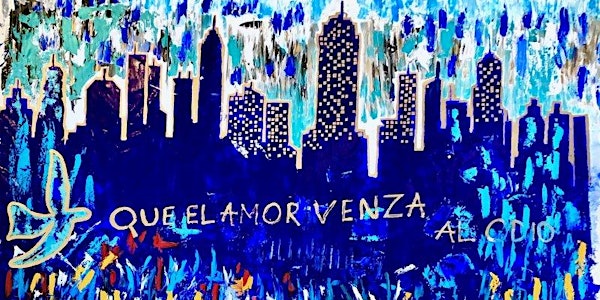 "May Love Overcome Hate" vernissage by ANA PEREZ GRASSANO
Art exhibition with the performance of Valeria Solomonoff
When and where
Location
Consulate General of Argentina 12 West 56th Street New York, NY 10019
About this event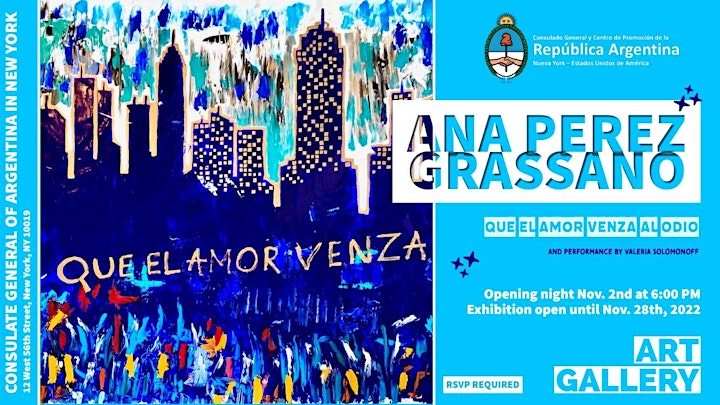 Franco-Argentinian artist Ana Pérez Grassano was born in Rosario, Argentina, and lives and works in Paris, France. Pérez Grassano's works are exhibited all over the world and her paintings are part of prestigious private and corporate art collections. In 2021, she was received at the Élysée Palace by the First Lady Brigitte Macron, coinciding with the accession of her painting Noches Tangueras to the collection of the Presidency of the French Republic. Last July, she presented her exhibition "La Joie en Moi" at the Orangery of the Senate of France in the Luxembourg garden of Paris.
Exhibition at the Consulate General of Argentina in New York:
May love overcome hate / Que el amor venza al odio is the main painting and the lievemotif of the current art exhibition.
On October 31st, 2017, a terrorist attack killed five of ten Argentinian friends: Diego Angelini, Hernán Mendoza, Ariel Erlij, Hernán Ferruchi and Alejandro Pagnucco, when a man plowed a pickup truck down a crowded bike path along the Hudson River in Manhattan. The victims were in New York to celebrate their 30th graduation anniversary of Polytechnic High School.
This tragic story is deeply personal to Ana Pérez Grassano. She knew some of them from her student days at the University of Architecture in Rosario, their hometown. Five years later, Ana is in New York with an art exhibition to honor the memory of her friends.
The main painting, a large-scale piece dedicated to that tragedy and named "Que el amor venza la odio" has been donated to the families of the victims of the terrorist attack and all proceeds from the sale of that work will go to the widows of the deceased.
The flag painting Que el amor venza al odio is a hymn to love, which shall always prevail over hate. The artist's best works from Paris, London, Venice, Shanghai and Istanbul will be also showcased.
Ana has invited the dancer and choreographer Valeria Solomonoff and her partner Iakof Shonsky to perform on the opening night. Valeria is a wide-ranging innovator who uses her tango roots to reimagine possibilities of partnering. She is also from Rosario, Argentina.