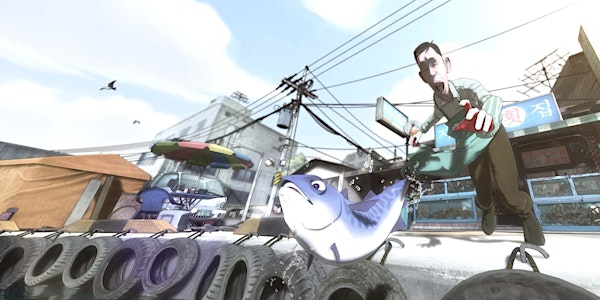 May Jeju Day and Padak x McCord Museum
Day 2, Screening #2 of KFFC presents two animations, May Jeju Day (2021) directed by Jude KANG, and Padak (2012) directed by LEE Dae-hee.
When and where
Location
McCord Museum 690 Rue Sherbrooke Ouest Montréal, QC H3A 1E9 Canada
Refund Policy
Contact the organizer to request a refund.
Eventbrite's fee is nonrefundable.
About this event
"May Jeju Day" Synopsis: Shortly after the liberation of Korea from Japanese colonialism, the "Jeju Uprising" incident took place on Jeju Island. There, one-tenth of the island population was sacrificed at the hands of the South Korean government. Seventy years later, the children who survived the massacre remember this event through the animated "May Jeju Day."
Padak Synopsis: Once a free fish in the ocean, a poor mackerel got caught by a fishing net and was brought to a fish tank in a seafood restaurant. While searching for a way out, Mackerel meets with the pessimist Old-flatfish, who was also brought from the ocean, unlike the other tank fishes raised in a fish farm. As the longest survivor in the tank, Old-flatfish reigns over other fishes with his knowledge of survival. To him, Mackerel's desire to escape from the tank is a threat to his regime.
"May Jeju Day" Synopsis:Peu après la libération de la Corée du colonialisme japonais, le «soulèvement de Jeju » a eu lieu sur l'île de Jeju. Là, un dixième de la population de l'île a été sacrifié aux mains du gouvernement sud-coréen. Soixante-dix ans plus tard, les enfants qui ont survécu à ce massacre se souviennent de cet événement à travers l'animation du "Jour de Mai de Jeju."
Padak Synopsis: Autrefois poisson libre dans l'océan, un pauvre maquereau s'est fait prendre dans un filet de pêche et a été amené dans l'aquarium d'un restaurant de fruits de mer. Alors qu'il cherche un moyen de s'échapper, le maquereau rencontre le pessimiste Old-flatfish, qui a également été amené de l'océan, contrairement aux autres poissons de l'aquarium élevés dans une ferme piscicole. En tant que plus ancien survivant de l'aquarium, Old-flatfish règne sur les autres poissons grâce à ses connaissances en matière de survie. Pour lui, le désir du maquereau de s'échapper de l'aquarium est une menace pour son régime.
메이 제주 데이 Synopsis: 한국의 하와이라 불리는 제주도에는 해방 직후 미군정의 통제하에 '제주 4·3'이라 불리는 사건이 벌어졌고 이로 인해 당시 섬 주민들이 전체 인구 중 약 10명당 1명꼴로 희생되었다. 대량 학살의 광풍에서 살아남은 어린이들이 70년의 세월이 흐른 후, 그날의 기억을 애니메이션으로 증언한다.
파닥파닥 Synopsis: 바다 출신 고등어의 횟집 탈출이 시작된다! 자유롭게 바다 속을 가르던 바다 출신 고등어 '파닥파닥'. 어느 날, 그물에 잡혀 횟집 수족관에 들어가게 된다. '파닥파닥' 외에 다른 물고기들은 이미 수족관의 '보이지 않는 벽'에 막혀 희망을 잃은 상태. 혼자 힘으로 나가려 하지만, 현실에 안주한 다른 물고기들과 갈등이 생긴다. 바다를 향한 고등어 '파닥파닥'의 꿈은 과연 이루어 질 수 있을까?