May ICG Real Estate 1-Day Expo 2016

Saturday, May 21, 2016 from 10:00 AM to 6:00 PM (PDT)
Event Details
ICG's Quarterly Real Estate 1-Day Expo
Saturday, May 21, 2016

WHEN:  SATURDAY MAY 21, 2016, 10:00am - 6:30pm
WHERE:  SOUTH SAN FRANCISCO CONFERENCE CENTER
255 SOUTH AIRPORT BLVD.
SOUTH SAN FRANCISCO, 94080
Expert Speakers: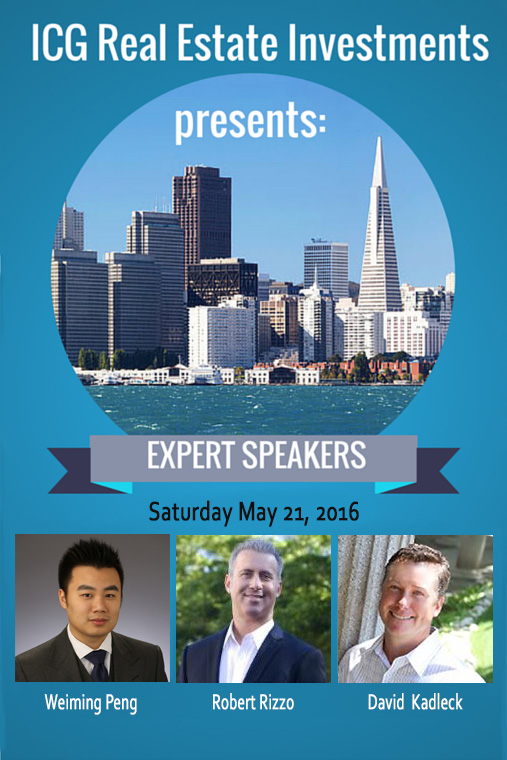 David Kadleck, Owner of Oneprop property Management, on PROPERTY MANAGEMENT DONE RIGHT. Dave's company manages THOUSANDS of homes nationwide and there is a lot to learn from him!
Robert Rizzo is Regional VP and Private Client Services Practice Leader with BOLT Insurance.  Robert is a HEAVY insurance expert and will cover super important issues such as umbrella liability coverages in multiple states for multiple properties (a critical subject to our investors).
Weiming Peng, of Asset Exchange Company.  Weiming is a 1031 Tax Deferred Exchanges expert. He will be educating us on the complexities of 1031 Exchange process, and how to use it to our advantage as investors.
New market teams; markets are changing rapidly and are now in great flux

With an election coming MANY CHANGES to real estate investing are happening; join us and stay informed and up to date

Extremely high cash flow properties, programs and strategies for which markets are right for you

LOANS: Aggressive, capable lenders will be present; new loans available

Stock portfolio based loans, commercial, investor, business and other loans LOANS ARE CHANGING WEEKLY SO EXPECT NEW EXCITING UPDATES!
 
FOR MORE INFORMATION ABOUT ICG REAL ESTATE INVESTMENTS OR
ABOUT THE EVENT: 
CALL: (415) 927-7504 or (800) 324-3983
E-mail: info@icgre.com or visit www.icgre.com.  
From one of our investors:  
"I have been investing with ICG for fifteen years, and the return on my investments has been consistently in double digits, and beyond in some cases. Adiel Gorel's "in the trenches" experience and expertise has been invaluable over the years, dealing with the ups & downs of real estate markets as well as my own family's growth and life transitions. I invested most recently in the Oklahoma market, and Adiel's hands-on guidance resulted in yet another smooth investment transaction. I highly recommend him!"


---David Talby


                                                                                           
May ICG Real Estate 1-Day Expo 2016