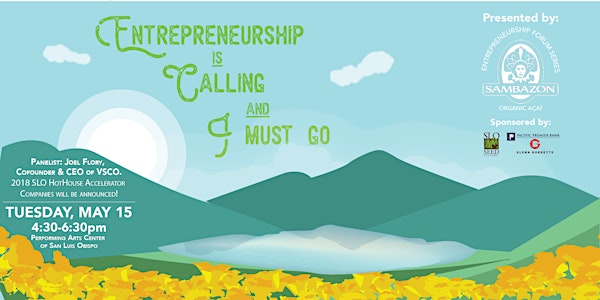 May Forum 2018
When and where
Location
Performing Arts Center San Luis Obispo: Pavilion Room 1 Grand Ave San Luis Obispo , CA 93405
Refund Policy
Contact the organizer to request a refund.
Description
CIE's Entrepreneurship Forum Series
Tuesday, May 15th, 2018
Registration begins at 4:30 pm in the Performing Arts Center, San Luis Obispo Pavilion Room
Check the CIE Website for event updates

2018 SLO HotHouse Accelerator Companies Will Be Announced!

Meet the newest students accepted into our SLO HotHouse Summer Accelerator program as they set off
on their adventure to launch a startup in only 13 weeks.

PEN Portion
The Business Card Hustle
We divided the P.E.N. (Pitches, Exhibits, and Networking) portion of the evening into two parts. First, attendees will hear pitches from each of the 2018 SLO HotHouse Accelerator companies, getting to know both the companies and their goals for the summer. Following the pitches, each Accelerator company will hustle for resources by collecting as many business cards from attendees as possible. The team with the most cards at the end of the night will walk away with a special prize.

Panel Discussion
Moderated By: Dr. Jonathan York
Speaker: Joel Flory, co-founder and CEO of VSCO
Joel Flory, a Cal Poly alumnus who co-founded VSCO, a smartphone photo application. VSCO has been named Apple's "App of the Year," Google Play's "Best Apps of 2015" and Fast Company's "Top 10 Most Innovative Companies in Social Media."
Flory, the Oakland-based company's CEO, leads the firm on its mission to "equip, educate and inspire anyone on the journey toward reaching their creative potential." According to Business Insider, "VSCO is the app professional Instagrammers use to make their photos look amazing."
Flory and his co-founder, Greg Lutze, combined their passions for photography and technology to build VSCO, which stands for Visual Supply Co., in 2011. Flory was integral in growing VSCO to over 1 million paying subscribers and securing more than $70 million in funding. He understands the complex nature of building and sustaining a brand in the creative industry.
PIONEER PASS 2017/2018
As always, we're pleased to offer our Forums for free to the Cal Poly and San Luis Obispo community, but we need your financial support and help to ensure these unique and meaningful events continue for everyone. If you believe it's important to provide a place for students, educators, entrepreneurs and industry professionals to connect, be engaged and inspired - we need you to become a Pioneer!
Pioneer members will automatically be registered for all remaining forums and will be provided a parking pass at every forum. Throughout the year, Pioneers will also be invited to special industry events, and gain special recognition.

For more information on this program, please email: lcohune@calpoly.edu